Mariah Carey Opened Up About Her Bipolar Diagnosis In A Brave Interview You NEED To Read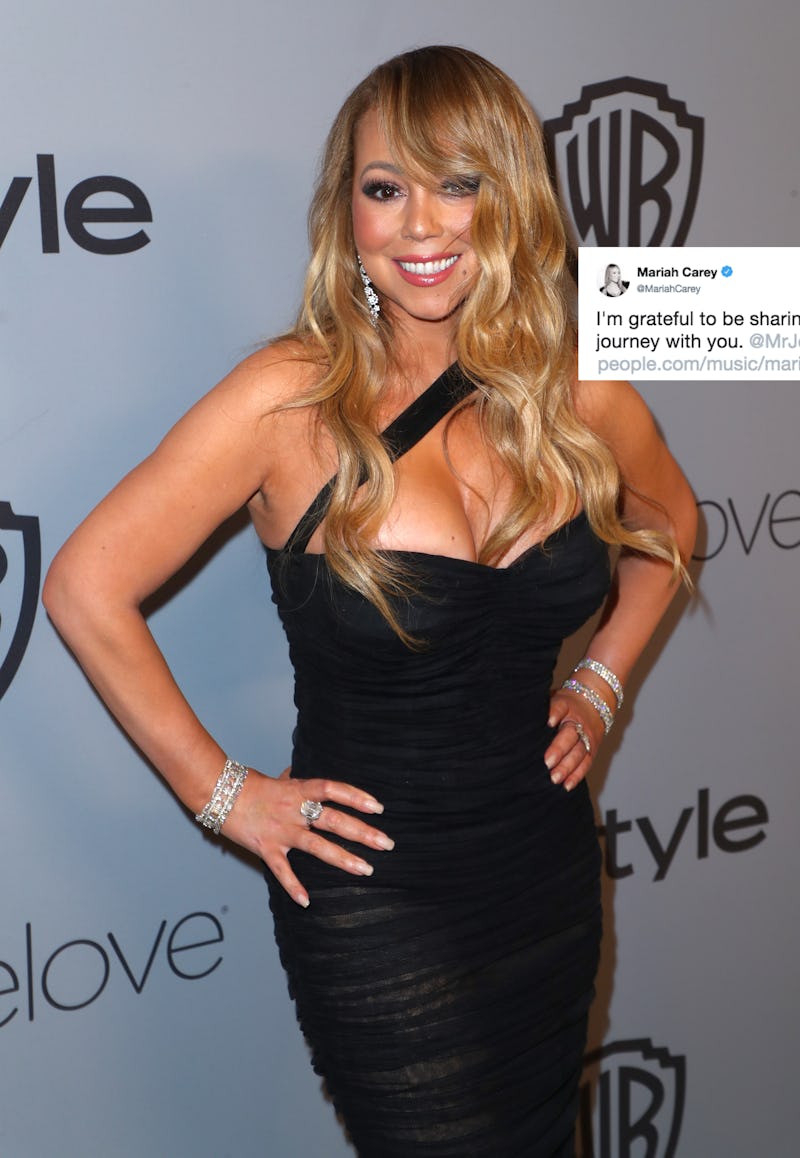 Joe Scarnici/Getty Images Entertainment/Getty Images; Mariah Carey/Twitter
With her immense vocal talent, Mariah Carey has been in the spotlight for nearly 30 years. But a new interview highlights that she has been privately dealing with a serious mental health diagnosis for part of this time. In the latest edition of People, Carey revealed she was diagnosed with bipolar disorder in 2001. Although this diagnosis occurred 17 years ago, it took until 2018 for Carey to feel comfortable discussing this health condition publicly. But as she told the magazine, she decided to share her story because she's in a "good place" now.
Carey was first diagnosed with bipolar II disorder following a hospitalization in 2001. "I didn't want to believe it," she admitted. At the time, Carey's publicist stated that this medical attention was due to an "emotional and physical breakdown," as The Washington Post reported. But a year later, ABC reported that Carey credited her hospitalization to sleep deprivation in an interview with MTV.
"For a long time I thought I had a severe sleep disorder," Carey explained to People. "But it wasn't normal insomnia and I wasn't lying awake counting sheep. I was working and working and working ... I was irritable and in constant fear of letting people down. It turns out that I was experiencing a form of mania. Eventually, I would just hit a wall."
The National Institute of Mental Health notes that bipolar disorder is defined by extreme shifts in mood. While the manic symptoms aren't as extreme as with bipolar I, Carey's diagnosis of bipolar II means she experiences hypomanic and depressive episodes. During a hypomanic episode, the person will have high energy, but can also feel restless and irritable. Depressive episodes are marked by a lack of energy and hopeless feelings. "I guess my depressive episodes were characterized by having very low energy," Carey told People. "I would feel so lonely and sad — even guilty that I wasn't doing what I needed to be doing for my career."
Carey explained to the magazine why she didn't open up about her diagnosis before now. "People who escaped the life I grew up with don't want to go backward. I was so terrified of losing everything, I convinced myself the only way to deal with this was to not deal with this," Carey said. "I didn't want to carry around the stigma of a lifelong disease that would define me and potentially end my career." But after her diagnosis, Carey released albums like The Emancipation of Mimi, filmed the E! docuseries Mariah's World, and became a mother through her two children with Nick Cannon. (She affectionately refers to her twins Monroe and Moroccan on social media as "dem kids.")
"Until recently I lived in denial and isolation and in constant fear someone would expose me," Carey said in the new interview. "It was too heavy a burden to carry and I simply couldn't do that anymore. I sought and received treatment, I put positive people around me and I got back to doing what I love — writing songs and making music." She's currently recording her 15th studio album and it's scheduled to be released this year.
Carey told People that she has found a "proper balance" of medication. She also said she exercises, eats healthy, receives acupuncture, and spends time with her kids. "I'm just in a really good place right now, where I'm comfortable discussing my struggles with bipolar II disorder. I'm hopeful we can get to a place where the stigma is lifted from people going through anything alone. It can be incredibly isolating. It does not have to define you and I refuse to allow it to define me or control me."
Beyond helping to create a more open conversation about bipolar disorder, Carey wanted her fans to know about her diagnosis. She tweeted her People article and posted it on Instagram with the message, "I'm grateful to be sharing this part of my journey with you." And her fans have shown their support for her, with many commenters expressing how brave they think the singer is.
Bipolar disorder is a condition that Carey will have to continue to manage throughout her life. But while she expressed concern that she would be defined by it, the world will always know her first and foremost by her spectacular and powerful voice. And she's now using that voice to not only speak up for herself, but for others who have ever felt isolated due to a health condition or disorder.