Mariah Carey's Comments About Being Biracial Are Truly Heartbreaking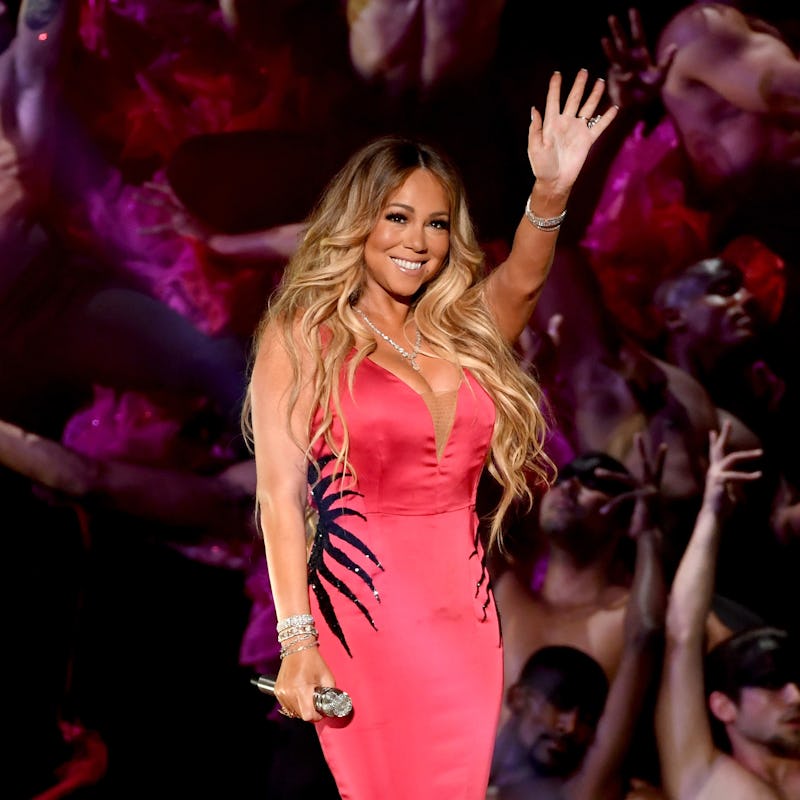 Kevin Winter/Getty Images Entertainment/Getty Images
With the recent critically-acclaimed release of her new album Caution, Mariah Carey's 2018 is coming to an amazing close. While there's no doubt that she's one of the most-talented recording artists on earth, Carey's recent comments about what it was like growing-up biracial prove that the early beginnings of her life were far from a cake walk. During an interview with Pitchfork, the singer, whose mother is Irish and father is Black and Afro-Venezuelan, discussed many aspects of her childhood, including how hard it was for her to fit into her neighborhood and school as a youngster.
In the interview, Carey revealed many perils of being a mixed-race child. She opened the topic by addressing the basis of the song "8th Grade" — a tune that she once told Twitter followers reflected "the melancholic feeling" she "used to have as a kid." Directly referencing the track from her album, Caution, Carey told Pitchfork, "That's not a happy song," while calling the time she spent in eighth grade one of the "lowest points" of her life. She continued, sharing that there was basically no place where she felt racially comfortable as a child. The Precious star explained,
"The year before, I had dyed my hair orange by mistake. I shaved my eyebrows. I had no clothes. Somebody once said in the hallway to me at school, 'Oh, she got three shirts in rotation.' It was mortifying. But that's because my mom chose to live in predominantly white neighborhoods, where people had more money than us, and I didn't fit in there. Or in an all black neighborhood when my parents were together; as a mixed couple, they had problems there. So there was not one safe place."
Like many artists, Carey appears to use her craft a form of expression to deal with the issues she's faced throughout life. While speaking to Pitchfork she shared, "It was very difficult. People don't really know about it because I've always been pretty vague, but I've alluded to it in certain songs."
Though "8th Grade" may be the most recent exploration into the depths of her childhood, she went on to reveal that the song "Close My Eyes" from her 1996 album, Butterfly, also addressed some of the pain. Quoting lyrics from the song, the Grammy Award-winning performer shared: "I was a wayward child with the weight of the world that I held deep inside/ Life was a winding road, and I learned many things little ones shouldn't know.'"
Reflecting on her overall life growing-up, Carey revealed that she had an extremely hard time fitting in during her youth, saying:
"A lot of intense stuff happened to me when I was a kid, that people who grew up with money or with families that weren't fully dysfunctional will never quite understand. And then being biracial on top of it, and having no place to really fit in."
Racism and lack of acceptance is something which has transcended throughout most of Carey's life and career. A 2015 story from Billboard refers to a 1990 Playboy article which described Carey as a "white girl who can sing." During that time, New York Post reported that Carey was upset about the article. A spokesperson for singer later told USA Today, "Mariah Carey's anger over a racial comment was blown out of proportion." The statement went on to share, that Carey's "father was very upset" about the comment while quoting the vocalist as saying, "It seems that most people don't know much about interracial children."
This past June, during an interview with People, the mother of two insinuated that her struggle with bipolar disorder stems from the identity crisis she dealt with as a biracial child. Carey told the outlet,
"It was a combination of being biracial and experiencing the darker side of life. My mom experienced a lot of racism as an opera singer because she was married to a black man. Again, it's impossible to encapsulate that in this setting."
While speaking to People, the entertainer also recalled a daunting moment when a friend came over to play and "burst into tears because she had never seen a black person." Carey continued,
"I had to go through so much in my childhood just to feel accepted and feel worthy of existing on Earth because I felt so different from everybody else growing up, because I was biracial, because I was so ambiguous-looking and because we didn't have the money to escape whatever the everyday realities of life were."
Despite being one of the most recognized and talented artists of the past half-century, racial bias is an issue that Carey continues to face to this day. Pitchfork notes that when Carey recently posted a photo of Colin Kaepernick on social media, people began making ignorant comments about her race, once again. The outlet notes that people were saying things like, "What does she know? She's white."
Carey responded, telling the outlet that it is still a very difficult topic for her to handle. She explained,
"This is how many years later? That ignorance level. When you have a black father and then people are calling you white, and then white people are like, 'But her father is black,' it's very difficult. People don't understand. It's really a hard place to lay."
Although moments like this continue to impact Mariah Carey's life in ways that many could never imagine, her fortitude and success prove that she has become a stronger person in the long run.