Mariah Carey's New Album Announcement Reveals Exciting Details That '90s Kids Will Love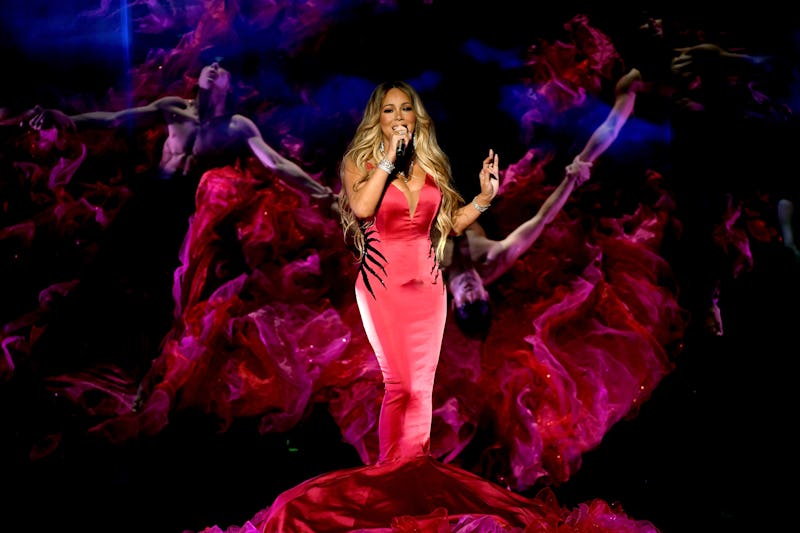 Kevin Winter/Getty Images Entertainment/Getty Images
Make some space in your vinyl record case, your CD book, your smartphone's song library, your box of HitClips— wherever you store music. Because one of the greatest vocalists of all time is about to drop another album. On Monday, Mariah Carey announced her new album will be out next month, and it will be called Caution. Her Royal Highness of the Five Octave Range Queen Mimi, Duchess of Christmas Radio, and Lady of No Brunch Manor unveiled these exciting pieces of news in a video she filmed with her son, Moroccan.
The tweeted clip begins with Carey and Moroccan standing on a luxurious red staircase together. Mimi looks at the camera and says, "The name of my new album is Caution." And then she asks her son to do the honors of letting her fans know when Caution will be available. He runs down the steps and shouts, "November 16!" And then, everyone screams.
There's suspense. There's intrigue. There's a great use of stairs. There's a legendary musician. There's an adorable kid. There are not one, but two big reveals. There is shrieking. Suffice to say, it is a perfect album release announcement video, and one longtime Carey fans will adore.
Caution will be Carey's first album since 2014's Me. I Am Mariah… The Elusive Chanteuse. The powerhouse singer has been teasing this upcoming record for some time, but up until today, her 15th full-length album's release date was quite the elusive chan-tunes. (Sorry.) In January, Mimi tweeted a photo she took while in a recording studio, writing, "Missed my 2nd home. Feels good to be back #StudioTime #GettingStarted."
When Carey appeared on the cover of V magazine in March, she talked about being back on the studio and working on a new collection of songs. She explained,
"I'm kind of restarting, and I'm working with Roc Nation now, so that's great. I had a really incredible meeting—just a musical, good meeting of the minds—with Jay Brown, Jay-Z, and Tata [Tyran Smith], who's an incredible person. We all just kind of threw some ideas around, so we're starting from the musical place rather than, like, what's the hook? It's gotta be done that way."
And in August, Carey told People that she'd been "working on my new album for a while." She continued,
"This is a labor of love and I'm really excited. This is me at this moment in my life being able to express myself as a writer and a singer. I'm just really in a good place."
Carey added that parts of the new album are "lighthearted and fun" and some tracks go "deep in terms of the lyrical content."
Your ears do not have to wait until Nov. 16 to get a taste of the forthcoming record's sound; Carey has already offered up two tracks off of Caution. The five-time Grammy winner dropped "GTFO" on Sept. 13 and sang the song at the iHeartRadio Music Festival eight days later. On Oct. 4, a single called "With You" was released, and she performed it for the first time at the 2018 American Music Awards.
And right before the holiday season begins, Queen Mimi will give us with the remainder of the record. Leave it to the Duchess of Christmas Radio to ring in the yuletide season with such a generous gift for '90s kids (and music fans) everywhere.