You Can Buy A Marie Callender's Cookie Dough Cream Pie That Weighs Over 2 Pounds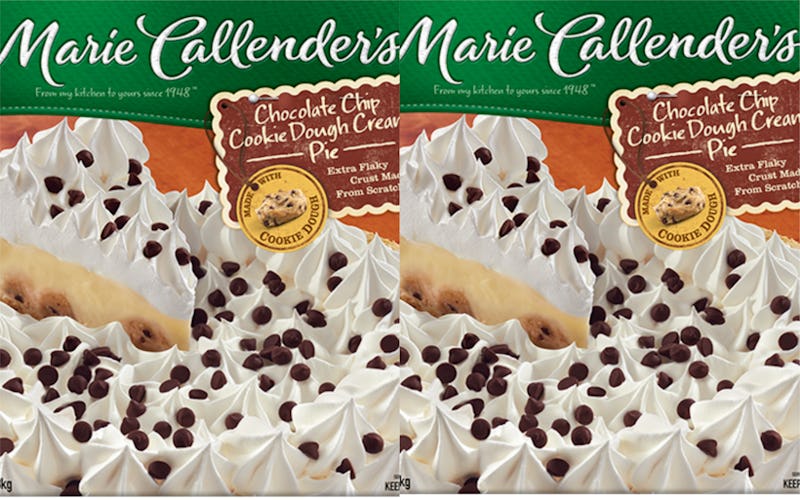 Marie Callender's, Remixed by Bustle
There comes a time in every dessert lover's life where they question whether or not they have met their match, and today, my friends, might just be that day. It has come to my attention as a resident of this earth and a frequenter of grocery store aisles that there exists a Marie Callender's Chocolate Chip Cookie Dough Cream Pie — a decadent-sounding, if not truly ambitious, combination of pie, cookie dough, and all of my hopes and dreams. On top of all that? This dessert clocks in at over two pounds.
While I have not personally sampled this dessert, which is my new Everest, its existence was brought to my attention by Instagram account @threesnacketeers, which is devoted to all things delicious and snack-worthy. They spotted the pie at Meijer, a grocery store chain in the Midwest — but if you don't live near one, you should still have some luck finding it in the freezer aisle of a grocery store near you. If you're extra committed, Marie Callender's has a store locator for places where you can find its products nearby (because unfortunately, humans have not developed Massive Pie Sonar yet, an issue I'll be sure to take up with Darwin once I come back from the other side of taking this entire pie to the face).
While the pie itself is a relatively recent addition to the lineup of Marie Callender's frozen desserts, some people have already left reviews on the company's site, indicating it is every bit as delicious as it looks.
"I took this pie to a gathering and everybody loved it," wrote one reviewer. "I was honestly surprised at how good this pie was."
"This is really great. If you have a small get together, game/movie night for instance, this would be very nice. I just advise not eating it all yourself. Haha," wrote another, who clearly underestimates both the willpower and stomach capacity of a twentysomething woman with a sweet tooth and nothing left to lose.
Unfortunately, multiple reviewers indicated it was difficult to find a second time, meaning this might be the unicorn of frozen pies. A representative from Marie Callender's advised customers to get in touch with the managers of stores to let them know there's demand for the product, so if anyone needs me, I'll be locked in a conference room chatting up every store manager in Manhattan like the model employee I am.
In the meantime, if you have a hankering for things that are large and cookie dough-esque, yet another brand has your back; Trader Joe's released a giant deep dish chocolate chip cookie that is essentially a half pound of ooey, gooey perfection.
Plus, Marie Callender's itself has plenty of other dessert options, with flavors ranging from Apple Crumb Cobbler to Pumpkin Pecan Streusel to Turtle Pie. You can make every day your own personal Thanksgiving! What a time to be young and alive and in proximity to the frozen aisle at the grocery store.