Mark Hamill Needs 'Star Wars' Fans' Help To Finally Get Carrie Fisher A Walk Of Fame Star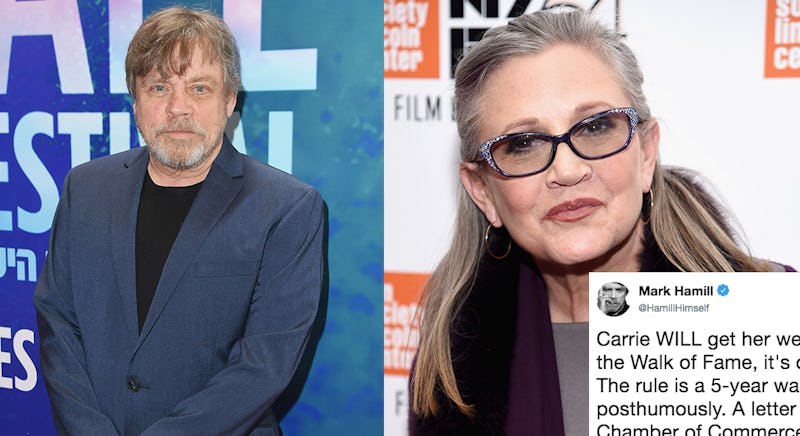 Jon Kopaloff/Getty Images Entertainment/Getty Images; Dimitrios Kambouris/Getty Images Entertainment/Getty Images; HamillHimself/Twitter; Bustle/Screenshot
Mark Hamill has been lobbying for Carrie Fisher's spot on the Hollywood Walk of Fame for the better part of a year now. And, per a new tweet from the Star Wars veteran, it looks like he's amping up the momentum. How's that? This time, Mark Hamill's campaign for Carrie Fisher's Walk Of Fame star called on fans for their support. Replying to a Twitter user who asked when Fisher might finally receive a star of her own — and who to talk to about making that happen — Hamill assured that it is going to happen, in due time.
In an early-morning tweet Tuesday, Oct. 9, he wrote,
"Carrie WILL get her well-deserved Star on the Walk of Fame, it's only a matter of when."
OK, but seriously, though. When is it going to happen? As Hamill's tweet went on to explain, technically, there's a five-year waiting period when a Walk of Fame star is awarded posthumously, as it would be in Fisher's case. Fans of the late actor's iconic stint as Princess Leia in the Star Wars franchise know the galaxy lost a legend almost two years ago, when Fisher passed away in December of 2016. (That said, Hamill's signature Fisher-centric hashtag, which appropriately made an appearance in Tuesday's tweet, serves as a comforting reminder that she's #AlwaysWithUs in some way.) So, per the Walk of Fame's official guidelines, that means Fisher wouldn't be eligible to receive a star for at least three more years.
But, much like Hamill's plucky Star Wars character, it seems the actor isn't really one for rule-following, either. Especially when it comes to advocating on behalf of people he cares about, like Fisher. So, in the latter half of Tuesday's tweet, Hamill asked his followers for a little help in hopefully expediting the awards process. "A letter to the Hollywood Chamber of Commerce wouldn't hurt, urging them to time it to the release of #EpIX," he wrote.
If the Chamber of Commerce were to follow Hamill's suggested timeline, that would mean Fisher's Walk of Fame star could be unveiled around December of next year, in tandem with the release of the Star Wars film. And while nothing's been confirmed yet — start writing those letters, folks! — Hamill's idea sounds like a particularly compelling, and meaningful, one. Though Fisher technically made her final appearance as Leia in 2017's The Last Jedi, the upcoming Episode IX will pay homage to her memory in a very special way. Using footage of her character from 2016's The Force Awakens, Fisher's Leia will appear onscreen once again when Episode IX sees its debut next December.
Again, nothing's been confirmed yet as to the eventual timeline for Fisher's Walk of Fame Star. But if Hamill's dogged persistence so far is any indication of what's to come, then it seems safe to say the actor will see this particularly personal campaign through to the end. Those who've been following Hamill's plight for his former costar's Walk of Fame star know that he's been piloting this ship for a while now. Back in March, when Hamill received his own Walk of Fame star, he and Harrison Ford spent a large part of the ceremony talking about Fisher and her enduring pop cultural legacy.
Then, in August, West Hollywood's City Council was considering the permanent removal of President Donald Trump's star from the Walk of Fame. "How about replacing it with someone who really earned it? Like @carrieffisher," Hamill tweeted at the time. Since then, his tweet has received more than 115k likes and an additional 29k retweets on the social media platform (the vast majority of which it reeled in almost immediately).
Suffice to say, Trump's star has yet to see its removal from the Walk of Fame. But, judging by Hamill's new tweet, it still doesn't sound like the possibility of getting Fisher a star (and in a timely manner, too) is entirely out of reach. At this point, it sounds like it might be up to Star Wars fans to potentially get the ball rolling over at Hollywood's Chamber of Commerce. So, if you're a Fisher fan, a Star Wars fan, or simply a fan of removing Trump's name from the Walk of Fame, perhaps you'll consider hopping aboard Hamill's campaign.