Mark Hamill's Thoughts On Carrie Fisher's 'Star Wars Episode IX' Role Will Leave You Sobbing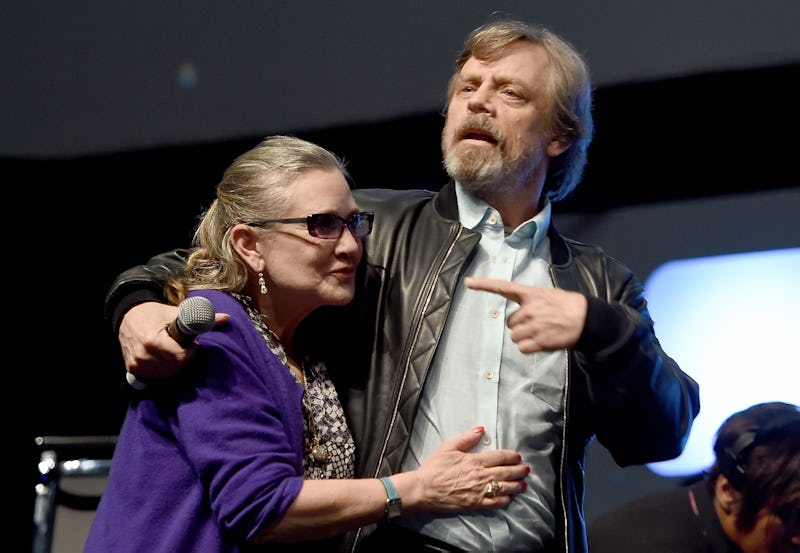 Ben A. Pruchnie/Getty Images Entertainment/Getty Images
As if to assure that no fans of Star Wars would have a calm, normal weekend, writer-director J.J. Abrams put out a casting announcement late on Friday, July 27, that revealed he planned to use previously shot footage of the late Carrie Fisher in his upcoming installment of Star Wars. Now Mark Hamill's comments on Carrie Fisher's role in Star Wars Episode IX are here, and you're about to have so many feelings. On Sunday, July 29, the actor posted three pictures from their lives together on Twitter with a heartfelt caption that will move you to tears. "It's bittersweet facing my final chapter without her," he began. "She is simply irreplaceable."
The message continued:
"I'm finding solace in the fact that she won't BE replaced & would love the worldwide outpouring of affection from those who loved her when they heard the news. #CarrieOnForever"
Hamill is not the first person to weigh in on Fisher's inclusion in the next installment of the franchise, but he is among the most important voices to chime in given how close he was with the late actor. The writer-director's initial message was accompanied by a confirmation from Fisher's daughter, the actor Billie Lourd, and Fisher's brother Todd also put out a statement that echoed that of his niece. But it's crucial that Hamill, who played Fisher's on-screen brother and real-life pal since 1977, genuinely approves of Abrams' decision as well.
One day earlier, Hamill confirmed he and former costar Billy Dee Williams would be returning for Star Wars Episode IX with an appropriately joyous tweet:
"It's finally fine to admit #ImInIX-Billy Dee @realbdw too-which is long overdue (No one's ever really gone) Now only 17 months of "no comment"s when asked about it to avoid revealing details or fueling speculation #SeeYouAroundKids"
(Wait, is that a Han Solo reference? Beautiful. Just beautiful.)
The July 29 tweet is the first time he had mentioned using already-shot footage of Fisher since Abrams announced it thusly:
"We were never going to recast [Fisher's role], or use a CG character. With the support and blessing from her daughter, Billie, we have found a way to honor Carrie's legacy and role as Leia in Episode IX by using unseen footage we shot together in Episode VII."
On July 28, Todd Fisher put out a statement that proved his family had trust in Abrams' plan. "J.J. Abrams understood Carrie's iconic role," he said per Variety, "[Abrams] has masterfully re-crafted this final entry to include this unused and very last footage of Carrie ever taken, without resorting to CGI or animatronics."
A key theme here is an objection to the use of computer-generated or otherwise engineered versions of Fisher. Cobbling together a new version of the actor just for the purpose of the film would be disrespectful to her memory. Instead, using footage the same writer and director had previously filmed with her — indeed, the last "new" footage friends and family will likely see — is a poignant solution.
It completes Leia's journey in the Star Wars universe and is wholeheartedly supported by her brother, daughter, and longtime close friends. They're the ones allowing fans to have this last film of Carrie Fisher's which proves that the Force really is with us — always.