You Should Definitely Get To Know Maroon 5's Members Besides Adam Levine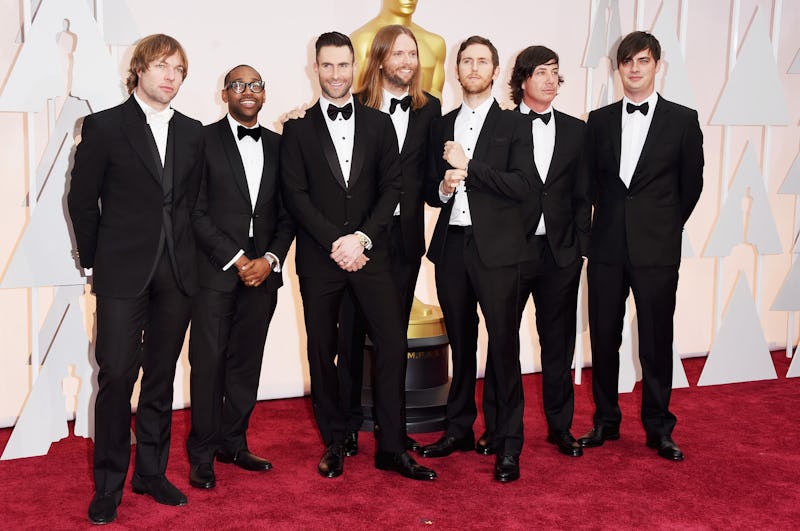 Jason Merritt/TERM/Getty Images Entertainment/Getty Images
He's charming, flirtatious, and oftentimes shirtless. He's a judge and coach on The Voice, but is best known as the frontman for one of pop's biggest bands. And while it may come as a surprise to learn that there are six — yes, six — other members of Maroon 5 besides Adam Levine, they totally deserve some recognition, too. Especially since all seven of them will soon be taking the stage for one of the biggest performances of their lives: the Super Bowl LIII halftime show.
Look, Levine is great. Just ask my mother, who regularly refers to him as "Adam Divine." Out of everyone in the band, he seems to relish and thrive in the spotlight the most — and perhaps the other members of Maroon 5 are totally content taking a backseat to his big personality. They're all accomplished musicians in their own right, though, and today they're going to get their place in the sun.
So, just to reiterate, Maroon 5 is technically Maroon 7 now. Out of the original five members — Levine, guitarist James Valentine, Jesse Carmichael on keyboard and rhythm guitar, bassist Mickey Madden, and drummer Ryan Dusick — four of them remain. Dusick retired from the band due to injuries in 2006, according to a 2007 interview with Rolling Stone, and was replaced by their current drummer, Matt Flynn.
Since then, the band has rotated a few guest musicians in and out of their line-up while during various tours. Keyboardist PJ Morton and multi-instrumentalist Sam Farrar, however, both became permanent members of the Maroon 5 crew in 2012 and 2016, respectively.
Got all that? Cool. Now it's time to get to know all the guys in Maroon 5 other than Levine. Because let's be honest — at this point, you could probably map out all the tattoos on his torso with your eyes closed, right?