This 'Married At First Sight' Spinoff Is Just Like 'BiP' — Except For One Thing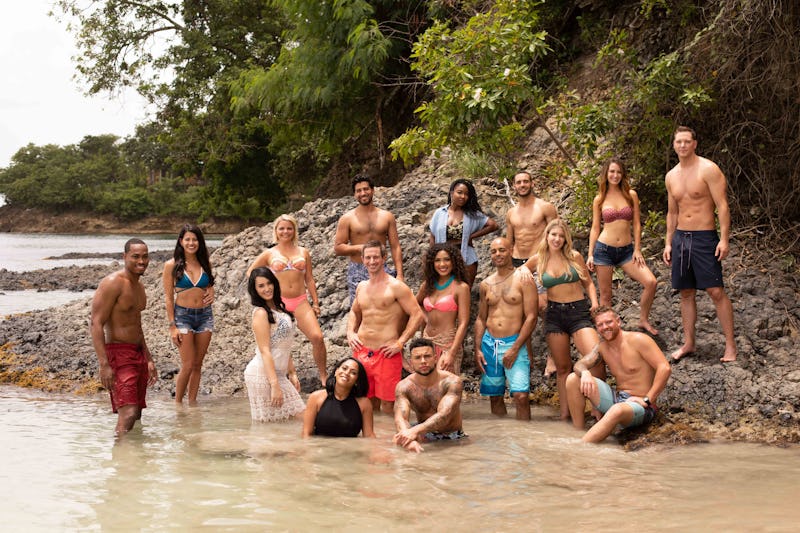 Lifetime
The Bachelor Nation off-season is a trying time for many — fans are unsure of what to do without a rose battle to follow, and with Bachelor in Paradise being the closest in our rearview mirrors, we can't help but lament the loss of the many televised love stories that started on the beaches of Mexico. Colton won't take over The Bachelor until early next year, so in the meantime, Married At First Sight: Honeymoon Island will have to satisfy the imminent craving for seaside romance. And satisfy that craving, it does.
It sort of feels like a knockoff version of BiP, which you're either going to love or hate, depending on your level of dedication to reality dating shows. Couples are whisked away to an oceanfront paradise, provided with fruity drinks, and encouraged to mingle for their matches. Sound familiar yet? (I know, Paradise-ers only drink tequila-sodas, you're right.) The major difference? Honeymoon Island contestants are 100 percent looking for marriage, so there should be some really serious relationship chats happening in hammocks and a whole lot less gaming for Instagram spon-con post-filming. (Also, sadly, its theme song is nowhere near as catchy as Paradise's but we can forgive that oversight.)
A spinoff of Married At First Sight, the Honeymoon Island special allows singles to experience the honeymoon before the wedding — some of them being alum from seasons passed, which means they were broken up with the first time around, and wanted to give reality TV dating another try. But lest you think this is just BiP 2.0, there are some other twists to the whole "dating on an island" premise.
In fact, it's more like a BiP-Are You The One? crossover. Why? Because, like on MTV's Are You The One, contestants on Honeymoon Island are scientifically matched with others on the island to whom they are most compatible. The matchmaking is done by experts in various fields, and the compatibility is measured by four scientific elements: psychology, sociology, sexology, and spirituality. Each person on the island is compatible with more than one other person, and it's up to them to make the right choice.
Like in Are You The One, the honeymooners aren't told who their matches are, and in their first night spent together, have to decide on one person with whom they have the most natural chemistry. Unlike Are You The One, however, $1 million dollars isn't on the line if they make the wrong choice. But of course, true love and happiness is. As is should be, right?
At the end of the first night on the island, any suitors who don't mutually agree to be matched are sent packing. So unlike in Paradise, there are no floating singles —MAFS is serious about coupling people off. In Paradise, though, fresh faces are brought in every so often to stir things up, and that doesn't seem to be the case on Honeymoon Island. But that doesn't mean their won't be just as much drama.
Really, the only thing that's missing on Honeymoon Island is a plethora of canopy-draped daybeds — you know, the infamous destination for making out in Paradise? Not one is to be found in the first episode. And well, how else are suitors supposed to "get to know each other?" It is their honeymoon, after all.