Marvel & 'Black Panther' Are Already Sweeping The Oscars & The Night Is Far From Over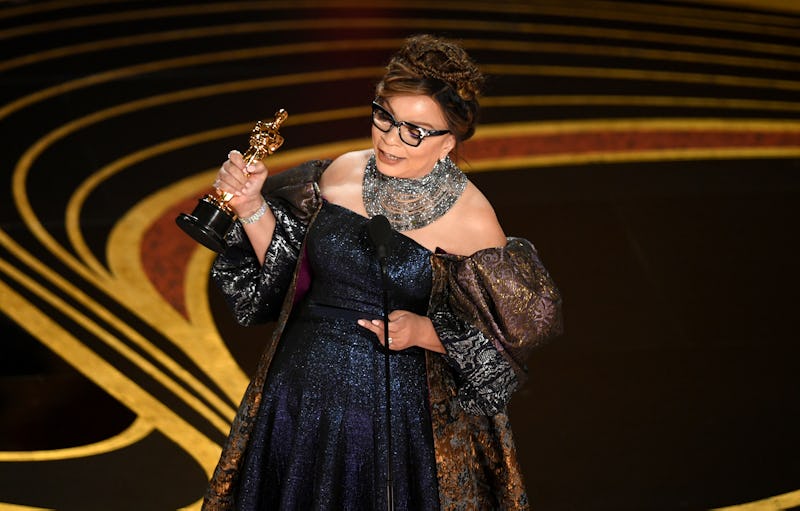 Kevin Winter/Getty Images Entertainment/Getty Images
Finally, superhero movies are getting their due. Black Panther's win for Best Costume Design marks the first Oscar for Marvel Studios. This historic first couldn't have gone to a better person than Ruth Carter, and it wasn't the only win of the night.
OK, to be clear — this is not the first Marvel movie to win an Academy Award, but it is the first in the Marvel Cinematic Universe. Spider-Man 2 won Best Visual Effects in 2005, but that was before Marvel Studios existed, and it was made under Sony Pictures. So it's still an incredible achievement. (Especially, no shade to the DC stans, but especially as Suicide Squad got an Academy Award for the DCEU first. It's beyond time for Marvel Studios to get this win.)
Black Panther has taken home the trophy for the MCU at long last. Actually, trophies, as the film also won Best Production Design and Best Original Score. Spider-Man: Into The Spider-Verse, which is a Sony film but still a Marvel comics film — it's complicated — also took home Best Animated Feature.
Other nominated films from the MCU over the past two decades include Captain America: The Winter Soldier, Iron Man, Doctor Strange, and Guardians of The Galaxy.
Marvel films have taken over culture over the last 10 years. They're events. They attract the biggest stars and the most feverish fans. They're favored by critics and box office numbers alike — so why has it taken this long for Marvel Studios to get in the door at the Academy Awards? Remember when the announcement of the "Best Popular Film" category, which was later scrapped, sparked suspicion that it was to avoid nominating Black Panther for Best Picture? Even if that wasn't the case, it shows how much the average filmgoer expects superhero movies to be ignored and snubbed during awards season.
That said, even the most bitter MCU fangirl will tell you that Black Panther really, really does deserve this honor. The costumes, production design, and score were really above and beyond. Other Marvel standouts like The Winter Soldier should have gotten Oscars, and Black Panther should have more awards. It's that simple.
Carter and Production Designer Hannah Beachler's wins for Black Panther are also historic. They are both, respectively, the first women of color to win in their categories. The fact that this happened in the same year is also incredible. Also, as The New York Times' Kyle Buchanan noted in a tweet (above), only one other Black woman has won an Academy Award in a category that wasn't acting before now.
Hopefully Black Panther opens the doors, and the Academy's heart, to more genre films getting the awards attention they deserve. Superhero movies are still art. The same goes for science fiction and fantasy. The same goes for animation.
Let us also hope and pray that it gets more women and people of color behind the camera on major studio pictures and action franchises as well. Geeky girls make good movies! These wins are so, so important across the board. It's about time.