Chadwick Boseman Says 'Black Panther' Isn't Interested In The Popular Film Oscar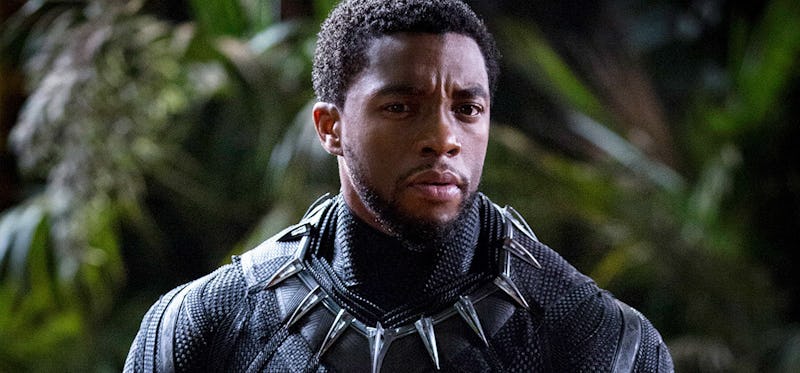 Walt Disney Studios Motion Pictures
As the world waits in eager anticipation to find out what the new Popular Film Oscar is, one star wants to make something perfectly clear. Chadwick Boseman says Black Panther isn't interested in the Popular Film Oscar, they want Best Picture, and that's what the film will be campaigning for come February — if, that is, they campaign at all. The new "Popular Film" category was announced earlier this month as a way to "keep the Oscars and our Academy relevant in a changing world," according to an Aug. 8 letter to members. And although few details have been released, the change is expected to be used as a way to honor some of the highest-grossing films of the year, in genres traditionally ignored by the Academy Awards like action movies, summer blockbusters, and superhero films, just to name a few.
And while the smash hit Black Panther dominated in the above categories, raking in over $1 billion in box office earnings, its star isn't quite ready to celebrate having another shot at an Oscar. At least, not until a little more information comes out. As Boseman told The Hollywood Reporter during a taping of the outlet's "Awards Chatter" podcast that came out on Wednesday, "We don't know what it [the new prize] is, so I don't know whether to be happy about it or not." He continued:
"What I can say is that there's no campaign [that we are mounting] for Popular Film; like, if there's a campaign, it's for Best Picture, and that's all there is to it."
The Academy of Motion Picture Arts and Sciences has clarified that films can be nominated in both the Best Picture and Outstanding Achievement in Popular Film, but it's not yet clear exactly how the differentiation will be made. In some ways, an Oscar is an Oscar is an Oscar, but there are inarguably categories that are more prestigious than others, and Best Picture is at the top of the heap. Right where Black Panther wants to be.
What Boseman and other skeptics seem to fear is that this new category will be used as a sort of consolation prize; an award given out to pacify those who are being passed over for the top honor. The actor continued:
"A good movie is a good movie. And clearly it doesn't matter how much money a movie makes in order for it to be 'a good movie' [in the minds of Academy members] because if [it did], the movies that get nominated and win wouldn't get nominated; and if it doesn't matter, it doesn't matter on both sides."
Since lower-earning but "artistic" films are often the ones honored with Oscar nominations, that means there isn't a direct correlation between the money spent and the quality of the film. And if that's correct, then it shouldn't matter how much or little is spent on a film budget, quality is still quality. So why is the box office suddenly being brought into the Academy Awards?
In regards to awards like the Oscars, budget and box office numbers are not the scales that Boseman wants Black Panther to be graded on; he wants his film to be held up to the same standards that previous Best Picture nominees have been held up to. And he's confident that if and when it is, the Ryan Coogler-helmed project will come away shining. The 40-year-old went on:
"For my money, the only thing that matters is the level of difficulty. What we did was very difficult. We created a world, we created a culture ... we had to create a religion, a spirituality, a politics; we had to create an accent; we had to pull from different cultures to create clothing styles and hair styles. It's very much like a period piece. ... So, as far as that's concerned, I dare any movie to try to compare to the [level of] difficulty of this one."
So there it is: the gauntlet has been thrown. Boseman rightly feels that Black Panther can and should be allowed to compete in any arena, not just in popularity. As he told THR in conclusion, "The fact that so many people liked it — if you just say it's [merely] popular, that's elitist." And since the Oscars have been accused of being elitist for years now, and creating a new category instead of digging deep on the shortcomings of the old ones is unlikely to be heralded as a true solution.