This Mary Tyler Moore Speech Says It All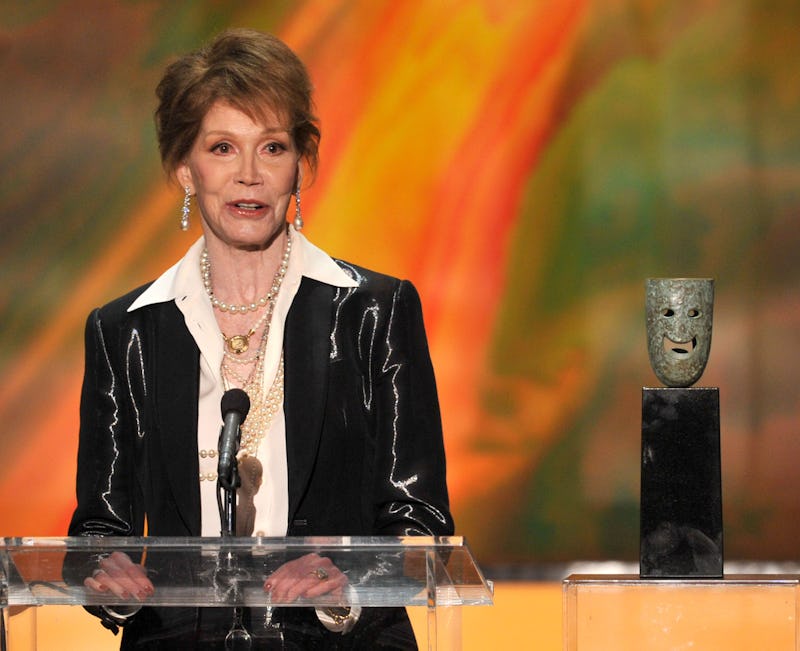 Kevin Winter/Getty Images Entertainment/Getty Images
The world lost another one of its greats Wednesday when Mary Tyler Moore passed away at age 80. Throughout her career, the actor won two Emmys for her work as Laura Petrie on The Dick Van Dyke Show, four more for The Mary Tyler Moore Show, and an Oscar nomination for her unforgettable turn as a grieving mother in Ordinary People. In 2012, the Screen Actors Guild honored Moore with the Life Achievement Award for her amazing career. Of course, with the award came a speech. And as always, when Moore spoke her words resonated — this time in an audience full of her peers.
Fittingly, the award was presented to then 75-year-old actor by her former on-screen husband Dick Van Dyke. As Rob and Laura Petrie, the duo were one of TV's most hilarious and relatable married couples in the '60s. Decades later, and their banter still shined as Van Dyke kissed Moore on the cheek at the end of her speech, and said of the SAG award, "Believe me, that's too heavy to carry."
While hearing others offer their accolades was touching, it was her speech that made the greatest impact that night. Moore chose her moment on stage to speak about applying for her SAG card when she was just 18. At the time, there were six other Mary Moores, and she was told if she was going to make it in Hollywood, she would have to change her name. But even at 18, Moore knew she only ever wanted to be Mary. ‌
"Change my name? Oh come on, no, I'm Mary. Mary Moore. Everyone is going to know my name," Moore said. For her, making it would never be enough if she had to give up her identity. Rather than choose a new moniker, she got creative and found a way to honor herself and her father, by adding their mutual middle name "Tyler" to her application. Thus Mary Tyler Moore, the woman who turned the world on with her smile, was born.
"I spoke it out loud. It sounded right," Moore said of her soon to be SAG-approved name. "I wrote it out on the form, and it looked right. And it was right. SAG was happy. My father was happy. And tonight, after having the privilege of working among the most talented people imaginable, I too am happy after all."
Some may ask, what is in a name? For Moore, the answer was everything. She wanted the world to know who she truly was, not an invented persona, but her truest self. And thanks to her indelible performances and indomitable spirit, the whole world will always remember Mary Tyler Moore's name.