Massachusetts' AG On Trump's Travel Ban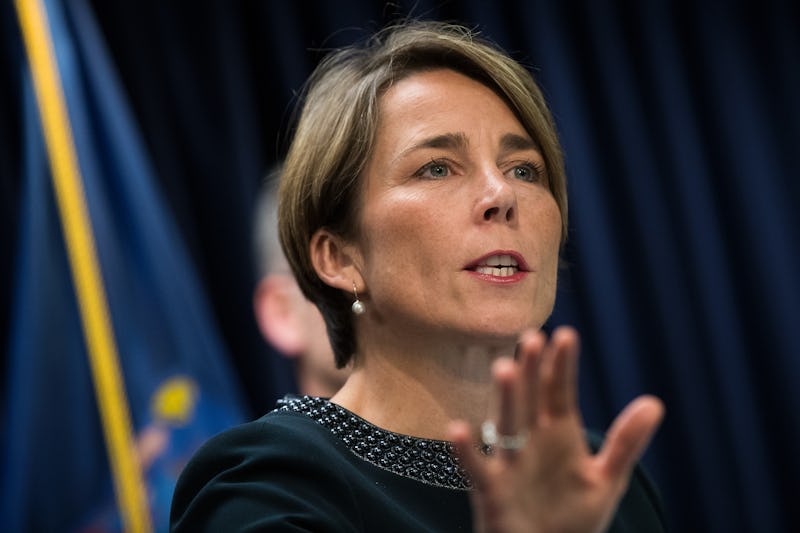 Drew Angerer/Getty Images News/Getty Images
The day after President Donald Trump's executive order targeting seven predominantly-Muslim countries went into effect last month, Massachusetts Attorney General Maura Healey deplaned at Logan Airport in Boston. Healey was coming from a meeting of attorneys general in Florida, and she arrived home to see the chaos unfolding firsthand.
"When I landed I went over to Terminal E, which is the international terminal, and I spoke to my team who was already on the ground there, along with immigration lawyers who had gathered, we worked really closely, and hand-in-hand to make sure that people could get through and get home," Healey tells Bustle in a phone interview.
She swiftly filed a lawsuit against the Trump administration challenging the executive order. As she explained in a press release regarding the complaint:
Harm to our institutions, our citizens, and our businesses is harm to the Commonwealth of Massachusetts ... the President's executive order is a threat to our Constitution. Rather than protecting our national security, it stigmatizes those who would lawfully emigrate to our state. With this policy, our global universities, hospitals, businesses and start-ups, and far too many students and residents have been put at risk. On behalf of the Commonwealth, my office is challenging the immigration ban to hold this administration accountable for its un-American, discriminatory, and reckless decision-making.
Healey also joined with 15 other attorneys general to issue a joint statement denouncing the travel ban. The executive order was ultimately blocked by a federal judge, a move that was upheld by the 9th Circuit Court of Appeals. However, Trump has vowed to issue a new travel ban.
For Healey, though, her concerns regarding Trump and the law are not limited to his immigration policies. The travel ban in and of itself is not the only aspect she finds constitutionally disconcerting about the Trump administration. During the interview, Healey brings up her worries about what his administration will mean for the environment and clean energy, student debt and education, to healthcare and civil rights.
"Unfortunately, there's no shortage of concerns," Healey says.
"If you don't have transparency, if you don't have integrity, then that eats away at democracy."
When Bustle brings up Trump's potential conflicts of interest and how there are concerns he may be in violation of the Emoluments clause of the Constitution, which forbids any government officeholder from taking payments from foreign governments, Healey points to concerns that she and other critics had about Trump during his campaign. "This goes back to his failure to actually release his taxes, which, may not be required by law, is still a serious issue." She adds, "We don't know the extent of his holdings or how to even properly assess conflicts of interest, who he's done business with, who is going to benefit from doing business with in the future."
"It goes directly to integrity and transparency, and if you don't have transparency, if you don't have integrity, then that eats away at democracy," Healey says. "Every day that goes by in his administration there are serious conflicts of interest issues that present themselves."
However, like many other Democratic attorneys general, she is committing herself to keeping his administration busy in court. "If Donald Trump and his cabinet are going to go in the direction of rolling back progress made, of taking away peoples' rights and important protections, we as state AG's are going to be there to enforce the laws and try to protect people."