Maxine Waters Has A Defiant Message For The Person Behind The Suspicious Packages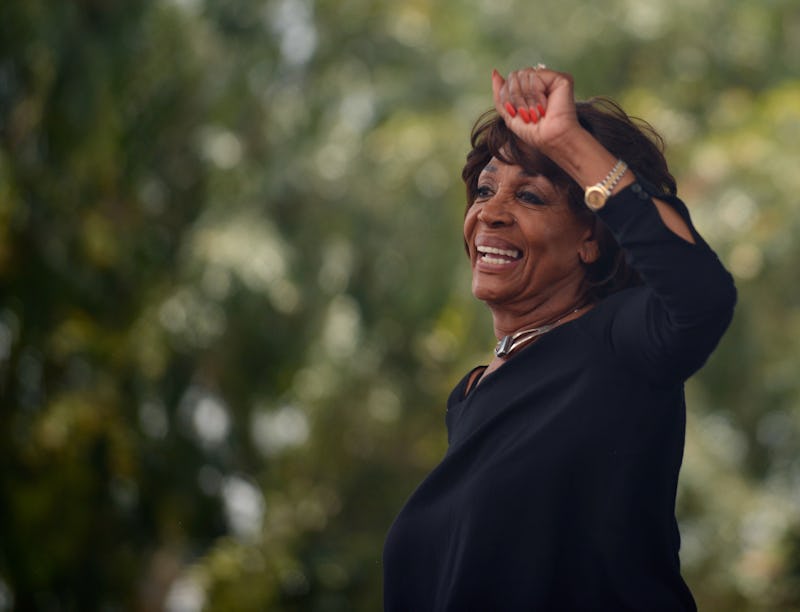 Chelsea Guglielmino/Getty Images Entertainment/Getty Images
Bomb threats have targeted at least eight prominent Democratic figures this week, including a high-profile U.S. representative from California: Maxine Waters responded to the suspicious packages in an interview with Blavity on Wednesday, saying that she refused to be frightened off from pursuing her agenda. "I ain't scared," she told Blavity.
Two suspicious bundles were addressed to Waters, the FBI confirmed; one was sent to her in D.C. and the other in California. The second was intercepted at a mail center in South Los Angeles on Wednesday, according to CNN. Members of law enforcement told ABC that it had a live explosive device filled with glass shards inside.
"I don't know whether the bombs are real or not, but we should not crawl under the bed, close the doors, not go out, be afraid to go to rallies," Waters told Blavity on Wednesday. "We have to keep to doing what we're doing in order to make this country right. That's what I intend to do, and as the young people said, 'I ain't scared.'"
Among the other figures targeted by mailed potentially destructive devices this week are President Barack Obama, Hillary Clinton, and philanthropist George Soros. Packages have been sent to eight people in all, according to the FBI, with the latest being Vice President Joe Biden and liberal actor Robert De Niro.
During her interview, Waters suggested that President Donald Trump is partially to blame for the string of attacks. "I think the president of the United States has been dog-whistling to his constituency, making them believe that their problems are caused by 'those people over there,'" she said, referring to his characteristic rhetoric, which is often called divisive. "I think that they're acting out what they believe the president wants them to do."
She brought up many instances during the campaign where the president seemed to glorify the idea of violence. "Any guy that can do a body slam, he's my kind of guy," Trump declared at a rally this week, and he said of a reporter during the election campaign, "Maybe he should have been roughed up." Trump told a crowd in Iowa in 2016 that he'd asked his security to beat up anyone who threw a tomato and that he'd promised to pay for any subsequent legal fees. Last year, he tweeted out a meme of himself beating up CNN.
"He is expert at lying, and deceiving, and of course, encouraging people in his own way to be violent or to be racist or to be separatist," Waters said on Wednesday. "I think it's the worst thing that ever happened to us, to have a president of this nature."
Waters has long been one of the staunchest voices calling for Trump's impeachment. Just a month after he got into office, she declared, "I hope he's not there for four years," and said, "My greatest desire is to lead him right into impeachment." Trump has often fired back. On Monday, he insinuated a threat in a tweet directed at her.
"She has just called for harm to supporters, of which there are many, of the Make America Great Again movement," Trump wrote. "Be careful what you wish for Max!"