Maxine Waters Spoke Out On Trump And Bill O'Reilly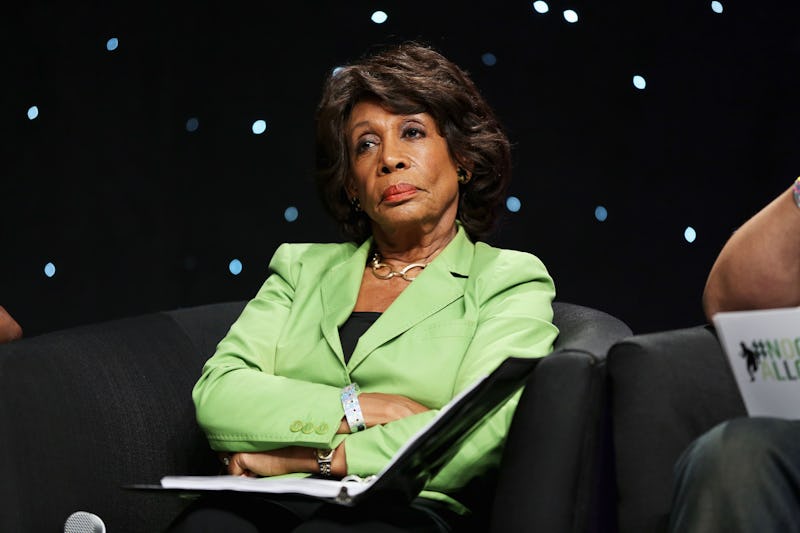 Chelsea Lauren/Getty Images Entertainment/Getty Images
During an interview with the New York Times yesterday, President Donald Trump voiced support for conservative talk show host Bill O'Reilly. Trump's comments came following a Times investigation that found five people who had accused O'Reilly of sexual harassment received settlements. Hours after Trump called the Fox News pundit "a good person," California Rep. Maxine Waters spoke out on Trump's defense of O'Reilly, saying, "They need to go to jail."
At the time, Waters was being interviewed on the MSNBC show All In with Chris Hayes. Hayes read Trump's statement on O'Reilly in full and asked for Waters' reaction, to which she replied:
Well, it's coming out of the mouth of a man who's said some horrible things about women. Don't forget he talked about grabbing women in their private parts and because he was important he could get away with it. And so they are two of a kind, and so I'm not surprised that he stood up and tried to defend Bill O'Reilly. But, it's all catching up with Bill O'Reilly and that sexual harassment enterprise that they created over there at Fox... They need to go to jail. Bill O'Reilly needs to go to jail.
Waters went on to criticize Ivanka Trump's silence on the matter, saying, "I think she either advised [Trump] wrong or she's absent and she's not in it."
Perhaps the most fearless and outspoken member of Congress today, Waters is not shy about calling out the president and his administration. Shortly after the MSNBC segment aired, she proudly tweeted links to clips of and articles about her strong comments. In February, Waters called Trump's associates "a bunch of scumbags... who are all organized around making money." Additionally, she has spoken out in favor of Trump's impeachment multiple times.
And though Waters has been a member of the U.S. House of Representatives since 1991, it's only recently that her no-nonsense ways have won her internet fame as the "Auntie Maxine" meme. She now has scores of newfound fans across the United States, but O'Reilly and Trump might not be among them.
In March, O'Reilly appeared on Fox & Friends and joked about the Congressperson's appearance saying she was wearing a "James Brown wig" that distracted him from listening to her speak. O'Reilly later apologized for what he called "dumb" comments. But that didn't deter Waters from responding: "Let me just say this: I'm a strong black woman and I cannot be intimidated. I cannot be undermined. I cannot be thought to be afraid of Bill O'Reilly or anybody." Her latest comments further serve her reputation as one fearless legislator.