This Cult-Fave Concealer Is Now Shade Inclusive & Women Of Color Are So Ready For It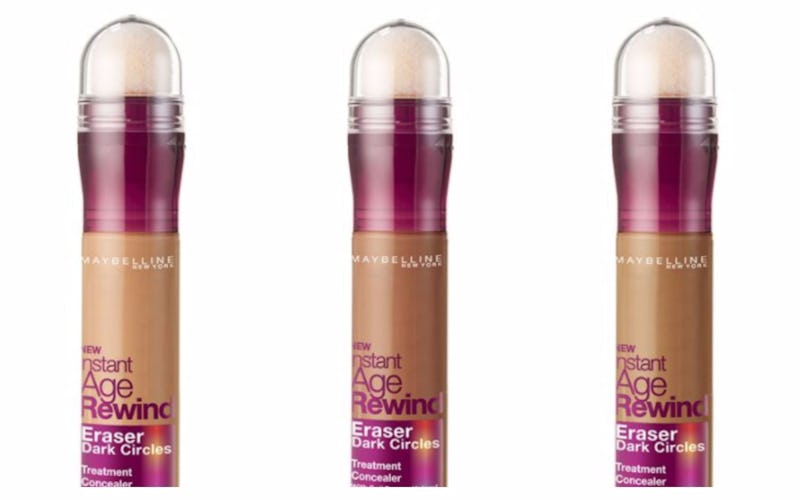 This is not a drill. Maybelline just expanded its Instant Age Rewind Concealer shades — and if you're a woman of color, the news is a very big deal.
The dream of finding that match-made-in-heaven concealer without shelling out the big bucks just became more of a reality. Drugstore beauty heavy-hitter, Maybelline, started the new year off with a bang by introducing deeper shades to their cult-favorite concealer lineup. Taking to Twitter to respond to a fan asking that the range be adjusted so that it caters to everyone, the brand shared news of an expansion— and, honestly, it's about damn time.
The Instant Age Rewind concealer has long been heralded as a holy grail dark circle eraser by many beauty fanatics that claim it's a great dupe for high-end concealers. But up until now, tan to deep hues simply didn't exist, making the concealer a flop for WOC who could do absolutely nothing with the previous "fair", "light", and "neutralizer" shades. Along with an ivory hue that caters to those with paler skin tones, five new, golden to hazelnut shades have now been thrown into the mix.
So, it looks like Maybelline is really on a mission to become one of the most affordable brands that cater to WOC, too.
Instant Age Rewind Concealer, $10, Maybelline
No matter the shade, the new concealers are a job well done for Maybelline. "Sand" is the golden beige addition to the concealer line. Then there's "Golden", a worthy color for medium skin tones. "Caramel" is a medium honey that could suit those with very warm skin tones, while "Tan", a shade deeper, seems to feature a slightly cooler undertone. Finally, "Hazelnut" is the deepest of the new additions, an ideal brightener for beauties with mocha skin tones.
There's still tons of work to be done, of course (the line could stand to go even darker), but this concealer update is yet another step in the right direction for Maybelline becoming truly all-inclusive. The brand had already expanded the Fit Me Foundation range with 16 medium to deep shades, so it only makes sense that their dark circle erasers would get a taste of diversity, too. They've even introduced more Fit Me Concealer shades, so it seems all of Maybelline's top-rated products will better appeal to the masses now.
Doing what they do best, beauty lovers took to social media to give their two cents on the expansion. Many WOC had long been asking for darker shades from the drugstore favorite, so needless to say, the Twitterverse was riled up.
When word finally got out that more concealers were on the way, brown beauties were just itching to get their hands on the newly diverse merch.
Brown babes: We. Have. Shades!
Seriously, it's been a long time coming.
Of course, there were those who were totally unimpressed, considering it took such a major brand so long to cater to deeper skin tones.
Still, the overwhelming majority were excited about the news.
Even if it took the brand a while to get it together, it's better late than never, right?
Instant Age Rewind Concealer, $10, Maybelline
Although news of an expansion should be enough to convince you to give the Instant Age Rewind Eraser a try, it's formula will ultimately win you over. The treatment concealer is infused with goji berry, an extract popular for it's anti-aging properties, and Haloxyl, an ingredient for lightening dark circles. So, this formula is no joke when it comes to brightening your tired eyes. With a micro-corrector applicator that erases dark circles and minimizes fine lines like a boss, it's no wonder the concealer is a fan-favorite.
Now that the line features shades brown beauties can actually use, it'll probably fly off of shelves more than ever. Luckily, the concealer will cost you less than an Andrew Hamilton, so feel free to snag several in your match when you come across these glorious shade additions.