MannyMUA & MakeupShayla Are Maybelline's New Stars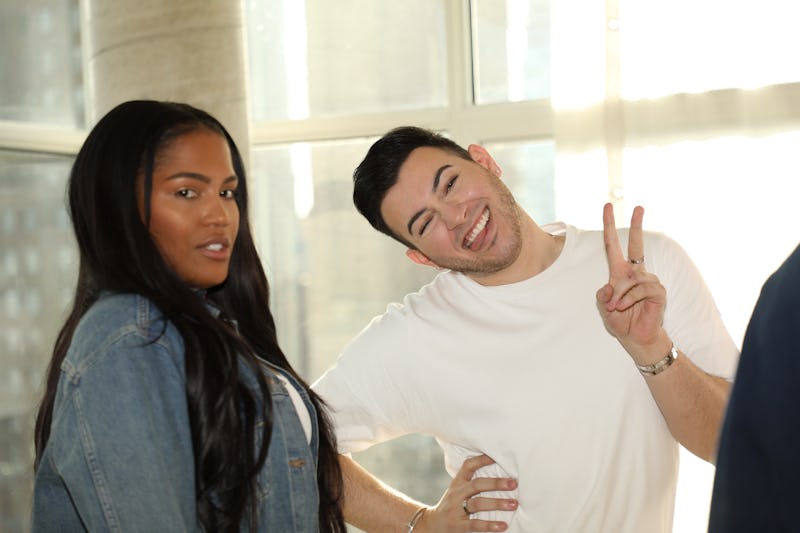 Maybelline
Now that 2016 is finally over, it's time to look ahead. It looks like beauty influencers teaming up with brands are a big part of that future in 2017. And what better way to kick things off than with beauty influencers Manny MUA and MakeupShayla in Maybelline's Big Shot campaign. They're the perfect choices! Considering that Mitchell (aka MakeupShayla) has over two million followers on Instagram and Gutierrez (aka Manny MUA) clocks in at over two million subscribers on YouTube, these two slay the scene and boss up in both their private and professional lives.
The pair is teaming up for Maybelline's Big Shot campaign which celebrates the launch of the brand's Colossal Big Shot Mascara. The cosmetics brand couldn't have chosen two better representatives of living your life like a boss than Gutierrez and Mitchell. The pair's social media followings are massive, and they're total cosmetics gurus, but both of them maintain a sense of perspective about their lives in the spotlight. It's the balance of appreciating their newfound celebrity lifestyles and still continuing to grow their respective brands that make them the perfect choices for Maybelline.
Senior Vice President of Marketing at Maybelline New York, Anne-Marie Nelson Bogle, said, "They represented the 'boss' beauty attitude in this mascara campaign like no one else could, bringing to life this message on screen to inspire their millions of fans, as they do on a daily basis, to also 'lash like a boss.'"
While Maybelline could have chosen other gurus — there are tons that slay — it shouldn't be overlooked that the brand is promoting some seriously inclusive slayage with the choice of Gutierrez and Mitchell. Unfortunately, the world of social media influencers hasn't quite caught up to the inclusivity train. With a lack of both men and women of color getting the attention they deserve for being bosses, Maybelline is taking a stand and promoting beauty diversity in their choices.
But beyond that, these two are totally deserving of being stars of this campaign. From cut creases to bold lips, they know their stuff. For all of their success, though, their love of makeup and people is still what powers them. In a sit down with PopSugar, Mitchell explained that her favorite part of being an influencer is, "just doing what I love. This definitely wasn't my dream job, ever. But now I'm doing what I love and working with companies like Maybelline and all these companies that I grew up looking at."
As for Gutierrez, it all comes down to people and the connections he's made. He spoke specifically about a meeting with a fan that nearly moved him to tears. He explained that an 11 year old boy came to a Benefit meet and greet in order to see him. The boy had come with his father, and according to Gutierrez, the father told him, "Thank you so much for being an inspiration to my son." It was this moment that brought the YouTuber to tears. He explained, "I was bawling my eyes out, because I have never had that experience. It was really cool getting to see that. Literally the world changing right in front of me."
Manny Gutierrez and Shayla Mitchell were clearly the best choices to represent Maybelline's Big Shot campaign. With their massive social media followings, approachable personalities, and killer talent, there aren't many who are as boss as these two.