Mayochup Is Officially Coming To The U.S. — Here's When You Can Get It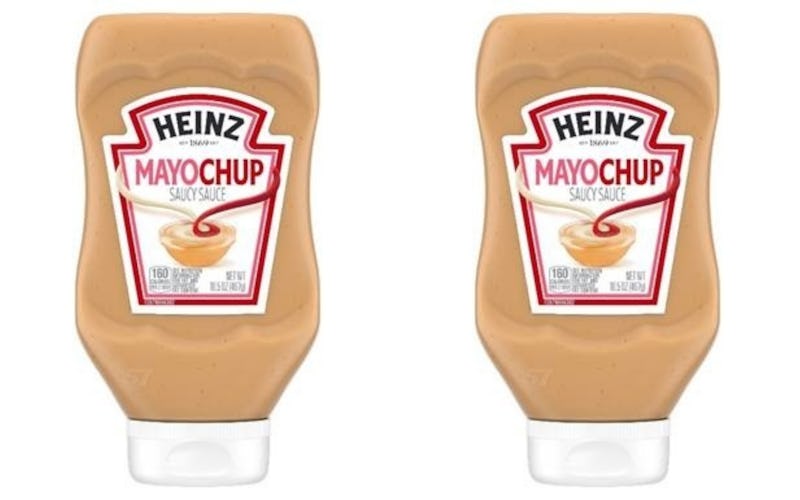 Heinz; remixed by Bustle
It is not often something as benign as a condiment breaks the internet, so when it happens, you know it has to be special. Earlier this year, a marriage of two refrigerator staples captivated and disturbed audiences the world over — it depends on who you ask. But, one thing is for sure: Mayochup is coming to store shelves, whether you like it or not.
If you didn't catch that: Mayochup, a condiment that mixes mayonnaise and ketchup in one bottle, will soon be available for purchase.
In reality, this is an endeavor that has lasted almost an entire year. Back in early April, condiment giant Heinz took to Twitter to ask users if Mayochup would be welcomed in the United States. The response was absolutely overwhelming. Per the Chicago Tribune, "At final count, 930,691 people voted in the survey, 55 percent of them in support." Since Twitter talked the talk, now it is time for all those users to walk the walk.
Before you run out to the store for a bottle of this tangy, creamy, pink goo, you're going to have to take to Twitter once again. Beginning TODAY, you have 24 hours to cast a vote on Twitter for a chance to bring a #Mayochup Food Truck takeover to your city. Don't worry, fries are included.
The three possible cities for a Mayochup food truck visit are those which were most involved with the initial Twitter poll. It would appear all parts of the continental United States are equally intrigued by the condiment; Culver City, California, Brooklyn, and Chicago were the most vocal. Virtually vocal, that is.
"After seeing the unprecedented passion surrounding this product, including the nearly one million votes on social media and 500,000 votes in favor of bringing it stateside, launching Mayochup in the U.S. was a no-brainer," explained Nicole Kulwicki, the Director of marketing for Heinz, in the press release. "We're excited to officially welcome Heinz Mayochup sauce to the Heinz family of products, including ketchup. mustard, BBQ sauce, and our most recent addition, Heinz mayonnaise."
For many, Mayochup is not all that new of a concept. The Washington Post explains, many Americans — particularly those familiar with South American, Central American, and Puerto Rican culinary culture — think of Mayochup as a household staple. As Samantha Schmidt puts it, "Sometimes adding a touch of garlic or adobo seasoning, Puerto Ricans smother it on just about anything fried: mofongo and tostones — both made with fried plantains — yuca, french fries, and more."
Mayo sans the tomatoey counterpart is also frequently paired with french fries in an array of European countries. Mental Floss reports mayonnaise is standard dipping for fries in The Netherlands and Belgium, the latter of which is considered the birthplace of the french fry. NBD.
For a long while, ketchup has been considered the standard accompaniment for french fries in the United States. This deviates from a standard set by many other countries. With the introduction of Mayochup, perhaps the US with begin to gradually accept Mayo (with a little ketchup mixed in) as the ultimate french fry companion.