McDonald's Has A '90s Throwback Collection That All Chicken Nugget Lovers Need To See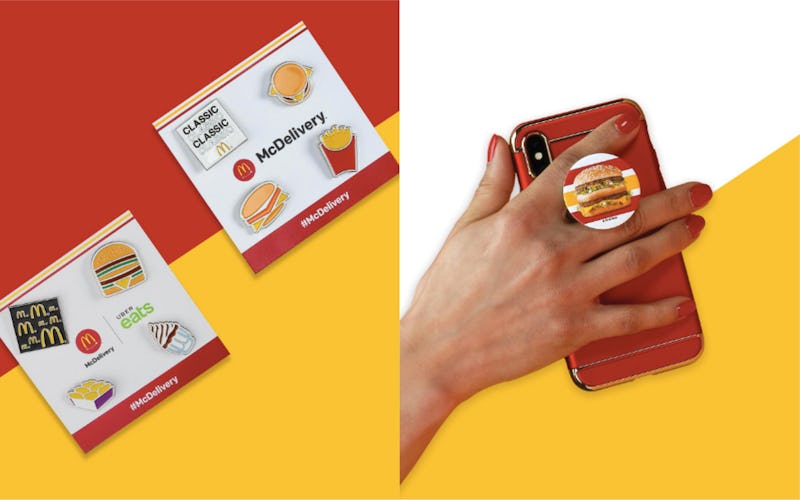 McDonald's
Back when McDonald's first hit the scene in 1940, it was a roadside hamburger stand meant to appeal to motorists as they zipped across the country with their shiny new cars. In 2018, though, you don't have to go to McDonald's anymore; McDonald's will come to you, thanks to the wonders of McDelivery. And hey, guess what? After a successful event in 2017, the ay known as McDonald's Global McDelivery Day is back for 2018 — and this year, you can get '90s-themed McDonald's gear for free with delivery orders placed through Uber Eats on the big day. Mark your calendars for July 19, 2018 starting at 10:30 or 11 a.m.; you're not going to want to miss this.
Does celebrating a day of McDonald's delivery with '90s-themed swag seem a little random? It's actually not; there is a connection here: While you may associate the McDelivery service with more recent times thanks to the dawn of the gig economy era, it actually dates back to 1993. In a short item by the Associated Press published in the "Company News" section of the New York Times' Nov. 24, 1993 issue (yes, I went that deep to dig up this information), it was announced that McDonald's had begun testing out a delivery service in Virginia. At the time, company officials noted that it was "too early to tell" if the service was a success; however, an assistant manager in Virginia Beach told AP, "We get up to 2,000 calls a day. I definitely think it's here to stay." AP also noted that there were plans to expand the service in 1994 — and, lo and behold, the New York Times reported almost exactly a year later that McDonald's delivery was coming to Manhattan.
In 2000s and 2010s, McDonald's McDelivery service began to expand, arriving piecemeal in markets ranging from Asia to New Zealand and Australia — but in 2017, a whopping 13 countries gained access to McDelivery through McDonald's coming to the Uber Eats delivery platform. That's when the first Global McDelivery Day occurred: To celebrate the burger giant's arrival on Uber Eats, McDonald's declared July 26, 2017 to be Global McDelivery Day, marking the occasion by offering McDelivery-themed freebies like pillowcases, tracksuits and sandals, a hoodie, and pajamas with orders made through Uber Eats. Said McDonald's CEO and President Steve Easterbrook according to Forbes at the time, "Global McDelivery Day is our way of celebrating the expansion of delivery while highlighting McDonald's ability to give our customers the great tasting food they love at McDonald's, where they want to enjoy it."
A year later, Global McDelivery Day is back — and, in a nod to McDelivery's '90s roots, the free swag for 2018's event is full of throwback fun. Indeed, that's the name of the collection: The Throwback Collection. On July 19, delivery orders placed through Uber Eats will be entitled to one free throwback item, which you'll be able to add to your Uber Eats basket alongside your order. Options include T-shirts, pins, socks, PopSockets, and bandanas, all adorned with '90s-era McDonald's art.
There are, of course, some caveats: They're available on a first come, first served basis while supplies last, for example; what's more, in order to be eligible for them, your minimum purchase amount excluding taxes and Uber Eats fees has to be at last $5. You'll only be able to add throwback items to your basket after the McD's location you're ordering from switches over to the lunch menu (that happens at either 10:30 or 11 a.m. — ask your specific location for details). Note, too, that $1, $2, and $3 Dollar Menu items aren't valid for delivery. You're also limited to one item per order — so, no, you can't place one order and then snap up the entire collection with it.
To find out which restaurants near you are participating in the celebration, head here and select your state. Then, place your lunch order through Uber Eats and add the throwback item of your choice to your basket. May all your '90s dreams come true!