McDonald's New Fries Are Supporting Pride Month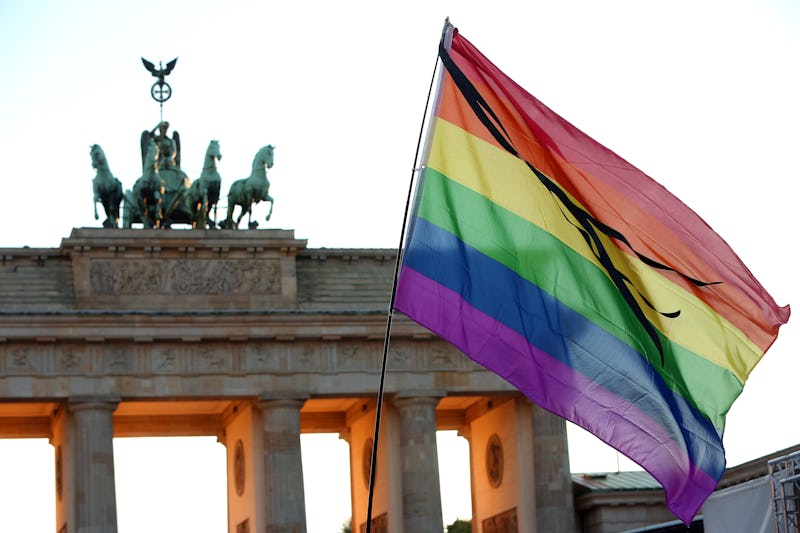 Adam Berry/Getty Images News/Getty Images
Would you like some pride with that? Fast food isn't often associated with LGBTQ+ rights, but this June, McDonald's new rainbow fries are here to join in the Pride Month festivities. If you prefer your starch when it's served with a dash of LGBTQ+ support, now is the time to indulge.
The iconic fry boxes' colorful transformation has only taken place in certain locations. Available in the large size, they were sold along the Capital Pride Alliance's pride parade route in Washington, D.C., from Jun. 9 and Jun. 11, and the rainbow boxes are sticking around all month at participating locations in the San Francisco Bay area. It's an appropriate choice, given that pride festivities tend to last all month in San Francisco, culminating in a two-day celebration and parade in the last weekend of June.
The container's new look will please LGBTQ+ supporters and unicorn food lovers alike. The front of the box remains unchanged, but if you flip it over, you'll find a rainbow taking up the entire back side. It's a nod to LGBTQ+ rights from the fast food giant, who is also an official sponsor of pride festivities around the country. According to WTOP, the company's Pride Week theme in Washington, D.C., is "Lovin' is Lovin'."
Perhaps unsurprisingly, not everyone is a fan of the show of support. Conservative news outlets and more than a few Twitter users have criticized McDonald's for standing by the LGBTQ community. Former pastor Joshua Feuerstein, whom you may recall as the guy that really hated Starbucks red cups a few years ago, quickly took to Facebook to call for a boycott of McDonald's.
However, the reaction to the fries has been more positive than negative. Rainbow fries even have the support of George Takei, an honor that far outweighs any criticisms lobbed by the haters.
It's a testament to how far LGBTQ+ rights have come that McDonald's is hardly the only corporate sponsor of pride festivities. Ice cream company Ben & Jerry's, for example, has a history of going above and beyond in their support of LGBTQ+ rights, and Starbucks, Wells Fargo, and numerous other companies have all supported Pride Month in the past. It's worth noting, however, that increasing corporate sponsorship has concerned some activists.
LGBTQ+ rights still have a long way to go, but that doesn't mean you can't celebrate the progress that's been made. I don't know about you, but I certainly plan on enjoying all the rainbow and glitter that Pride Month has to offer — especially when it comes with fries.