'Love Island's Megan On Empowering Women & Curating Her Own Fashion Line — Exclusive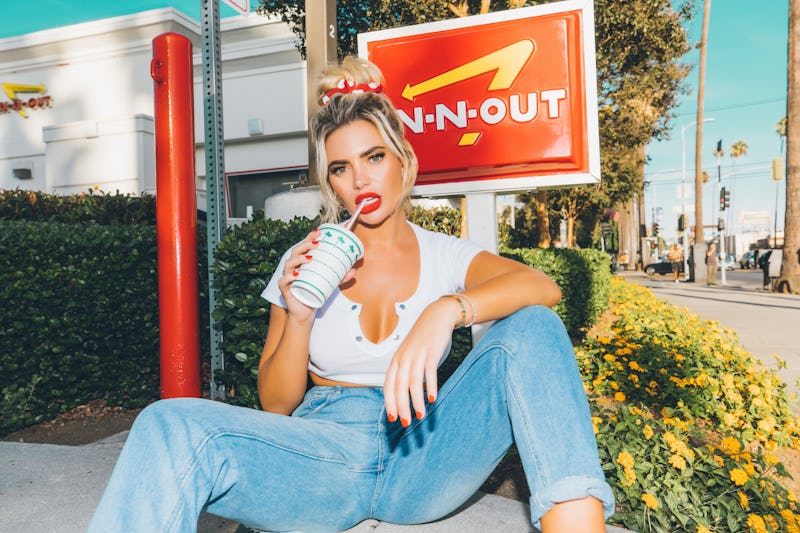 PrettyLittleThing
What sets a reality star like Love Island's Megan Barton-Hanson apart? She has an infectious smile and unique style that has made her a hit on Love Island 2018, finishing the show in fourth place alongside boyfriend Wes Nelson. However, her success outside of the villa is no accident. Barton-Hanson faced massive backlash during her time on Love Island for how open and honest she was about her previous job as a stripper, and how comfortable she was in her own sexuality. She has turned this hate on its head, using her platform of 1.8 million Instagram followers to spread a message of self-love, female empowerment, and positive mental health.
Since leaving the villa she has become involved with Gurls Talk, an online community founded by model and mental health advocate, Adwoa Aboah where women can come together to discuss mental health, sexuality, and self-care. And as if this wasn't enough to keep her busy, Barton-Hanson was named a brand ambassador for PrettyLittleThing, which involves going on shoots and curating collections for the label. In a press release, the brand's CEO Umar Kamani said, "I'm really pleased to have Megan as part of the PrettyLittleThing family. She's had an incredible journey since leaving Love Island and this was the perfect brand fit for us."
The saying "empowered women, empower women" springs to mind when I think of Barton-Hanson. I caught up with her to discuss her PrettyLittleThing collection, life with boyfriend Nelson outside of the villa, and why she thinks it is so important that girls learn to love themselves.
Alice Broster: Firstly, congratulations on the collection, what inspired you for the edit? What made you pick those pieces?
Megan Barton-Hanson: I think they're very me. I love the double denim piece. I think it is very Kourtney Kardashian, I love it. It is just sort of things that I would wear. Like the outfit where I am outside In 'n' Out Burger with the mom jeans, simple top, red lip, red hair scrunchy, trainers. It's all things I would wear. I really like it.
AB: You've mentioned the double denim piece already but what is your favourite piece of all?
MBH: Yes, the double denim crop top piece is definitely my favourite of all, I love that. And the striped jumper dress. I haven't stopped wearing that, I live in it. It is so comfy, it is my airport outfit.
AB: You have been working with PrettyLittleThing. Why do you feel like you connect with the brand?
MBH: So, I held off doing any paid promotions and I really took my time to think about a brand, and PrettyLittleThing was one that really stuck out to me. I have always loved them. I love how they cater for different body shapes and sizes. They have the curve range and the PLT plus range so I think that is really good. I love that it is affordable, and accessible, and still always on trend.
AB: So for you was it important that you would wear the brand?
MBH: Yes, absolutely. 100 percent.
AB: After Love Island you've been incredibly busy. How have you dealt with that, with so much media attention?
MBH: Yes, it's been so overwhelming but it's all good though. I couldn't have imagined how busy I would have been and how busy Wes has been but it has been really positive and it has all been really good. I love getting involved with the Gurls Talk thing and PrettyLittleThing. These are things that I am really passionate about so it is all really exciting.
AB: You've mentioned your involvement with Gurls Talk and you've been a massive advocate for self love and female empowerment, why is that important to you?
MB-H: I think I got so much stick when I was in the villa and even before that for working in the sex industry, being a glamour model, having sex on TV, and having surgery. I just think it is important for women to love themselves and we should be sticking together not trying to tear each other down.
AB: I saw you on Good Morning Britain earlier in September and you wore the top that read "Stop valuing women on their sexual history" which went viral. If you could speak to your younger self, or any other girls out there who are going through a similar thing that you went through, what would you say?
MBH: I think loving yourself and accepting yourself, don't regret anything. You make those choices and whether you are getting involved with dancing because you want to earn money quickly, it's your choice it's no one else's. So it shouldn't bother you what other people say and I know, of course, it's easier said than done. It was hard for me when I first started dancing, everyone in my area in Essex was like, "oh you'll never guess what?" and they'd turn up at the club. People can be really nasty but I think as long as you're making the right decisions for you, and you know why you're doing it, and you're happy you've got to forget what other people say and do it for you.
AB: Since leaving the villa you have been so open about your past. Have you found a big support network?
MBH: Yes, it has been amazing. My following on Instagram is like 80 percent women and I get so many lovely messages. They're messages from girls who have gone through similar things to me. Whether it's that they are post-surgery and they're getting ridiculed for having surgery, or whether their anxiety is really bad. Or it's completely different things. They may have worked in the sex industry and people are tearing them down for that. I think it is so good to be able to use my platform and help, even if it is just one person it is really good.
AB: You've mentioned you and Wes, he has been really busy as well. Why do you think that is a relationship that has lasted outside the villa?
MBH: I think we are so in love and although we are both so busy, we have manic schedules, we make sure that when we do see each other it is quality time. We aren't just out at an event together and I am like "Oh I saw Wes then." No, we will have time just us going for a meal or doing something where it is just us, with our phones off and being together. I think we are both on the same page with that
AB: Just normal couple things?
MBH: Yes, I love it. Just doing real things. Like he posted a picture of me on my sofa with my shorts on and my hair up in a messy bun. I just love doing real things. It doesn't always have to be glam, out at events. It is nice just to chill with him.
AB: I suppose it may go without saying, but do you feel very supported by him and vice versa?
MBH: Yes, one million percent. There have been times when it has been tough with different things but he has always been there. He is amazing, I couldn't have asked or wished for a better boyfriend.
AB: Going forward, working with PrettyLittleThing what do you hope to achieve?
MBH: I can't wait to do more shoots, we've got one coming up soon. And I just want to do more streetwear that I would wear. I think, I am not always super super glam so I want to put together some more daytime pieces.