Meghan Markle's 'Suits' Wedding Was COMPLETELY Different Than Any Royal Wedding Will Be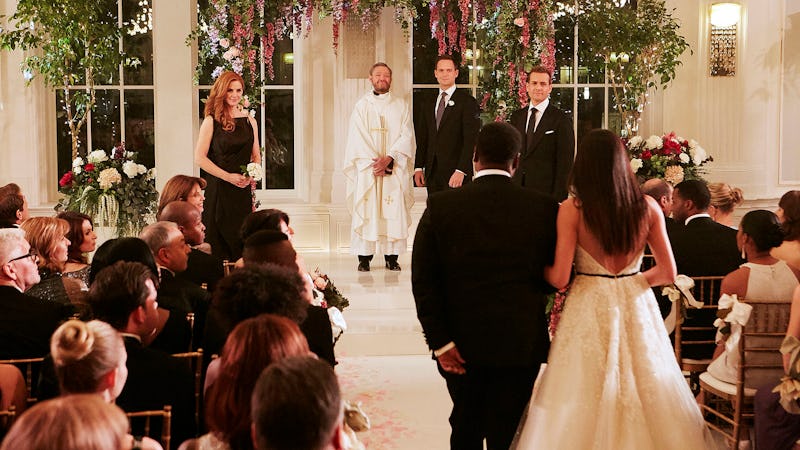 USA Network
Meghan Markle's fictional wedding has wrapped, and now it is almost time for her real one. Markle tied up Rachel Zane's Suits storyline in the Season 7 episode "Good-Bye" with her highly anticipated wedding to fellow lawyer Mike Ross. Thanks to Donna Paulsen's uncanny ability to make last-minute magic happen, Mike and Rachel said "I do" in front of their closest friends and family. All in all, Meghan Markle's TV wedding on Suits was way more low-key than her upcoming wedding to Prince Harry will be, but it was still a perfect sendoff for the couple.
The series' two-episode finale started with the couple working together to expose a battery company's devastating health impacts on school kids near their plant. During this time, Mike was approached by Andy Forsyth, a lawyer who wanted to start a Seattle based firm specializing in cases similar to the one Mike passionately works for in New York City. Forsyth offered Mike a senior partner position after reading about Mike's previous work to uncover suspicious deaths in a prison system. He sweetened the deal for a conflicted Mike by also offering Rachel a job. The couple discussed it and decided to take the impulsive leap — but they needed to get married first! The Suits Twitter page hyped up the big moment with an adorable wedding clip.
A small crowd gathered in a spacious loft filled with hanging lights, pink and white flowers, and John Legend's "All of Me" playing as Rachel walked down the aisle with her dad. She wore sleeveless, V-neck dress with pearl flower details and chose to go without a veil as she stated her vows to her new husband. The bridal party consisted of just two people, Harvey and Donna. The couple professed their love, strolled back down the aisle, and enjoyed their final night with their friends. Rachel's wedding vows were simple yet sweet enough to make any Suits fan cry.
"I know that I fought it at first but now Mike I can't imagine living alongside anyone else for the rest of my life … You are the strongest man I have ever met and you make me stronger. You're the husband I've always wanted and I can't wait to begin our adventure together."
Markle's real life wedding takes place on May 19 and will have a lot more pomp and circumstance. She's leaving her acting career and American life behind to marry actual royalty, after all. According to Vogue, Markle will marry Prince Harry at the massive St. George's Chapel in Windsor Castle. The same article also said their official guest list includes around 600 people for the ceremony and another 200 people for the after party. CNN also reported that the chapel grounds will open up for over 2,600 members of the public to catch a glimpse of the bride and groom. The details about her wedding dress are still under wraps, but the dress is rumored to cost much more than the new Mrs. Mike Ross would ever drop on a gown — around $430K, according to Inside Edition. That's a bigger check than the one Louis gave to Mike to help Nathan save his not-for-profit legal firm!
According to Business Insider, the royal couple's big day will cost $45 million. Most of that will go toward security precautions, but even their more-typical wedding costs are very high. According to the same Business Insider report, another $78,000 will reportedly be spent on a photo booth, entertainers, and fireworks. It's a far cry from the DJ, late-night booze, and classic dancing at the Zane-Ross reception. TIME also reported that and Markle and Prince Harry will have several choirs, including a gospel one, as well as an organ player, DJ, live-band, and a 19-year-old master cellist named Sheku Kanneh-Mason to play the wedding. The article said music costs are expected to around $430,000. Who knew entertainment could be so expensive?
Still, while Rachel may not have spent thousands of dollars on a cake or have millions around the world watching her wedding, she married the man of her dreams in a ceremony that was perfect for them. Years of drama, shady dealings, and challenges led to a major payoff for Rachel/Mike fans. Now, the couple's adventures will continue off-screen in fans' minds as Markle's real-life royal wedding journey begins.