Meghan Markle Is So Royal Now, Her 'Suits' Boyfriend Can't Even Get In Touch With Her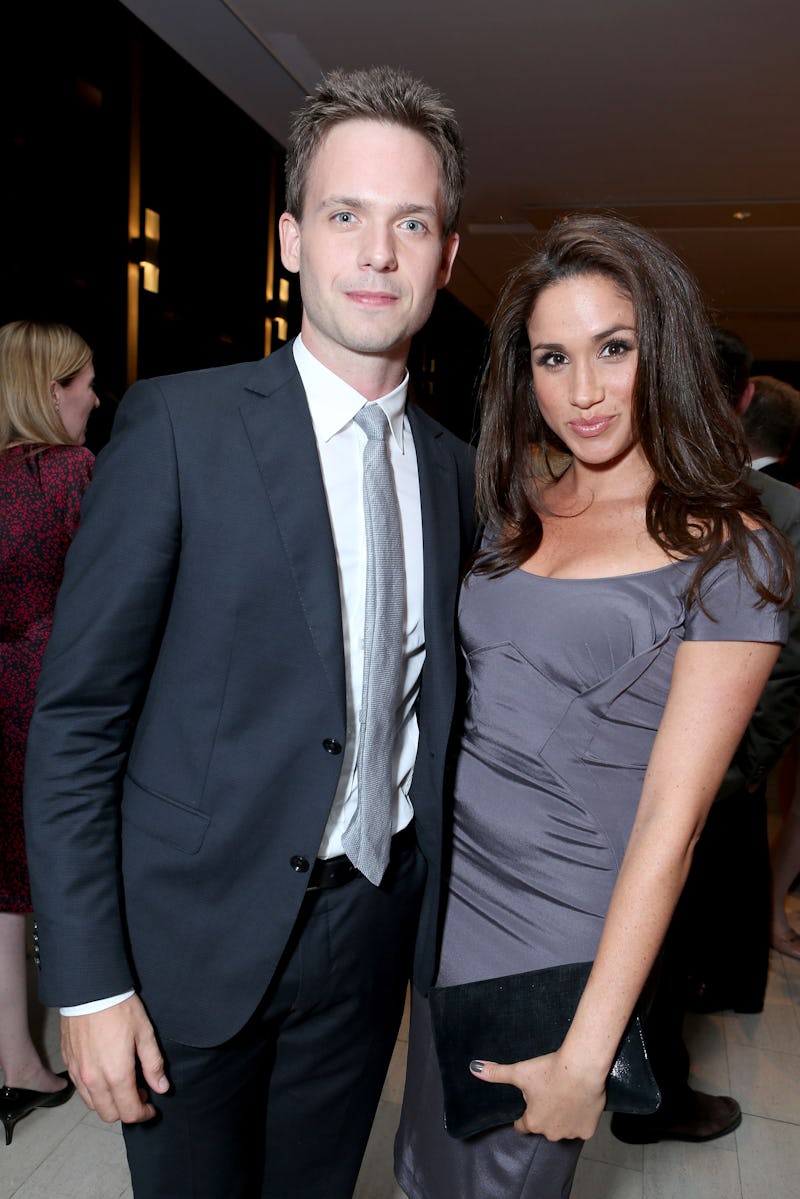 Alexandra Wyman/Getty Images Entertainment/Getty Images
Though Meghan Markle still has to wait a few weeks to officially become part of the royal family, access to the future Mrs. Prince Harry is already hard to come by. Her Suits co-star Patrick J. Adams doesn't even have Markle's new number. In an interview with Entertainment Tonight, the actor revealed that he couldn't give relationship advice to his television wife, because he can't just easily call her up.
"I don't even have her telephone number anymore!" Adams admitted.
The info might seem a bit surprising to long-time viewers of Suits, who have seen Markle and Adams' characters Mike Ross and Rachel Zane fall in love over the seasons. Season 7, the batch of episodes that is currently airing on television, will be both actors last with the USA series and will include the two characters finally tying the knot.
On the series the two share a strong romantic chemistry, that includes plenty of steamy kisses and super sweet conversations. In one such moment Mike tells Rachel, "I wanted to marry you since the moment I met you." Watching the scene (as you can in the trailer below) is enough to make you forget that Adams if happily married in real life to Pretty Little Liars actor Troian Bellisario, and Markle has her actual prince charming.
While it might seem cold that Markle wouldn't pass on her new contact info to someone she worked closely with for many years, it almost certainly more to the life she leads as a soon-to-be-royal more than any sort of hard feelings. There are many rules and life changes related to safety and tradition Markle must now follow as a family member of the British monarchy. She no longer has her own personal social media accounts and she's even discouraged from taking selfies.
Adams, for his part didn't seem offended by his lack of phone access to Markle, either. He told Entertainment Tonight in the same interview that filming his fictional wedding episode with Markle was "surreal" and that he had a good relationship with her. "Meghan and I have been so close from the beginning of the show, so to finally get to that moment was really great," he told the outlet.
When the news first broke that Markle and Prince Harry were engaged, Adams was one of the first to congratulate the couple on social media. Last November he wrote on Twitter:
Playing Meghan's television partner for the better part of a decade uniquely qualifies me to say this: Your Royal Highness, you are a lucky man and I know your long life together will be joyful, productive and hilarious. Meghan, so happy for you, friend. Much love.
Though the official invite list to the royal wedding isn't public, there have been rumors circulating that several of Markle's celebrity friends will be invited, including her Suits co-stars and show executives. An "insider" told Hello! last month, "The cast has been contacted in regards to invites from Kensington Palace."
While Adams wouldn't say on the record if he's attending Markle's wedding at St. George's Chapel, he told Entertainment Tonight that he and Bellisario had thought about what they're getting the couple for a wedding gift. "We were trying to choose between like a blender or bread maker," he said. "You know something classy, like a good blender. Like a Vitamix, yeah. She's going to need a Vitamix for sure." He made it clear the the gift wasn't dependent on an invite either. "Whether I'm there or not, the Vitamix is going to the wedding."
Hopefully, if Adams does attend the wedding he'll be able to slyly get Markle's new digits.