Meghan Markle's Latest Appearances Proves She's Adjusting To Royal Life Like A Total Natural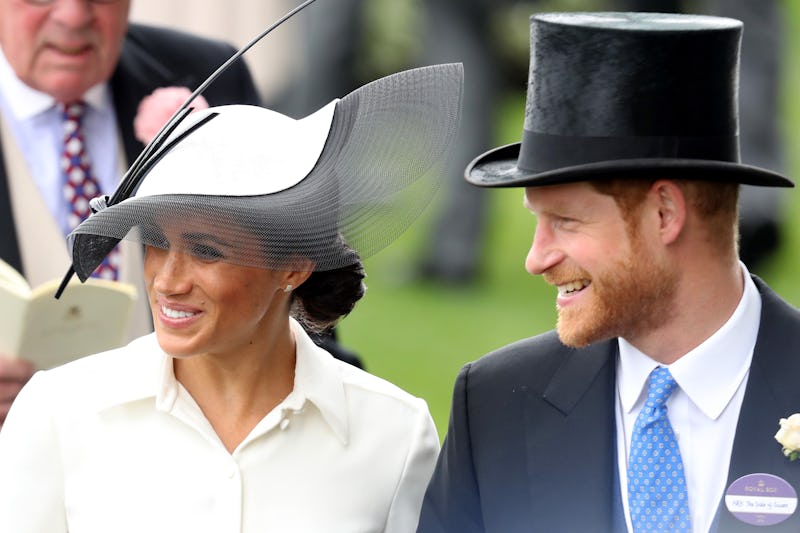 Chris Jackson/Getty Images Entertainment/Getty Images
She's off to the races! On June 19, Meghan Markle went to her first Royal Ascot, People reported, and it certainly seems like royal life suits her pretty well (pun intended), don't you think? She was basically beaming the entire time, and she was spotted chatting up everyone around her as if she'd known them for years. Oh, and Prince Harry was there, too.
Exactly one month after their wedding, Harry and Markle — ahem, correction: the Duke and Duchess of Sussex — attended the first day of Royal Ascot together, and Markle looked like a total natural. She and Harry shared a carriage with Prince Edward and Sophie, Countess of Wessex, while in the parade on the way to the races, and everyone just kind of seems thrilled to be around her.
Markle — perhaps as a nod to her wedding day ensemble for the couple's one month anniversary? — wore an off-white Givenchy by Clare Waight Keller dress for the occasion, USA Today pointed out, and accessorized her ensemble with a skinny black belt, a black jeweled clutch, and a coordinating black and white Philip Treacy fascinator. Harry wore tails and a top hat, which — while it sounds very ringmaster —was actually quite dapper.
Before the event began, Markle made the rounds, chatting with various members of the royal family and their friends, as per Town & Country, including the Queen, Camilla Parker Bowles, and John Warren, the Queen's racing advisor — a job that apparently exists.
Does that mean that the Queen actually bets on horse races? Do you think she's a big gambler in general? Just imagine her sitting at a row of like, slot machines in Las Vegas or something, decked out in her formal skirt suits. Amazing.
Anyway, for those not familiar, the Royal Ascot is kind of like the British version of the Kentucky Derby. It's a long-standing tradition that dates back to 1711, according to the Royal Ascot's Commercial Director, Juliet Slot, via People, and came to be after Queen Anne trotted out to the space where the event has since been held and said, "This would be a fine place for a race."
Slot explained that the Queen is basically in charge of the whole thing, and oversees every detail, including the dress code. Guests are expected to wear formal attire and hats, but nothing like, too outrageous — one of those breakfast plate fascinators or hats with massive clusters of butterflies, basically. "I would say that we have the odd novelty hats, but we actually don't encourage it," Slot said. "We want the event to be perceived as very stylish."
Noticeably absent from the Royal Ascot, however, were Prince William and Kate Middleton. According to Town & Country, William was otherwise occupied in Liverpool at the International Business Festival — which is the biggest business festival in the world, and seeks to "build networks and to share knowledge" — and Middleton was off getting some much-needed down time with little Prince Louis.
The Royal Ascot is just one of many public appearances that Harry and Markle will be making in the next few months. On June 10, Kensington Palace announced via Twitter that the newlywed royal couple will embark upon their first official tour together this autumn, and are expected to visit Australia, Fiji, the Kingdom of Tonga, and New Zealand,
If Markle is at all nervous about assuming her new royal position in the public eye, she certainly doesn't show it. Her sleepover with the Queen appeared to be a great success, so it's safe to say that everything else from here on out will be smooth sailing.