These Pics Of The Queen & Meghan Markle On Their First Joint Trip Are Everything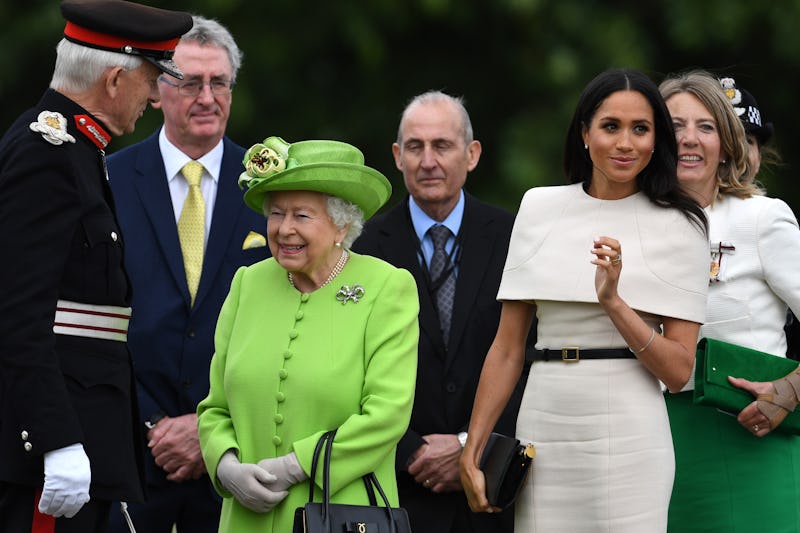 Jeff J Mitchell/Getty Images Entertainment/Getty Images
It's the road trip I'd kill to be on, as the Queen and Meghan Markle have embarked on their first solo trip together today. No Harry, no Will, no Kate... it's all eyes on the Queen and her new daughter-in-law. The first pictures are in and The Queen and Meghan Markle's trip looks to be going swimmingly, with their visit to Chester drawing in large crowds of people keen to catch a glimpse of the pair.
They departed via the royal train, which the Express reports is understood to have journeyed overnight to their destination. They disembarked at Runcorn Station, before the Liverpool Echo reports they were driven to the Mersey Gateway Bridge, which they are there to officially open. The Queen and Meghan met those involved in the bridge, such as architects and planners, and the duo cut a ribbon and unveiled a plaque to commemorate the day. The Mersey Gateway bridge apparently cost £1.86bn, according to Sky News, and is a serious new landmark.
Next, they travelled to Chester together by car, where they are due to attend a performance and and lunch at Chester Town Hall, dining alongside local stakeholders. Huge crowds have lined the streets for their arrival, with traffic precautions in place, according to The Chester Chronicle.
We're sure it's mostly been smooth sailing, but according to the Express, Meghan was a bit flustered when it came to protocol, forgetting if she or the Queen should get in the car first, and had to ask the Queen what her preference is. It's a lot to remember, and I can imagine she's taking it all in. Her actress background will also be a brilliant help: she's confident, used to meeting people, and will presumably enjoy the theatre performances today. (There are set to be three performances, at various points). In fact, her background may be a contributing factor as to why the Queen asked Meghan on the trip, which is a huge deal.
Meghan, who wowed in Carolina Herrera at Trooping the Colour, is today wearing a nude dress with caped covered shoulders by Givenchy, according to Harper's Bazaar, with a black belt and heels. (Of course, the luxury fashion house helmed by Clare Waight Keller also designed her now-famous wedding dress.) Her hair is down (farewell for now, signature messy bun) and she's opted for a black clutch bag, possibly inspired by her sister-in-law Kate Middleton, who's also partial to a clutch. Meghan is also wearing nude tights, a possible nod to the Queen's wishes, who reportedly likes it to be so on royal visits, according to OK! As is customary for her, the Queen is rocking a block colour; today in lime, with black shoes and handbag.
One Twitter user revealed that they've taken their seats (next to each other, of course) to watch a performance by the Andrew Curphey Theatre Company.
It's a big moment for Meghan, and is all part of her royal training, according to People. "It is the way of the royal family—all part of the training and getting used to being in public life and under public scrutiny," Queen Elizabeth's former press secretary, Charles Anson, tells the magazine. He goes on, "showing people the ropes is a high priority for the Queen."
The two look happy to be there, and happy to be in each other's company, with Meghan seeming to be adapting to her royal duties seamlessly. It's been reported that the Queen and Meghan get on well, and we bet that was one interesting train journey. Now, for a full day of royal visits. I wonder what lunch will be.