Meghan Markle Celebrated International Women's Day In The Perfect — And Most Adorable — Way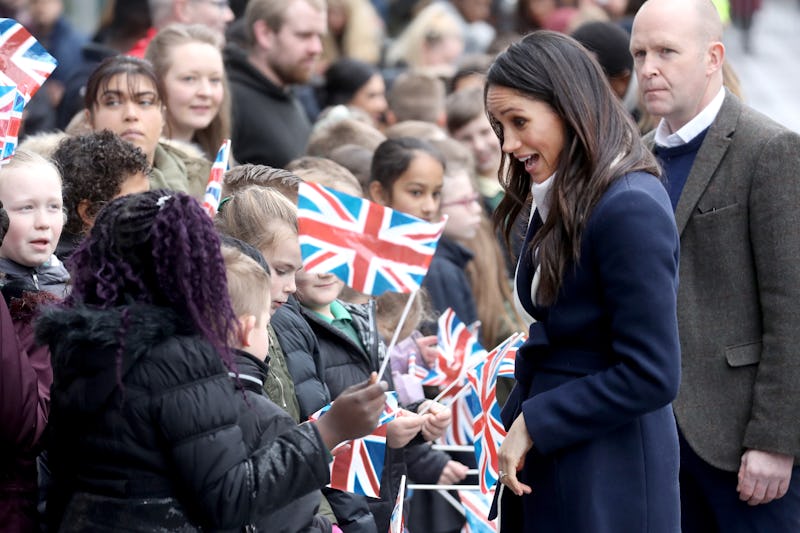 Chris Jackson/Getty Images Entertainment/Getty Images
On Thursday in Birmingham, England, Meghan Markle celebrated International Women's Day, in part, by hugging a little girl and telling her to follow her dream of acting, according to People. What better way to promote a day that means so much to girls and women of all ages across the globe? During Markle's visit with Prince Harry, People reported the prince was chatting with Sophia Richards, a student at Oasis Academy in Warndon, England. He wanted to know what she wanted to be when she grows up and apparently after hearing her response, Harry just had to introduce Richards to Markle.
Richards wants to be an actor, a career Markle knows all about. The soon-to-be royal is best known for starring as Rachel Zane in Suits for seven seasons. Now that she is engaged to Harry, she's moving on from the entertainment business to not only live a life in England with the man she loves, but to also focus on other important matters to her, like philanthropy.
Even though acting is behind her, it's still engrained in Markle and she, of course, is capable of inspiring those who want to follow in her footsteps. Richards told People, "Meghan told me that I can achieve whatever I want to achieve. And Meghan said she would like to see me on TV when I become an actress." Richards added, "It was a dream come true. I will never forget this day."
According to the Daily Mail, Harry also inspired Richards. The little girl said about Harry, "He said, 'You need to be confident and you can achieve whatever you want to achieve.'" They make one powerful couple.
Apparently, by hugging Richards, Markle also broke royal protocol. According to Town & Country, royals don't typically hug anyone, but rather just shake hands due to the specific rules about touching royals. In May 2011, British historian Kate Williams spoke with BBC News and explained, "From medieval times, monarchs were divinely appointed to rule by God, so they were kind of seen as gods, so they demanded to be treated as gods." She continued, "They are treated as people set apart from the rest of us, so primarily what it is creating is distance and grandeur."
But, Markle isn't one to follow the rules, as she's done since announcing her engagement to Harry. And when it comes to International Women's Day, of course the 36-year-old is going to empower a little girl by giving her a hug. It only seems appropriate — and Markle's style.
In a video tweeted by Sky News, Markle is also seen chatting with children about their dreams. One child asked her, "What's your dream?" Markle replied, "What's my dream? What's your dream?" The child answered, "To see a whale." Yes, Markle gave the best answer to that by saying, "To get to see the whale? I bet you could make that happen." Even a short conversation about a simple dream to see a whale can influence a child's life.
In addition to telling children they can achieve their goals, Harry and Markle are also promoting STEM careers for women. In Birmingham, they visited Millennium Point, which, according to CEO Judith Armstrong (via People), is "the West Midlands' focal point for promoting STEM and is committed to providing the young people of the region with the opportunities to be the pioneers of the future."
This day has always been close to Markle's heart. On International Women's Day 2015, she gave a speech at a UN Women conference. At the time, she said, "I am proud to be a woman and a feminist, and this evening I am extremely proud to stand before you on this significant day, which serves as a reminder to all of us of how far we've come, but also amid celebration a reminder of the road ahead."
Then, she powerfully said,
"It is said that girls with dreams become women with vision. May we empower each other to carry out such vision — because it isn't enough to simply talk about equality. One must believe it. And it isn't enough to simply believe in it. One must work at it. Let us work at it. Together. Starting now."
Markle is empowering young girls and women all over the world and it's truly beautiful. She's not even an official member of the British Royal Family yet, but Markle is already doing so much good.