The Trailer For Meghan Markle's Final Season Of 'Suits' Is All About The Romance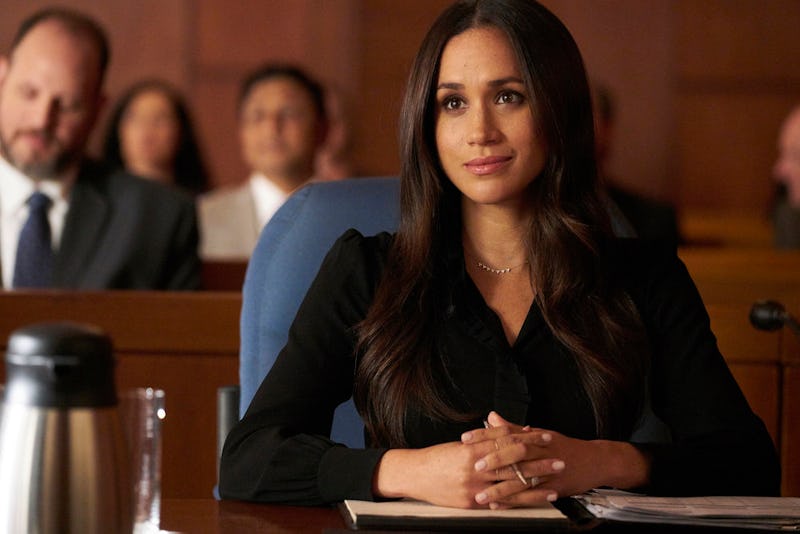 Ian Watson/USA Network
There are those who are counting down the days until Prince Harry and Meghan Markle's royal wedding, but there are others who are anxiously waiting to see her last acting gig. For the latter group, there's finally a trailer for Markle's final season of Suits that should up the anticipation factor. Especially since it seems as if life may imitate art with Markle's final Suits goodbye — including a much anticipated on-screen wedding.
"From co-workers to lovers and everything in between," Suits' official Twitter teased alongside the new trailer. "Find out how Mike and Rachel's story ends when #Suits returns March 28." The 30-second trailer is all about shrewd paralegal Rachel Zane (Markle) and her onscreen love, legal whiz Mike Ross (Patrick J. Adams), ticking off their best romantic moments. The show promises that fans will get a very happy ending and, from the looks of the trailer, the show's also promising one hell of a wedding that is bound to change their lives forever.
"I wanted to marry you since the moment I met you," Mike tells Rachel, who ends this trailer with her own bit of lovey-dovey dialogue: "It'll be the adventure of a lifetime." Of course, fans will have to watch the rest of Season 7 to find out what exactly the adventure they're embarking on is. Let's be honest, though, it won't be as impressive as Markle's real reason for leaving the show.
Shortly after announcing her engagement to Prince Harry, it was revealed that Markle was leaving the USA series. "Meghan has been a member of our family for seven years and it has been a joy to work with her," USA Network announced in a statement congratulating her on her engagement. "We want to thank her for her undeniable passion and dedication to Suits, and we wish her the very best."
In her first joint interview with her fiancé, Markle explained that she was retiring from acting to pursue other ventures. "I don't see it as giving anything up. I just see it as a change," she said. "I've ticked this box, and I feel very proud of the work I've done [on Suits], and now it's time to work with [Harry] as a team."
Her leaving isn't the only change Suits will experience; Adams also announced he wouldn't be returning for Season 8. In a statement to Variety he said that it was hard to explain how much the last seven years meant to him. "So I will choose the simplest words I have," he wrote. "Thank you. From the bottom of my heart, thank you."
With Adams saying goodbye too, the writers had a chance to make sure these two lovebirds ride off into the sunset together.
Adams even hinted at what Markle's first (on-screen) wedding will be like in an interview with The Hollywood Reporter. He said:
"I think Mike and Rachel are two characters that there has never been any question that they're in love and that they're meant for each other and that they're willing to go to great lengths and sacrifice a ton in order to keep their relationship going... The only thing I can say is that you should really watch Episode 16."
While Adams will say goodbye to his onscreen love this season, it's clear he'll always have love for Markle. Last month, he defended Markle from a racist tweet from Wisconsin Republican with ties to white nationalism, Paul Nehlen, whose Twitter account has since been suspended.
"Oh @pnehlen - you're a sad and sick man with no sense of shame or class,' Adams wrote. "'Get a life. And don't go anywhere near MM - she's got more power, strength, honor and compassion in her fingernail than you'll ever know in this lifetime. Way above your weight class."
While Markle's final run on Suits will definitely require extra tissues, you're going to want to stock up again before her wedding, which is bound to unleash the waterworks. Hopefully, her Suits husband will be there, supporting her in her new adventure of becoming a royal.