7 Ways Meghan Markle Has Already Changed The Royal Family As We Know It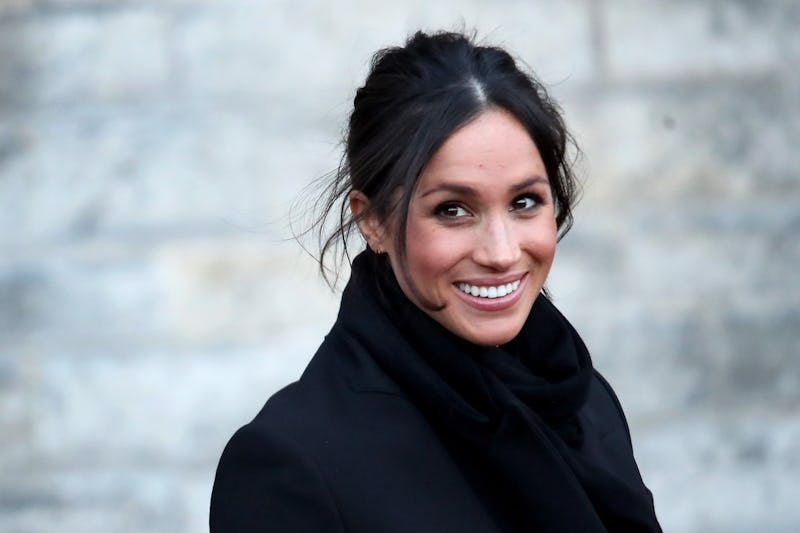 Chris Jackson/Getty Images Entertainment/Getty Images
Ever since Meghan Markle and Prince Harry announced their engagement in November 2017, the former Suits star has been majorly impacting the British Royal Family. Yes, in a few short months, there are already many ways Markle has changed the royal family. It's clear that she isn't going to become a completely different person now that she is set to marry one of the most famous royals known across the world. Markle is absolutely staying true to herself.
If you consider yourself an avid fan of the royal family, then you've probably picked up on all the times so far the 36-year-old former actor has broke not only royal protocol, but also royal tradition. That might bother some people, because, well, tradition is there for a reason. However, there's no denying Markle and Harry are keeping with the modern times.
It's refreshing to see how much of an impact Markle has made so far as a future royal — and she's not even officially married to Harry yet. Just imagine how much change she will bring once she and Harry become wife and husband. Until then, here are some of the ways Markle has already changed the royal family as we know it.
1. The Barriers She's Broken
At 36 years old, Markle is now the oldest royal fiancée. Plus, she is three years older than Harry. Her age just goes to show that not only is age only a number, but that you don't have to be a certain age to get married — even if you're marrying a prince. Furthermore, Markle is also American, a divorcée, and biracial, which is even more proof of how much has changed when it comes to marrying into the royal family. She's breaking barriers all over the place.
2. She Refuses To Change Her Personal Style
So far, on two occasions, Markle has sported a messy bun. Well, guess what? That could be against royal protocol. As reported by People, royals generally follow certain rules when it comes to hairstyle, and a messy bun isn't included. There's a chance a change was made and that's why Markle has chosen to wear her hair this way. Of course, there's also the possibility that Markle wasn't informed of the rule, or, you know, she just chose to do what she wanted.
When Harry and Markle first announced their engagement, she reportedly broke yet another royal fashion rule by not wearing nude stockings with her dress. Royal expert Victoria Arbiter told Insider in December 2017, "You never see a royal without their nude stockings. Meghan, from what I can see from the engagement photographs, it doesn't look like she was wearing tights or stockings. I would say that's really the only hard, steadfast rule in terms of what the Queen requires."
3. She's Influenced Royal Family Traditions
Christmas 2017 saw a major change in the royal family's holiday traditions thanks to Markle. She spent Christmas with Harry and his family, which was actually a big deal. As reported by People, it isn't usually tradition for engaged couples to spend Christmas together and Markle was "the first royal fiancée to spend Christmas Day with the royal family", let alone Queen Elizabeth II's very private royal family gathering. According to The Sunday Times (via InStyle), Harry reportedly asked his grandmother to make an exception for Markle.
Royal Historian Kate Williams informed the BBC of the Queen's Christmas celebration, "It's quite set, it's quite formal. It's looked pretty much the same since the Queen's youth, since the '50s. You arrive when told to arrive... There are quite a lot of different dresses required — change for church, change for dinner." As for Markle, Williams said, "What that shows is firstly how serious Harry is about her… but also how determined she is to make her life in Britain now."
4. She Isn't Afraid To Flaunt Her Love For Harry
Believe it or not, but it's rare for royal couples to showcase any type of public displays of affection. Well, Harry and Markle have changed all that. They love to be affectionate, including all of their hand holding. At the beginning of last December, Myka Meier, the founder and director of Beaumont Etiquette, told People, "While Prince Harry and Meghan holding hands is atypical for royal engagements, it is a seemingly welcomed gesture to show unity and celebration of their engagement period."
That said, even though royal couples aren't known for holding hands, it's a personal preference and depends on the type of event. As Meier said, "Meghan and Prince Harry holding hands at a royal engagement is a refreshingly modern approach to their new role both as a couple and as representatives of the royal family."
5. She Puts Harry's Feminism On Display
Markle isn't afraid to shout her feminism from the rooftops. She voices her support for gender equality loud and clear. With her feminism also came Markle announcing to the world that, of course, Harry is also a feminist. While visiting Cardiff, Wales, in January, a fan named Jessica Phillips told People she spoke with Markle and praised her for being a feminist. To that, Phillips said Markle told her, "Harry is a feminist too." It's been clear for sometime now that Harry is a feminist, but thanks to Markle, it's now officially known.
6. She Signed A Message For A Fan
According to People, royals aren't supposed to sign autographs. During her visit with Harry to Cardiff, Wales, Markle stopped to sign something for a fan. It might be second nature to her as a former actor, but, apparently royals usually say, per People, "No, I can't."
The girl who was lucky enough to receive the gift from Markle told People, "My heart is still racing. I've never got a royal autograph before. This is going to make everyone jealous." Markle reportedly didn't sign her own name, but only wrote, "Hi Kaitlin" and added a heart and a smiley face, according to People. According to TIME, the reason royals don't typically give autographs is it "enables potential forgers to make use of royal handwriting." Granted, Markle reportedly didn't sign her own name, which doesn't make it an autograph, but the act certainly didn't go unnoticed.
7. She's Making Her Wedding Her Own
It sounds like Markle wants to implement her own rules when it comes to her wedding to Harry. According to The Sunday Times, Markle will reportedly give a speech at the wedding, which breaks royal tradition. According to Refinery29, The Sunday Times revealed the following about Markle's reported speech:
Markle is understood to be planning to make the speech an "affectionate tribute" to her new husband and may include "a couple of jokes" along the way. It's also being reported that she'll use her speech to give thanks to the Queen, her family, and friends.
Another way she'll reportedly break from royal tradition is by having her mom walk her down the aisle instead of her father.
Markle continues to challenge the royal status quo in a variety of ways. What will she do next?