Meghan's Dad On 'Suits' Didn't Believe She & Harry Were Dating Until *This* Happened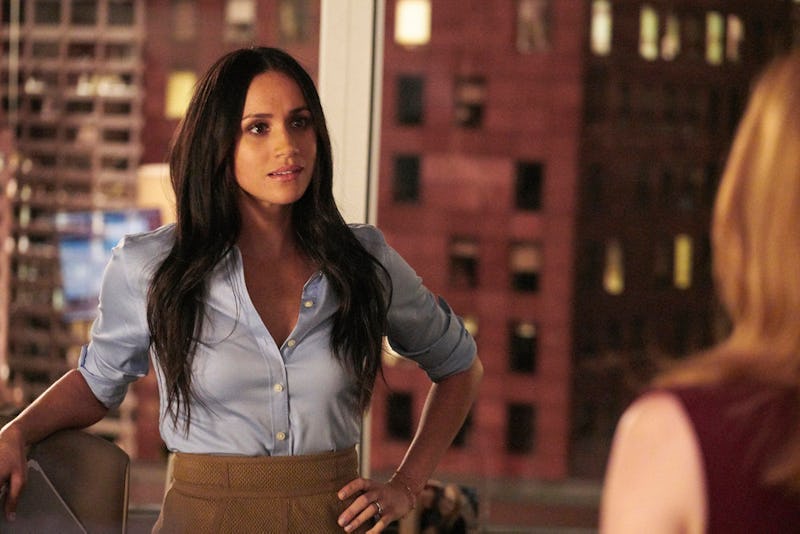 Ian Watson/USA Network
Meghan Markle's father is spilling the beans again, but he's probably not the one you're thinking of. Her Suits co-star and onscreen father Wendell Pierce has revealed that while it was initially hard to believe that his little girl was all grown up and dating royalty, the show's increased security measures set him straight pretty quickly. It apparently turns out that there was a dedicated Meghan Markle MI-5 bodyguard on Suits and though he'd previously been in doubt, it made him realise that she and Prince Harry were a serious thing.
In an interview with Extra TV about his role on Amazon's Jack Ryan, he said, "I actually didn't believe it was real, then all of a sudden I turn around and there is this guy from MI-5 on set every day." As the Express notes, the report is unverified and unlikely to become so, given the "neither confirm nor deny" policy of the government on the activities of the security services.
Having a personal bodyguard wasn't the only change that dating Prince Harry had on the Suits set. According to US Weekly, her name was apparently dropped from the Suits shooting schedule to keep Markle and by proxy her colleagues safe. A source said, "It inarguably boils down to security issues." However according to the same source, the Suits set was leakier than a sieve and soon producers took greater measures to make sure everyone shut up about the future Duchess of Sussex.
They said, "Information was leaking out of Suits like crazy. As soon as it came out that they were dating, everyone was warned to stop talking or they would be fired."
Pierce also revealed what it was like working with Markle on set as Robert Zane and while filming her final wedding episode, they shared a sweet moment that wouldn't be out of character for a father and daughter. He told The Telegraph, "We had a moment I cherish. I was sitting with Meghan in her wedding dress, as we waited for a setup [in the scene]. We were alone. I said to her, 'Your life is going to change. It's going to be amazing but I want you to know that I'm your friend, and no matter where you are or what's going on — if the fishbowl that you're in ever starts getting to you — you can call me.'"
Given that Meghan Markle has become one of the most talked about people in the world, I wouldn't be surprised if she had taken Pierce up on the offer. As details of her and Harry's relationship started to become public knowledge, it seems like she was well beloved on set as her co-stars only had glowing things to say (Pierce for example called her "really wonderful" in the same interview with Extra).
Although everybody on set basically knew she and Prince Harry were shacking up, she was still relatively restrained when talking about her royal beau. On occasion, though, she would share some details with Pierce secretly and he said on an episode of Harry, "She met this nice guy and we always talked about him in code, really. You know, 'How you doing?' 'Oh, I'm going to London, coming from London, whatever.'"
After first starring on the show back in 2011 and filming several seasons, it's no surprise that Markle and the cast became very close. They were even invited to her wedding earlier this year and many of them attended, including Patrick J. Adams. Pierce sadly was "unable to attend," though there's no doubt he was incredibly happy as he had watched her fall in love while working with her.
"The one thing that was clear, she was extremely happy," he told Extra, reminiscing on his time on the Suits set. "She had a glow. I knew she was in love… With the whirlwind of publicity and the world of being a royal now, the one thing that's constant is the fact that I know she loves him."
And I mean, that's all any of us can ever really hope for, isn't it? Excuse me while I go mop up my tears. This is all too much first thing in the morning.