Why It's About Time Those Rumours Of Meghan's Pregnancy Stopped For Good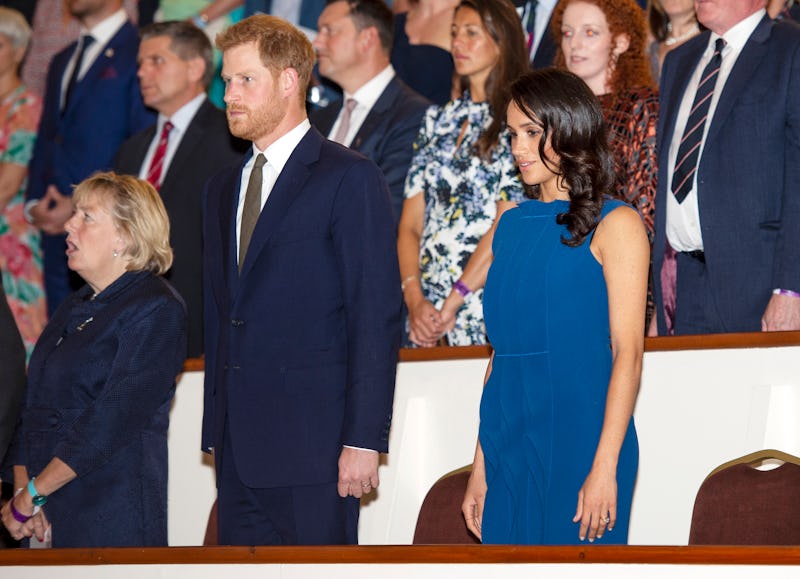 WPA Pool/Getty Images Entertainment/Getty Images
Here's yet another story proving why being famous is actually the worst thing in the world. On Thursday night, the Duke and Duchess of Sussex attended another charity event. Wearing a ruffled dress that gave the illusion that her stomach was a little bigger than normal, it wasn't long before the Meghan Markle pregnancy rumours began to surface.
Markle's custom-made Jason Wu dress featured pleats down the entire front, creating a voluminous effect that isn't usually seen on the royal. I hate to break it to all the pregnancy believers out there but ruffles tend not to cling onto the body. In fact, they do the complete opposite.
A few things to remember: Just because a woman changes up her style doesn't mean she's pregnant. When a woman "hides her stomach," it doesn't mean she's pregnant. In fact, nothing means a woman is pregnant until she openly says so. And scrutinising a woman's body like that is unfair, sexist, and laced with body-shaming undertones.
Whether you're a member of the royal family or a more traditional celebrity, speculation over your relationship and pregnancy status appears to have become part and parcel of the role, and that is just so wrong. So, why has this happened? Why have we all grown to become so obsessed with the lives of others — even going so far as to spend more time thinking about them than ourselves?
I'm not going to pretend that I saw the photos of Markle from Thursday night and didn't find my eyes immediately drawn to her stomach. I don't believe in creating unnecessary rumours, but my own mind betrayed my principles and went straight to the question "pregnancy?" It's an understandable impulse, but it is also something we need to be more conscious of.
Others were more open with their innermost thoughts, tweeting about the royal's figure, questioning whether she could be pregnant. The best person to explain the dangers of pregnancy gossiping is someone who faces it on a daily basis; Jennifer Aniston. The actress wrote an essay for the Huffington Post in 2016 addressing countless speculative reports.
"I don't like to give energy to the business of lies, but I wanted to participate in a larger conversation that has already begun and needs to continue," she began, adding that she is not pregnant but simply "fed up with the sport-like scrutiny and body shaming that occurs daily."
She went on to explain how focusing so much attention on a woman's body "is absurd and disturbing" and proves how society defines the value of women by their "marital and maternal status. The sheer amount of resources being spent right now by press trying to simply uncover whether or not I am pregnant (for the bajillionth time... but who's counting) points to the perpetuation of this notion that women are somehow incomplete, unsuccessful, or unhappy if they're not married with children."
Aniston ends her powerful article by explaining how she has been congratulated by friends, colleagues, and strangers on the street on her not real pregnancy; rumours which she claims probably came about because she was photographed after having "a burger for lunch."
The same sentiment goes for Markle. She may not have social media anymore but is probably well aware of the headlines mentioning her name.
People may be waiting for news of another royal baby, but let's remember that Markle is a real person with real feelings and doesn't need people discussing her body 24/7. Constantly speculating on whether or not she is pregnant is not healthy, and, as Aniston point out, can have some pretty negative consequences for women.
A rumour-free era may be challenging, but it's much better for all involved. No fake news, no feelings hurt, and, very importantly, no body-shaming.