This Is What Harry & Meghan Reportedly Have Planned For Their 2 Months Off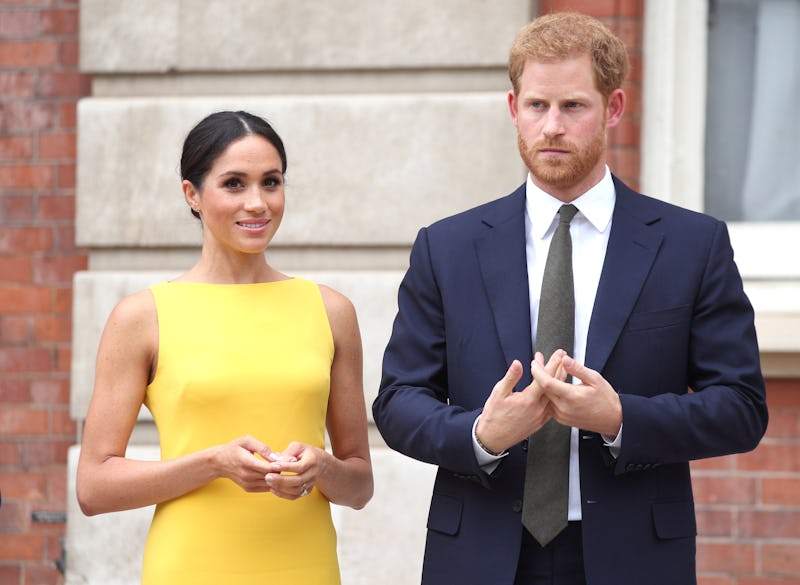 WPA Pool/Getty Images Entertainment/Getty Images
Everyone needs a summer holiday and the Royals are no exception. The Queen has headed up to Balmoral for a few months, Prince William and Kate Middleton are by all accounts living it up on the island of Mustique, and Kitty Spencer is having the single most lavish holiday I've ever heard of in Portofino. The latest members of the family to take a break? Prince Harry and Meghan Markle are reportedly off on holiday for two-months. Seriously, two whole months? The Queen is a very generous boss, that's for sure. To be fair though, Markle has had a pretty intense introduction to Royal life, with official events up and down the country, so I reckon the busy newlyweds deserve a bit of time off.
But what are they going to with themselves for those eight long weeks? Well, considering how close Meghan Markle and the Queen appear to have become while carrying out engagements together (remember when her Maj reportedly invited Meghan for a sleepover on her very own Royal train?), it's not surprising that one of the first things on Meghan and Harry's summer schedule is reportedly a visit up to her Scottish estate to see her and the rest of the fam.
According to People, the couple will spend a few days in Balmoral with the Queen as is customary for every member of the Royal Family. The publication reports that picnics, barbecues, and long walks will be on the agenda. Sounds dreamy, can I come? Except these won't be your usual hummus and kettle chip picnics. Nope, they'll be a thoroughly Royal affair served by members of the Queen's staff. Brian Hoey detailed in his book At Home with the Queen that staff prepare and set up the picnics then "move to a discreet distance where they can keep an eye on things and be within calling range if needed." Sounds good to me.
And that's only the start of their holiday plans. After they've feasted on picnic food in Balmoral, Meghan will reportedly be returning home to the U.S. to visit her family and friends. According to Us Weekly, her holiday (or should I say vacation) will take in New York and her hometown L.A., where there'll no doubt be plenty of time for yoga sessions with her instructor mum, Doria.
When Meghan is back from her solo trip, she and Harry will presumably spend some time making the most of their idyllic cottage in the Cotswolds, which Architectural Digest reports they are renting. They are rumoured, according to US Weekly, to have already hosted Priyanka Chopra and her reported fiancée Nick Jonas, so who knows what other A-Listers may pop by for a visit. Maybe the Beckhams, who are said to live next door? I can think of worse dinner party guests, tbh.
But first, before any trips to Balmoral or holidays to the U.S. the couple will be celebrating Markle's 37th birthday. While last year they reportedly marked the occasion with a trip to Botswana, this year they'll be staying a little closer to home. According to Hello!, on Meghan's birthday (August 4), the couple will attend the wedding of Prince Harry's best friend Charlie Van Straubenzee and his fiancée Daisy Jenks, where Harry will reportedly serve as best man. But who knows, eight weeks is a long time, I'm sure they could squeeze in a little bit of glamping in between all those fancy picnics and long country walks.