Harry & Meghan's Reported Holiday Plans With The Queen Will Make Your Heart Full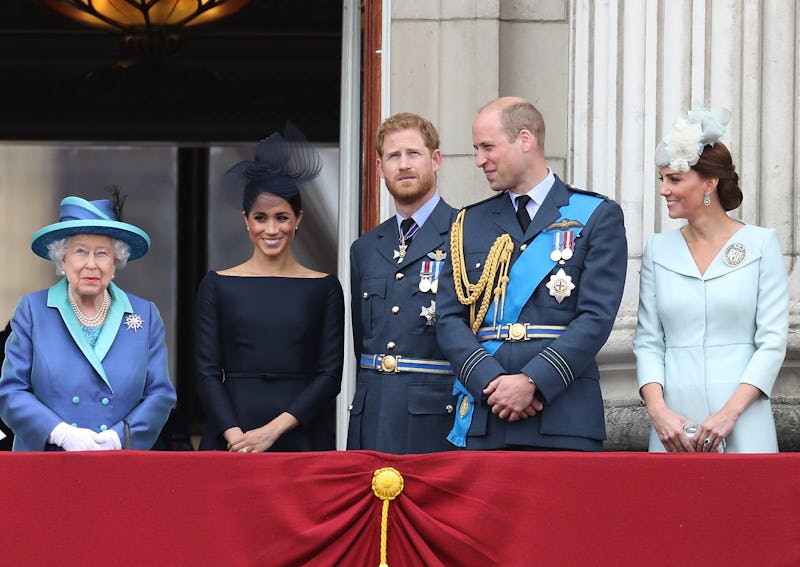 Chris Jackson/Getty Images Entertainment/Getty Images
When the UK is blessed with *gasp* the actual sun in the summer, it's hard not to want to have a staycation rather than a trip abroad. The emerald isle has a lot to offer, and Brits aren't the only ones taking advantage of it. Prince Harry and Meghan Markle's summer holiday plans may include some time with Prince William and Kate Middleton, as they are all reportedly more than likely to spend parts of their summer at Balmoral Castle with Queen Elizabeth.
Before heading up to Scotland, Harry and Meghan's first port of call will be the village of Churt in Surrey, as the Express reports they will be attending the wedding of close friends Charlie van Straubenzee and Daisy Jenks. It's thought that Kate and William will be flying back from their family vacation in Mustique to attend the wedding, according to the newspaper. This is no surprise, as William and Kate are also close friends with the van Straubenzees, with Charlie's older brother Thomas serving as Princess Charlotte's godfather.
The beginning of August marks the end of the public's access to the grounds of Balmoral, giving the family free reign of their estate for some well-deserved downtime during the summer. If Harry and Meghan haven't got anything else on their schedule — their next royal tour begins in October, according to the Mirror — they have two months of free-time to spend with Harry's grandmother; a visit that will also mark the newlywed's first summer getaway together as man and wife.
According to People magazine, it "is customary for royal family members during the summer holiday" to head up to Balmoral so they can spend some quality time together, with the magazine reporting that they will do just that this summer. I can't think of a better way to spend my summer than with family in such a beautiful location such as the rolling hills of Aberdeenshire, and neither can the royals.
"It's the most beautiful place on earth," Princess Eugenie explained in the ITV documentary Our Queen at 90. "I think Granny is the most happy there, I think she really, really loves the Highlands. Family-wise, we're all there, so it's a lovely base for Granny and Grandpa to be — for us to come and seem them where you just have room to breathe and run."
What about the William and Kate? It's much the same, really. As People reports, Prince George and Princess Charlotte are enjoying their first summer holiday since the later started school, so the Cambridges could easily head up to Scotland with Harry and Meghan after the wedding to make the most of this August sunshine.
The family also have the beautiful Anmer Hall in Norfolk, "where they have been known to head during the summer for a bit of a break," as reported by the Mirror.
There is also the chance for short trips away for the couples, as William and Kate have been known to visit "the glamorous resort of Biarritz" in France, and Harry and Meghan famously vacationed in Botswana in August 2017, as reported by the Mirror.
Or, the four royals could even go on a joint holiday to Portofino and meet up with William and Harry's cousin Lady Kitty Spencer. I certainly would if I was them, I mean have they seen her recent holiday snaps?
Whatever they end up doing, they'll be surrounded by so much of their close family and friends, and that's the most important part of a good summer — making memories that will last a lifetime, no matter where you are.