Meghan Markle & Prince Harry Might Just Stay With Friends When They Go To Australia, NBD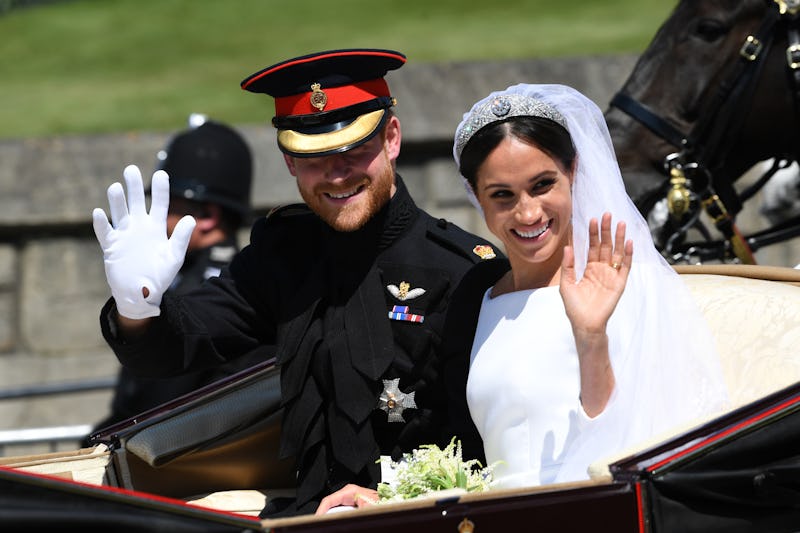 WPA Pool/Getty Images Entertainment/Getty Images
Suits fans, this one is for you. Meghan Markle and Prince Harry are reportedly planning another Suits reunion and this time in Australia. Markle and Harry were reportedly invited by Gabriel Macht and Jacinda Barrett to stay at their home in Noosa located on the southern Queensland's Sunshine Coast, according to The Mirror. Apparently, the newlyweds would stay with Markle's former co-star when they both attend the 2018 Invictus Games, which are being held in Sydney, Australia starting Oct. 20.
According to a source who spoke with the publication, the royal couple were asked by Macht (who Markle worked with for seven seasons on the USA drama) and Barrett (she also starred in three episodes of Suits and is from Australia) to stay with them at their home. "Harry and Meghan have a window free and Gabriel and his wife have invited them to their beautiful Queenslander-style house," the source told The Mirror. Co-star and friend, Sarah Rafferty, was also reportedly invited to stay at Macht and Barrett's home.
Markle and Harry reportedly have a few days off after the Invictus Games before their first international tour as a married duo begins. The source said about Macht and Barrett's home, "It's an incredible place and will be perfect for them to chill out before they go on what is likely to be a fairly non-stop tour." The source continued, "They'll have a great time and they'll have a chance to see the real Australia after the bustle of Sydney."
The Duke and Duchess of Sussex are expected at the Paralympic-style games, especially since the games were founded by Harry in honor of wounded veterans and recovering service members across the globe.
Furthermore, in April, while watching the 2018 Invictus Games trials with Harry, Markle also reportedly let it slip she would be at the October games. Michael Mellon, who had his lower left leg amputated after injuring it during a rugby match for the Royal Air Force in 2005, told People after the trials, "She told me that she had never been to Australia, but was going to this year's event and was really looking forward to being there with Harry."
It wouldn't be surprising if Markle and Harry really do stay with Macht and Barrett, especially since Markle and Macht are close after working together for seven years. Plus, Macht and Barrett were also at Harry and Markle's wedding.
Based on the Instagrams they shared from the memorable day, it's clear they had an amazing time. As Macht wrote, "Congrats to Meghan and Prince Harry on your nuptials. Enjoyed meeting many of your family and friends and an incredible honor to be a part of the whole celebration. May your journey together be full of love and children. Cheers!"
Barrett also had a great experience, as she wrote next to a series of images from the royal wedding, "Goodbye #newlyweds goodbye #royalwedding goodbye #friends goodbye #Windsor. We have loved sharing this extraordinary moment with you and the rest of the world. #love #commitment #change".
Really, the entire Suits cast had the time of their lives. In addition to Macht, Rafferty (above), Gina Torres, Rick Hoffman, and Patrick J. Adams were all in attendance. Rafferty shared on Instagram May 21,
Reflecting on so many of Saturday's moments—-Meghan striding with grace and confidence into the church and her future, Reverend Michael Curry's inspiring words, Sheku Kanneh-Mason's sublime performance, and our little giddy bus ride through Windsor. :). Congratulations to Meghan and Harry, wishing you every blessings. We were honored to be included.
Markle's co-stars not only support her, but they all seem to share quite the bond. Really, nothing seems more fitting than Harry, Markle, and Rafferty staying with Macht and Barrett for a few days. Talk about the perfect mini-Suits reunion.