Meghan Markle & Prince Harry Will Wear The EXACT Same Fragrance On Their Wedding Day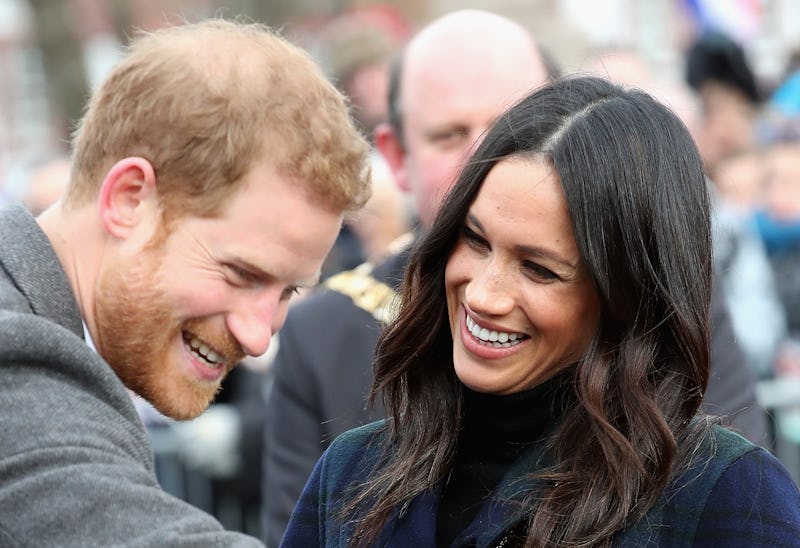 Chris Jackson/Getty Images Entertainment/Getty Images
Most royal watchers and fashion followers are eager to see Meghan Markle's wedding dress. They're curious about how she'll style her beautiful brown hair and what makeup she'll wear. Then there's the accessories — the veil, the shoes, and the jewelry that's not her engagement ring or wedding band. Because details! Meghan Markle and Prince Harry's wedding will have a custom fragrance, too. That's right — the royal duo will receive their very own customized scent from luxury perfumer Floris London, which has been operating in the city since 1730.
It's a matter of tradition and olfactory awesomeness, as the company has created scents for royals such as Queen Victoria and King George VI. It has also done so for Winston Churchill. Floris, which is under warrant to Queen Elizabeth and Prince Charles, is tasked with creating a new perfume for all major royal events, which the wedding of Meghan Markle and Prince Harry most certainly is.
You can also purchase the fragrance — sort of but not really!
According to PEOPLE, the brand has hinted about what Eau De Meghan & Harry's Royal Wedding will smell like without revealing the exact scent.
Floris London's Amalia Robles, who manages the Jermyn Street store in London, has revealed that the bespoke royal wedding scent is inspired by Floris London's' Bergamotto di Positano. That's an available, unisex fragrance. Judging from all accounts, it will leave you wanting to inhale and take a deep, refreshing whiff.
Bergamotto di Positano has been described as "heady" and boasts top notes of Bergamot, Marine, and Mandarin. Its mid notes are smooth and creamy Orange Blossom, Green Tea, Ginger, and Vanilla. The base notes are Amber, Ambrette, Spice, and Vanilla.
Overall, the aroma has a Mediterranean vibe and sounds intoxicating. For the Meghan and Harry "Big Day" version, the woody and spicy notes are being used as the base upon which it's built. PEOPLE reports that the actual Meghan and Harry version will be part of the brand's private collection. That means it is rarely, if ever, made available for purchase. Therefore, your only real option is to pick up a bottle of the scent that is the source of inspo.
Of course Floris also created a perfume for the royal wedding of Kate Middleton and Prince William, who are currently expecting their third child any. Eau de William and Kate was called "Wedding Bouquet" and it is not available for purchase, either. Sorry if your hopes and dreams were just crushed by that news, but it is what it is. It's also what makes these custom-crafted scents truly special.
Another cool fact about Floris London and its long and deep relationship with the Royal Family? They make a new perfume for Queen Elizabeth's birthday each year.
It's not clear whether or not Markle or Prince Harry will wear this to-be-named fragrance at the actual wedding ceremony.
The royal wedding of Meghan Markle and Prince Harry is set for Saturday, May 19. Th event is slated to smell really, really good, too!