Meghan Markle & Prince Harry's Wedding Happens To Fall On This VERY Creepy Anniversary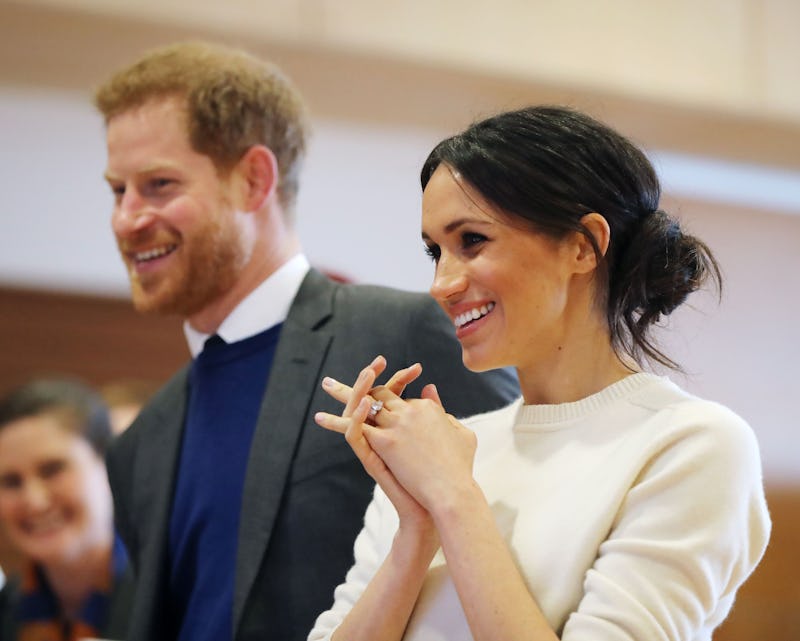 Pool/Getty Images Entertainment/Getty Images
Unless you've given up all forms of social media and somehow managed to avoid supermarkets, drugstores, and convenience stores for the last few months, I'm sure you've heard about the upcoming royal wedding. Meghan Markle and Prince Harry's international, boundary-busting love story is rivaled only by fairy tales in terms of magic and romance, leaving the rest of us to do little more than fantasize about every aspect of their fast-approaching nuptials. And while the flowers and food and fashion are exciting to speculate on, they don't rival the intrigue level of this one creepy fact: Meghan Markle and Prince Harry's wedding date happens to fall on a very creepy anniversary in history: The execution of former Queen of England Anne Boleyn in the Tower of London on May 19, 1536.
I'll pause to let that sink in. I know, I know — you need to dig through your high school history knowledge (or remember what you saw in The Tudors) and then gasp like you're in a horror movie. Take all the time you need. Oh, did that quick mental scan of your European History 101 syllabus not yield a full grasp on what all of this means? I've got your back.
According to Biography, Boleyn was the second wife of King Henry VIII, and their marriage was pretty much scandalous from the moment it began because the king was still married when they met. Initially, he had been denied an annulment from his first wife by the Church of England, but eventually, he split from the Roman Catholic church in order to marry Anne, who rebuffed his advances for some time. "Your wife I cannot be, both in respect of mine own unworthiness, and also because you have a queen already," she wrote in a letter quoted on Biography.com. "Your mistress I will not be." Ultimately, the king severed his ties with his first wife and with the church so that he and a pregnant Boleyn could marry secretly in January 1533.
She was a controversial figure, and the situation wasn't much better in her marriage. Per Biography.com, Queen Anne expressed her rage about her husband's continuous promiscuity, which the king blamed on her inability to produce a male heir. After giving birth to a stillborn son in January 1536, Anne was ousted by Henry, who had already decided to make another woman his new wife. In order to insure that his plans to remarry could move forward, the king falsely charged his soon-to-be ex-wife with adultery, incest, and conspiracy, among other things. She went to trial on May 15, 1536 and was convicted four days later. Within hours, according to Biography.com, Queen Anne was taken to Tower Green to be beheaded on May 19, but not before making this now famous declaration:
I take my leave of the world and of you all, and I heartily desire you all to pray for me. O Lord have mercy on me, to God I commend my soul.
It's a pretty heavy story.
If Queen Anne's death date of May 19 is ringing a bell for you, it's probably because you've seen it plastered all over the media recently in the lead-up to the royal wedding. Yes, Meghan Markle and Prince Harry will tie the knot on the 482nd anniversary of her death.
Queen Anne and Prince Harry have royalty in common, but there's other critical common ground. According to The Sun, the May 2018 wedding will take place at St. George's Chapel on the grounds of Windsor Castle, where the Queen and Prince Phillip live for most of the year — and the ghost of Anne Boleyn is said to be one of the many ghosts haunting the property, per Royal Central. Luckily for wedding guests, people believe that the ghost lives separate from the chapel in the Dean's Cloister, so it's unlikely that Markle and Prince Harry will run into her while exchanging vows.
Here's to (much) happier memories being made on May 19, 2018 when Markle and Prince Harry are wed!