Meghan & Harry's Wedding Had One Teensy Thing Go Wrong, But They Still Made It Work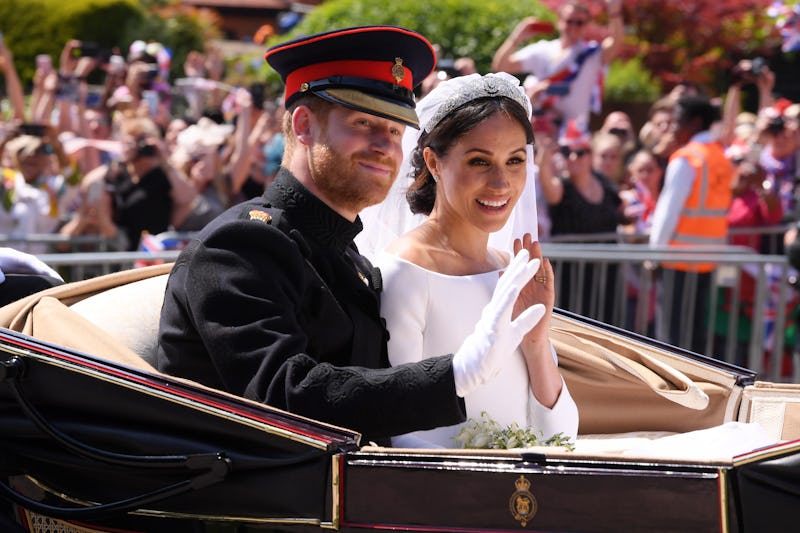 David Fisher/Shutterstock
To viewers who watched the royal wedding at home, it probably looked like the Duke and Duchess of Sussex had an absolutely perfect ceremony. But apparently, Prince Harry and Meghan Markle's wedding had one small hitch. April's cold weather meant that there were less flower options to choose from for Meghan's bouquet. But the couple came up with their own creative way to make sure there were plenty of fresh blooms in use at the ceremony.
According to Vanity Fair, Harry and Meghan grew their own flowers at Kensington Palace to add to the bride's bouquet. But even that didn't go as well as they'd expected it to, because a late snowfall destroyed some of the flowers in their garden.
The couple shared the revelation in a recording for the Windsor Castle exhibit "A Royal Wedding: The Duke and Duchess of Sussex," Vanity Fair explained. The exhibit features audio of interviews with the royal couple, where they shared private details about the May 19 wedding. In addition to the interviews, the exhibit also features the outfits Harry and Meghan wore to the ceremony, including Meghan's Givenchy wedding dress, designed by Clare Waight Keller. The tiara and veil Meghan wore during the ceremony are on display in the exhibit, too.
Here's what Meghan said about the flowers in the exhibit's audio, according to Vanity Fair:
"We have a very small garden here that we had been planting things in the fall for and what was really special, I think, was that the morning of the wedding Harry went in and he picked some flowers to go into my bouquet, which was really beautiful and something that makes it sentimental and really meaningful."
Harry, meanwhile, sounds like he wished he had more flower options to pick from their garden. "We didn't have as many flowers in our little garden as we had hoped for, because I think it snowed at Easter," Harry says in the recording, according to Vanity Fair. "That kind of ruined the whole thing."
Based on Meghan's statements, though, it sounds like she doesn't believe anything was ruined. If anything, the handpicked flowers Harry was able to secure gave her bouquet a personal touch.
Plus, it sounds like everything else went according to plan on the big day. The exhibit interviews also mention the tiara Meghan wore at the wedding, which was on loan from none other than the Queen of the United Kingdom herself.
"Every girl's dream to be able to try on a tiara, and, funnily enough, the one that suited the best, the one that looked the best on you without question, I shouldn't have really even been there, but such an incredible loan by my grandmother, it was very sweet," Harry says in the exhibit recording, according to Vanity Fair.
Anyone who's been a member of a wedding party, or has gotten married themselves, would likely agree that there are often behind-the-scenes mishaps that guests aren't even aware of. It looks like that's true even for royal couples. But Meghan and Harry found a way to get around the cold spring temperatures to make it work. Love really does conquer all, and that appears to be true no matter who you are. It's safe to say the royal couple remembers everything that went right about their wedding day, too — the flowers are just one detail from a truly stunning and memorable affair.