Meghan Markle's Wedding Tiara & Veil Weren't What You Might Expect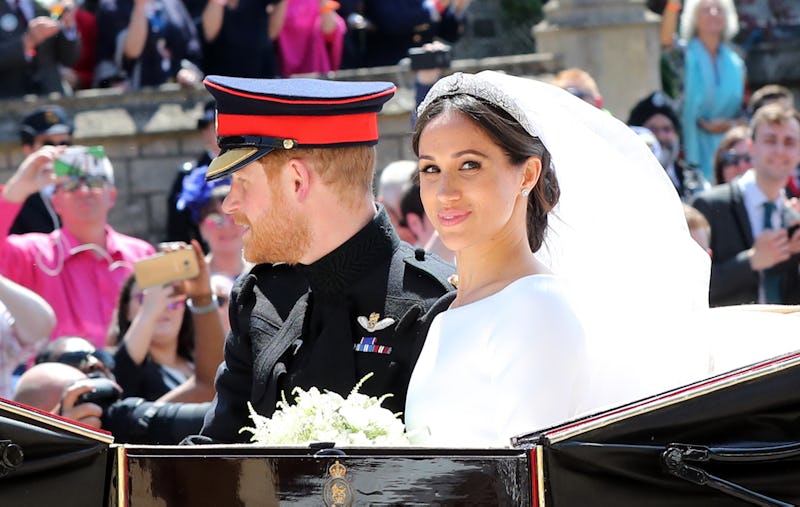 WPA Pool/Getty Images News/Getty Images
In the months and days leading up to the royal wedding, it was anyone's guess as to whether Meghan Markle would wear a tiara and veil, or go rogue and arrive at Windsor Castle sans traditional headpiece. She has proven herself every bit the modern bride-to-be, eschewing royal tradition in favor of wearing "messy" hair and clothing colors that don't necessarily meet royal requirement. (All part of why we love her, by the way).
With all the tiaras in the royal collection, and a long history of royal women wearing them, there were so many options to choose from for her big day. But despite having the literal crown jewels at her fingertips, I still expected her to be super modern, and surprise us all by wearing something nontraditional — like maybe a short veil, or a veil without a tiara.
And then Markle arrived in an old Rolls Royce, and walked down the aisle were her long veil trailing behind and her tiara glittering in the sunlight, and I was instantly glad she stuck to tradition. She looked every bit the beautiful bride, and the veil/tiara combo just added to the whole fairytale vibe that is her life.
It was discussed, in the days leading up to the wedding, that Markle might honor Prince Harry's late mother, Diana, Princess of Wales, by wearing some form of her jewels. Markle's engagement ring, after all, includes borrowed diamonds from Princess Di's personal collection, so there was talk her tiara might, too.
But she went with another option. According to Time, she chose "the Queen Mary Diamond Bandeau Tiara, on loan from Queen Elizabeth, for the memorable occasion. The Queen Mary Diamond Bandeau Tiara, made in 1932, has sometimes been seen with a sapphire in the center stone, but Markle opted for a diamond on her royal wedding day."
Markle not only looked like a princess in her veil and tiara, but by wearing it, joined a rich history of veil and tiara-wearing royals before her. According to Newsweek, "Tiaras have long been a staple of royal wardrobes, and many family members have sported them down the aisle with a veil." Take Kate Middleton's look, for example.
According to Newsweek, "Kate Middleton, Duchess of Cambridge, borrowed a royal tiara for her 2011 wedding to Prince William. In addition to a veil, Middleton wore the Cartier Halo tiara, which was originally gifted to the queen on her 18th birthday." Not only was it super traditional, but it suited Kate's classic style.
Before Kate, there was the wedding of Harry's late mother, Diana, Princess of Wales, who "wore her family heirloom, the Spencer Tiara, along with a veil, when she tied the knot with Prince Charles in 1981," Newsweek reported. And decades earlier, the Queen wore a tiara to her wedding in 1947 to Prince Phillip, as well as a veil.
Markle may have shocked us all with this choice of super-traditional veil and tiara. But obviously it's her wedding day, and she can wear what she wants. Plus, with all the meaning and rich history involved, can you really blame her for choosing this classic look?
The veil was really a sight to behold. The lace stretched out 16 feet behind the bride, and was "made from silk tulle," according to People. It also "featured a trim of hand-embroidered flowers from each of the 53 counties in the Commonwealth in threads and organza." See what I mean about tradition?
I guess, if you're going to become part of the royal family, you might as well do it up. Of course she's still a modern bride, but one who wasn't afraid to throw in some tradition as well.
And when tradition means wearing a veil that looks like this, how could you not?