Meghan Markle & Princess Eugenie Had Matching Wedding Nails & Here's Where To Get The Shade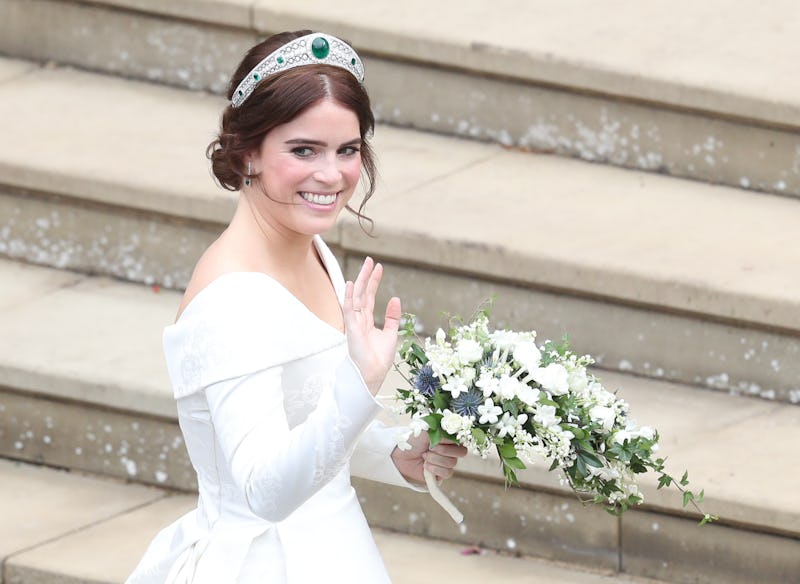 WPA Pool/Getty Images Entertainment/Getty Images
It's not a secret that there are a lot of rules surround royal weddings. From wearing hats in church to wearing tights, certain style rules exist. One of them happens to deal with brides' manicure. Turns out, Meghan Markle and Princess Eugenie had matching wedding nail polish, and given the rules surrounding color on the nails, it actually makes total sense that they were nail twins.
According to Allure, Princess Eugenie wore the soft, pink hue for her big day, and it's the exact same one Meghan Markle wore as well. As it turns out, there may be a reason why the duchess and princess chose to twin on their wedding days. There are rumors that Her Royal Highness Queen Elizabeth only approves of one very specific shade, Ballet Slippers by Essie, and it's the one that both Princess Eugenie and Meghan Markle chose to wear for their wedding days. As it turns out, it may just be the only shade the queen wears as well. A family that gets manicures together stays together, right?
The rumored rule about neutral nail colors, however, may not completely extend to Princess Eugenie the way it seems to work for Meghan Markle, though.
While Princess Eugenie did choose to wear the queen's (her grandmother) rumored favorite shade of nail polish, the princess has been seen colorful hues before. According to the Daily Mail, Princess Eugenie has worn everything from red reindeer nails to bright blue to Union Jack art on her fingers. It seems, however, that lately the princess has taken to wearing neutral shades, and at almost all recently photographed events with the royal family, every female members is wearing some sort of pale shade or none at all.
It appears that some royals don't even bother with painting their nails any more. According to HelloGiggles, Kate Middleton doesn't wear nail polish any longer. While she did wear polish on her wedding day (the same Ballet Slippers shade as Markle and Princess Eugenie), it no longer seems to be her thing. She is kind of busy being a mom and duchess, after all.
As for Markle and Princess Eugenie, though, it's all about the pale pink. The best news is that the exactly Ballet Slippers nail polish they both wore on their wedding day is totally affordable. Essie is a major nail polish brand, and that means it's easily accessible to, well, basically everyone. You can snag the shade on the Essie website, Amazon, Target, Wal-Mart, and more. Royal or not, you can get the perfect princess manicure for just under $10 thanks to the polish.
While it is kind of a shame that the world may never see more nail art of bold colors from Princess Eugenie, at least you know how to rock a nail like a princess (and a queen, apparently). Here's hoping, however, that post wedding, Princess Eugenie dazzles manicure fans with some fun fall greens, or that Meghan Markle decides to buck royal tradition and a black nail like she's done in the past.