Meghan Markle's Nails At The Royal Wedding Honored The Queen In The Sweetest Way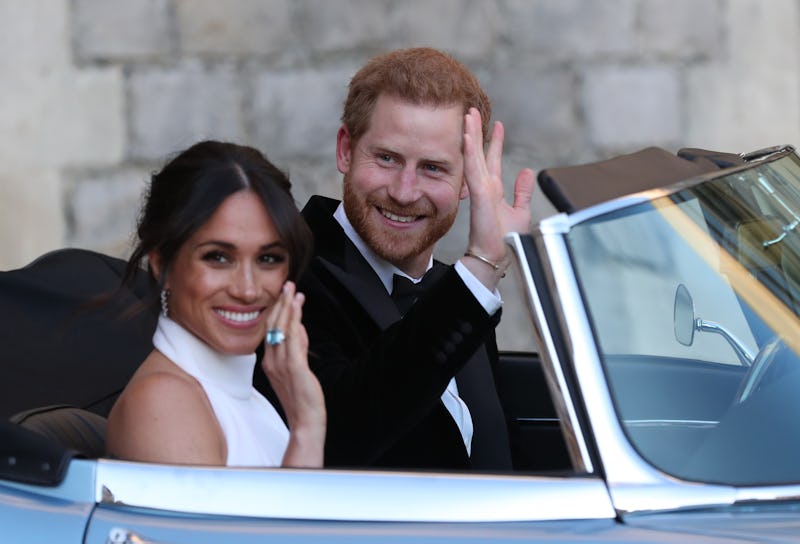 WPA Pool/Getty Images Entertainment/Getty Images
The wedding bells have rung and the cake has already been cut, but we're still swooning over Meghan Markle's wedding day glam. The bride was princess goals in subtle makeup and a casual messy bun that was so relatable. Even Meghan Markle's royal wedding nail polish was refreshingly simple, and it turns out the no frills mani may have had a secret meaning.
Prince Harry's stunning bride could do no wrong on her big day. The Duchess of Sussex abided by royal fashion protocol with a Givenchy gown in a classic silhouette. For a rebel that had been pushing boundaries all throughout her engagement in attire that went against royal fashion etiquette, that was saying a lot. Proof that Markle follows the rules when it matters most, even her manicure was Queen-approved.
The Duchess rocked a subtle hue on her nails, giving her hands a very classic and dainty look — and it likely wasn't some uber expensive polish that the mere masses could never afford. No, the new British aristocrat supposedly wore a $9 Essie lacquer that you've probably seen lining beauty shelves for years. The color choice was practically hand-picked by the Queen herself, the ultimate tribute to Markle's new grandmother-in-law.
Markle kept her nails minimal, as royals are supposed to do, with an alleged blush pink Essie polish. If it looks familiar, then that's because you're probably quite the nail polish connoisseur and realized it may be the brand's "Ballet Slippers" lacquer, as speculated by the UK's Daily Mail.
The understated mani was the perfect addition to Markle's natural glam, looking both sophisticated and feminine. But those coats of polish may have served a purpose beyond giving Markle's hands a light flush of color. Allegedly, that Essie mani was a lovely salute to the Queen.
Reportedly, "Ballet Slippers" is the Queen's favorite nail lacquer. Essie's best-selling sheer pink has been a fan-favorite amongst manicurists and polish lovers, as it's a classic shade perfect for wearing year-round. That's probably why the Queen allegedly adores the pairs-perfectly-with-anything shade.
If you need worthy proof that the hue is the Queen's golden color, look no further than Essie. A timeline of the brand's accomplishments on their website reveals that in 1989, the Queen's hairdresser sent Essie a letter requesting the lacquer, the only shade that her Royal Highness would wear.
If that is indeed the polish that Markle adorned on her big day, then her nails had quite the sentimental decoration. It just doesn't get any more adorbs than wearing grammy's fave polish as a way to say you're elated to be apart of the family.
It wouldn't be far-fetched to think that Meghan Markle fashioned her nails after Queen Elizabeth. Prince Harry's wifey actually has a knack for honoring the other royals in her family.
Markle's engagement ring paid homage to her late mother-in-law, Princess Diana, featuring priceless diamonds from the people's princess' personal collection. The Duchess of Sussex has even stepped out in Princess Di's style, once wearing a white beret that resembled one of her iconic looks. With so many details of Prince Harry and Meghan Markle's wedding seeming to shout out Princess Diana, it's obvious that the bride is all for royal symbolism in anything that she does. So, it only makes sense that she would honor the Queen with her dainty mani.
Whether or not Markle's nails were really a nod to Queen Elizabeth, the royal looked beyond gorgeous. She has been photographed post-wedding rocking the blush mani with not a single chip or untrimmed nail. It looks like "Ballet Slippers" just may be her it color, too, so the Queen and her new granddaughter may have something very precious in common.