This Update About Meghan Markle & Priyanka Chopra's Friendship Is Seriously So Sweet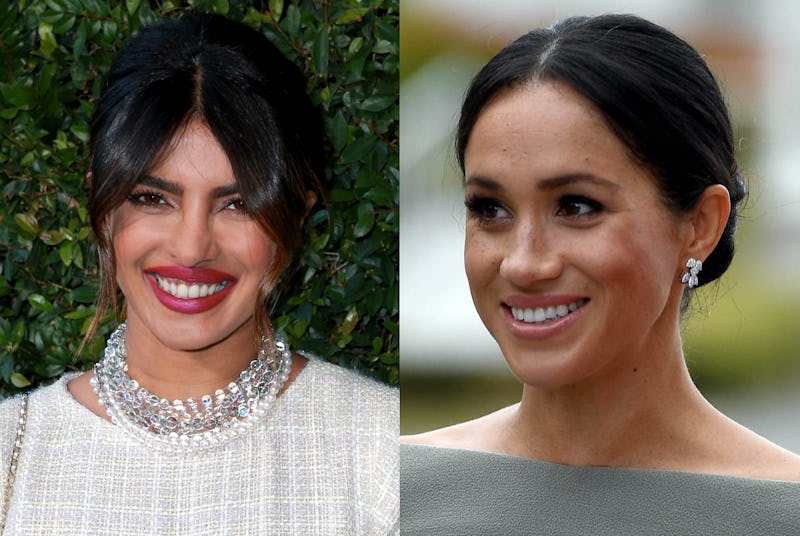 Rich Fury/Getty Images Entertainment/Getty Images; Pool/Getty Images Entertainment/Getty Images
Meghan Markle has really hit the ground running when it comes to her new royal life. If that wasn't obvious enough based on her numerous post-wedding engagements, then just hear out one of the Duchess of Sussex's own friends. Speaking of her BFF, Priyanka Chopra said Meghan Markle is doing great as she adjusts to all of her duties. The actor gave the most positive update on her newlywed pal in a recent interview with People.
During her interview, which took place at the Vogue x Saks Hamptons Dinner at Wolffer Estate Vineyard, she had a simple yet lovely update about her now-royal friend. Chopra told the publication of Markle, "She's doing amazing. It's so nice to see." It's great to hear that the Duchess is doing so well, especially from someone close to her. And no, the royal spotlight hasn't dampened their bond. Chopra told People:
"I think friendships depend on people individually and how personal your relationship is You can have work friendships, those are different. But when you have real friendships, like ours, it doesn't matter what people look at you as or where your world goes, you sort of just, stay friends. And I think that's what we're like."
Markle and Chopra have been friends for some time now. So, it makes sense that the Quantico star would have some firsthand info on how the royal is doing. Apparently, their friendship ties back to early January 2016 at the ELLE Women in Television event, as the Baywatch actor revealed, per People. After they met, they became very fast friends. "We bonded as actors," Chopra revealed, "We just became friends, like two girls would." Their fun hangouts can be seen on the actor's Instagram account (as the Duchess as since-deleted her own accounts) and you can definitely tell that they're total #friendshipgoals.
Additionally, Chopra has been very vocal with her support for her friend in the past, too. When the former Suits star's Vanity Fair cover came out in September 2017, her friend took the time to highlight Markle's achievements besides simply being Prince Harry's then-girlfriend. She told Entertainment Tonight:
"I mean, she's on the cover of Vanity Fair. It would have been nice to write about her not just her boyfriend. I'm just saying. I mean, she's an actor, she's an activist, she's a philanthropist. I mean, she does so much more."
If that isn't enough to show you just how great of a friend Chopra is, she also released the most beautiful message ever on Instagram in honor of her friend's May 19 wedding day. She wrote, "Every once in a while there is a moment when time stands still.. that happened today.. You my friend.. were the epitome of grace, love and beauty." The actor continued to write that their wedding will go down in history because of it being a symbol of "change and hope." She continued, "Thank you for being the perfect picture of all things good.. seeing your union and love blessed in front of my eyes Made me so happy.. and tear up! It's always awesome to have such an uplifting friend in your corner and Chopra seriously excels in that role for Markle.
Based on all of the Duchess of Sussex's recent engagements, it is pretty evident that she's "doing amazing" in her new role. Most recently, she went on her first overseas trip with her husband, Harry, to Dublin on July 10 and 11. During their excursion, they got to meet various well-wishers during their classic walkabouts, attended some traditional Gaelic sporting events, and even had a simply adorable encounter with a young tot. As ET noted, a little boy went to touch Markle's hair during their visit, a moment that she took in stride as she grabbed his hand and smiled down at him.
So, in case there was any confusion, the Duchess of Sussex is doing super well after being welcomed into the British royal family, according to Chopra. Even if she didn't give such an awesome update on her friend, it would have been a pretty safe bet to say, based on all of her fun engagements thus far, that Markle has totally got the whole royal thing down. And yes, she's got a super supportive friendship to boot.