Meghan Markle Just Re-Wore The Dress She Wore On Her First Public Outing With Prince Harry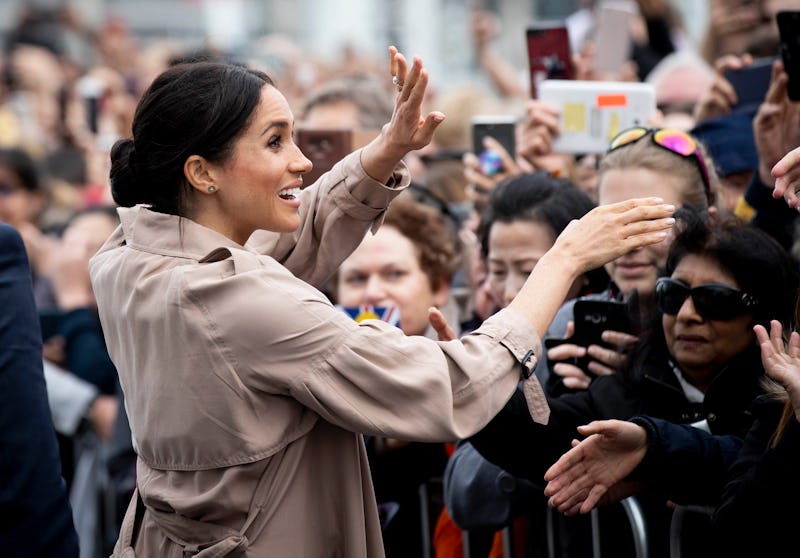 Pool/Getty Images Entertainment/Getty Images
Even though they live in a gilded palace, the royals are not above wearing the same outfit twice. In fact, both Duchesses frequently repeat their wardrobe pieces, proving that a good staple deserves to be in heavy rotation. Case in point: Meghan Markle re-wore her Antonio Bardi dress that she originally donned for her first public outing with Prince Harry.
The Duchess of Sussex is currently on a royal tour through Australia, New Zealand, Fiji, and the Kingdom of Tonga, and the whole event has been a fashion fantasy. Markle brought never-before-seen pieces with her suitcase, gifting us with outfits like a striped maxi dress, a wildly embroidered summer frock, and a white tuxedo dress. But this navy Antonio Bardi dress is special because not only has she worn it before (making her "just like us" with her wardrobe recycle,) but it's also a piece that she wore way back when she and Prince Harry were only beginning to date. Get ready to get sentimental, because this it just too sweet.
The Duchess wore it nearly a year and a half ago, when tabloids were just beginning to buzz that the Prince had a new American love interest that was a Hollywood actress. The first time that the pair made their public appearance was during the Audi Polo Challenge, where Prince Harry was playing and Markle sat in the stands, cheering him on. That's when she wore the double-breasted, asymmetrical midi dress, styling it with shades and a white blazer.
That event was the first time the two stepped out as an official royal couple, and it was the first time that she attended an official societal function, sitting in the Royal box surrounded by his friends and family.
Now fast-forward a year and some change, and she is on a tour as an official member of the royal family, married and pregnant. If you're a sucker for love stories, this is probably hitting you in the feels. It's a truly sentimental pick, and shows just how far the couple has come together. She wore the navy frock to a reception hosted by the Prime Minister of New Zealand that was held at the Auckland War Memorial Museum. It's both flirty and elegant, and the dark navy matched Prince Harry's blue suit, creating a cute couple twinning moment.
This, of course, isn't the first time that one of the Duchesses recycled their wardrobe items. Take for example what Kate Middleton wore to Markle's and Prince Harry's wedding. While magazines and columnists were speculating what the stylish sister-in-law would don, Middleton wore a cream Alexander McQueen dress that wasn't brand new.
She wore the same coat dress to Princess Charlotte's christening, as well as during the Trooping of the Colour in 2016. Why splash out on a new dress when all the attention should be on the bride, right?
But if you have a designer wardrobe, it only makes sense that you would re-wear those beautiful pieces. Duchess Meghan looks gorgeous no matter how many times she doubles up on her outfits.