Meghan Markle Recreated The Trip Where She & Harry Fell In Love For His 35th Birthday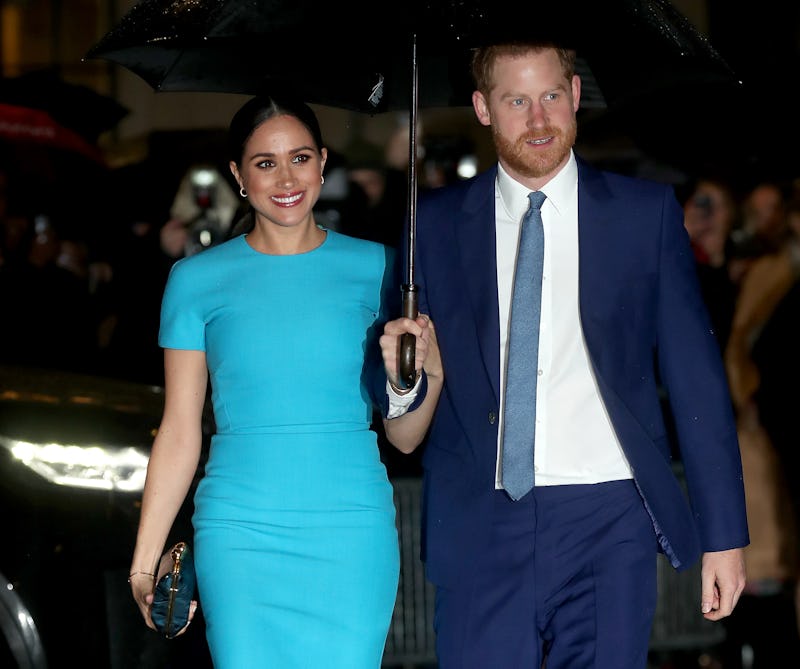 Chris Jackson/Chris Jackson Collection/Getty Images
Prince Harry, Duke of Sussex and Meghan, Duchess of Sussex may no longer be senior royals, but they're definitely the king and queen of gift-giving. The couple — who just celebrated their second anniversary — "always give each other incredibly romantic gifts," according to People, which culminated with the time Meghan Markle recreated a romantic vacation for Harry's birthday. Back in September, the former Suits actor created a backyard version of the Botswana camping trip that she and Harry enjoyed in 2016, shortly after they started dating.
"Last year, for Harry's birthday, Meghan recreated their Botswana camping adventures in their backyard," a source told People, adding that the trip has some special memories for the royal couple. "It's a place that means so much to them — and to Harry in particular — so Meghan wanted to bring that happy place to him on his day so she set up a tent, got sleeping bags, cooked dinner and recreated Botswana where they fell in love."
During their engagement interview in 2017, Harry revealed that he invited Meghan to accompany him on the trip after they pair had gone on just two dates. "I think about three, maybe four weeks later that I managed to persuade her to come and join me in Botswana," he recalled at the time. "And we camped out with each other under the stars. She came and joined me for five days out there, which was absolutely fantastic."
A year later, the couple even returned to Botswana on a conservation trip, where Meghan and Harry assisted Dr. Mike Chase of Elephants Without Borders in his efforts to protect their habitats from being eradicated. And their love of the African country is a permanent part of their love story, as Harry chose a diamond from Botswana as the center stone of Meghan's engagement ring.
Since getting married on May 19, 2018, the couple have continued to give each other gifts that have deep, sentimental meaning to their love story. "They love to do their own take on traditional wedding gifts," a source close to the royal couple told People recently. "The first anniversary was paper, and Meghan wrote out the wedding speech and had it framed for him."
For their second anniversary, the traditional gift is cotton, and Meghan and Harry once again put their own spin on their presents to one another. "This year, they both gave each other gifts based on 'cotton,'" the source added. "Undoubtedly, it was a very creative and romantic gesture as all their gifts are to one another."
Despite their creative anniversary gifts, their actual celebrations were relatively low-key: "The family is spending a quiet day together" with their son, Archie, a source told People on May 19. Another source echoed those sentiments to Page Six, revealing the royal couple were "laying low, taking the day to relax and be together with no distractions. No work. No calls. Just family time and keeping it simple." No doubt Meghan and Harry's future celebrations will be just as romantic — and sentimental — as their backyard birthday camp out.