This Video Of Meghan Markle Meeting Her Mini-Me Will Instantly Make Your Day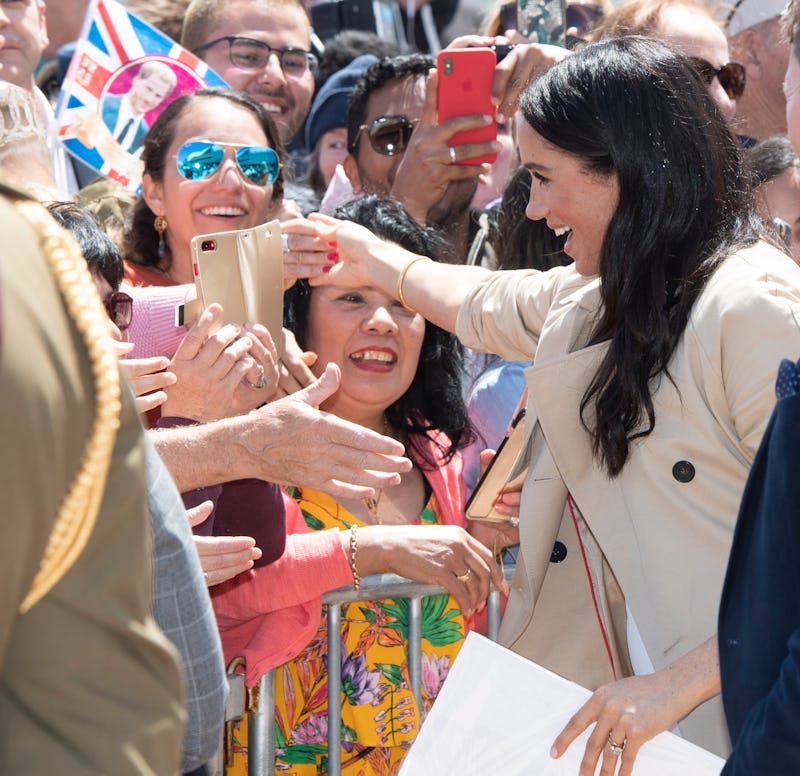 Pool/Getty Images Entertainment/Getty Images
There are a lot of rules and traditions that royal family members have to follow. One of those protocols is tied to taking photos with fans. However, Meghan Markle recently broke royal protocol to pose with a little girl who reminded her of herself, as seen in a video shared by Entertainment Tonight. Not only that, but Prince Harry is actually the person who ended up taking the photo.
The newlyweds are in Australia for their first tour together. On Oct. 16, the couple was at the Sydney Opera House where the Duke of Sussex was in a conversation with a younger fan. In the video, he asked the little girl, "Do you want to meet my wife?" Of course, she said yes. Then the royal motioned for Markle to come over and join their conversation.
When the Duchess of Sussex walked over, she noticed the little girl's shirt that read, "Girls Can Do Anything," and told her, "I love your shirt." A woman who was with the little girl told Markle, "We feel like she looks a bit like you when you were younger." Adorably enough, the Duchess responded to the woman with, "I was literally about to say the same thing."
Naturally, she wanted a photo with someone who looks like her mini-me. However, taking photos with fans at events is just not something that happens. Or at least it was not something that happened. Prince Harry asked, "Do you want me to take a picture of you two together?" And of course, no one is going to turn that down.
Getting a photo with one of the most well-known (and beloved) woman in the world is a big deal for any fan. There's no doubt about that, but it's also just a very rare occurrence to get a personal picture with a royal family member.
In December 2017, Markle reportedly told a fan, "We are not allowed to take selfies" when she was asked for a photo. Just like everything she says and does, this made news. It's not something that happens often, but the royal family members have posed for selfies before. In fact, a 2017 Mashable article shared photos of several times the royal family posed for selfies with fans.
According to another article from Daily Mail, the Meghan Markle mini-me is Sethunya Gibbons, who is 9 years old. She was there with her grandmother Sharon Gibbons, who pointed out her resemblance to the Duchess, and her cousin Rebecca Szekeres .
Sethunya spoke to Daily Mail after her royal encounter. She shared, "I was waiting for Harry to come over and he said 'Girls can do anything,' because that's what it says on my shirt." How sweet! The Sydney resident admitted,
"Meghan also said I look like her when she was little. It made me feel really happy and excited."
Her cousin shared, "I said congratulations to them for the baby, and I got to shake their hands too." Their grandmother commented, "How lucky were they?" The luckiest. From resembling Markle, to meeting the royal couple, to getting such a sweet time in the spotlight, the word "lucky" is a definite understatement here.
Although Sethunya Gibbons and her family feel lucky to have such a wonderful encounter, they aren't the first fans that impressed Prince Harry enough to introduce to Markle.
In March 2018, Prince Harry met a 10-year-old girl named Sophia Richards. After he found out that she wants to be an actor when she grows up, he called over his then-fiancée to make an introduction. The former Suits star gave the little girl a hug.
Richards told E! News, "Meghan told me that I can achieve whatever I want to achieve and Meghan said she would like to see me on TV when I become an actress." She also admitted, "It was a dream come true. I will never forget this day." Never ever.
Meghan Markle and Prince Harry are doing the royal couple thing their way. They're following many traditions, but they're also doing what they can to make their experiences more personal for everyone involved.