Meghan Markle Wore Her Hair In A Messy Bun & Broke Royal Protocol — Again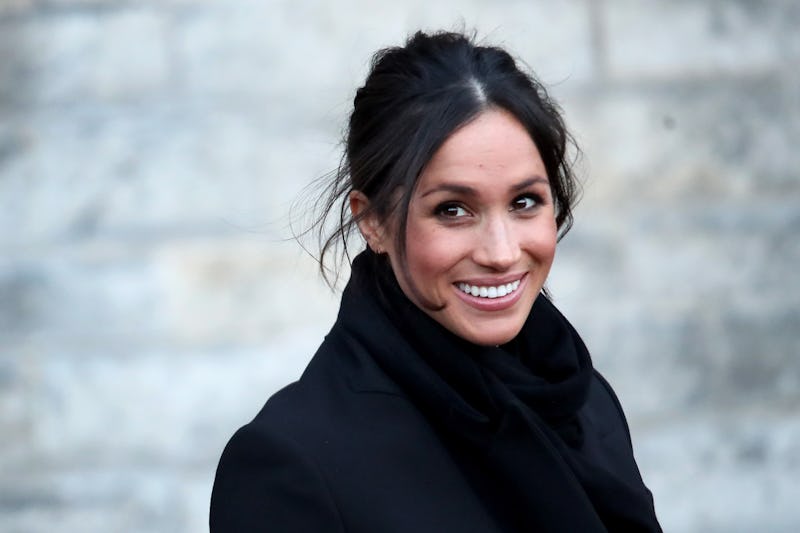 Chris Jackson/Getty Images Entertainment/Getty Images
The soon-to-be royal is shaking up royal beauty rules like never before. Meghan Markle wore a messy bun again, which breaks a royal protocol. This isn't the first time that she's broken a royal rule. Heck, it's not even the first time that she's broken this rule. It looks like Markle won't be changing her personal style any time soon.
Markle and Prince Harry might have been fashionably late for their arrival in Cardiff Castle in Wales, but that didn't stop from her serving the fashion. All eyes are constantly on the soon-to-be-royal to see what she'll wear. So much so that people are calling the super-fast sell-outs of clothing that she wears the "Meghan Markle effect." But this time all eyes were on her hair.
In case you don't remember, Markle got social media praise just weeks ago for her low-bun hairstyle, but it also broke royal protocol. For her first royal outing since then, she wore her hair almost the exact same way. Coincidence? You decide.
According to People, all royals must have their hair sleek at all times. Hence why you always see the Queen with perfect hair and Kate Middleton with sleek buns or perfect blowouts. Either Markle doesn't seem to mind breaking the rules or no one filled her in on the rules.
Markle's latest hairstyle is somewhere in-between her previous hairstyle and the slicked-back look of Middleton's. The bun is more structured than her past looks, but still is super wispy and on-trend.
Other than just her trendy hairstyle, she wore a $1,873 Stella McCartney tie detail coat, black $242 Hiut Denim Dina jeans and black Tabitha Simmons Kiki boots, according to People. She also carried the $520 forest grain Mini Venice purse by Demellier London, which is similarly styled to the purse she broke rules by carrying on her first public outing.
Yes, Markle is no stranger to breaking fashion rules. She carried a purse to interact with the public, when she was supposed to carry a clutch and went sans-tights for her engagement announcement, which also went against royal protocol.
"It's her age," says Ingrid Seward to People, author of My Husband & I, a new biography of Queen Elizabeth and Prince Philip to People. "She is easier-going. It's refreshing that [the royal family] is prepared to bend a bit."
It's worth noting that there are also some rules that she has followed since joining the royal family. According to E! Online, she has stopped wearing shorts and started wearing more pencil skirts. She also has worn neutral colored nail polish, which is a rule followed by both the Queen and Middleton.
Of course, the ways she has broken the rules and toed the line definitely don't go unnoticed. Markle chose a floor-length mesh gown for her engagement photos, which was the first sign that she was one of the trendiest royals in some time. That just makes it all the more exciting to see what she'll be wearing on her upcoming wedding day.
She's not the first royal to break sartorial rules . According to Hello Magazine, Princess Diana didn't like to follow the rules either. Markle seems to be following in the late-princesses footsteps.
"[Princess Diana] abandoned the royal protocol of wearing gloves because she liked to hold hands when visiting people or shake hands and have direct contact." Eleri Lynn, who curated Kensington Palace's new exhibition, Diana: Her Fashion Story told People. "She also stopped wearing hats because she said, 'You can't cuddle a child in a hat."
Markle is making major waves with her royal fashion choices, and she won't be slowing down any time soon.