Meghan Markle's Wimbledon Outfit Was The Sweetest Tribute To Prince Harry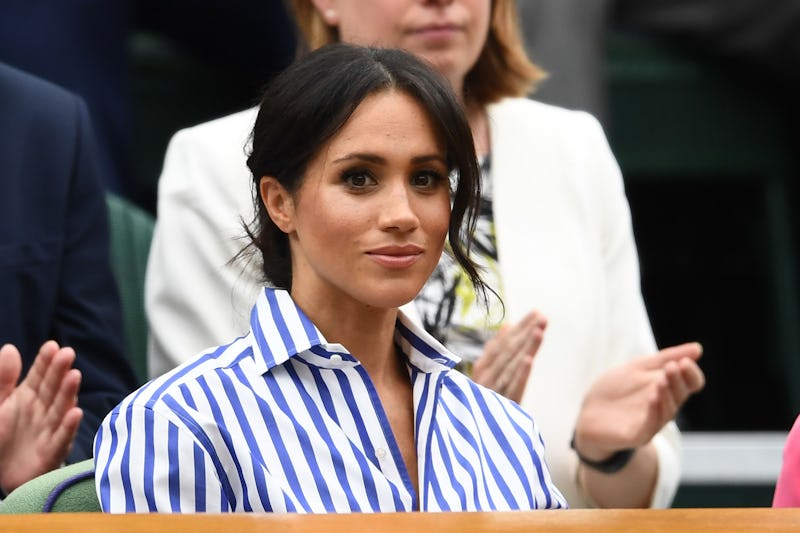 Clive Mason/Getty Images Sport/Getty Images
If you guessed that this was just the typical honorable mention to Meghan Markle's latest ensemble, then you thought wrong. Sure, the Duchess of Sussex is receiving a shoutout for killing the fashion game yet again. But when Meghan Markle wore Ralph Lauren to Wimbledon 2018, Harper's Bazaar reported that it was so much more than just another runway moment for Prince Harry's leading lady.
Spotting Markle out with her new royal family never gets old. The newly wed recently made an appearance at the women's final at Wimbledon 2018 with her equally fashionable sister-in-law, Kate Middleton. Talk about a couple of royals getting together and slaying the competition like it's all in a day's work.
If Markle looked right at home at Wimbledon, it's because she was famously spotted at the tournament back in 2016 around the time that she met Prince Harry. That's right, Wimbledon is supposedly where it all began for the royal love birds. At this year's event, the Duchess paired a striped blue and white blouse with white pants for a chic look that just begs to be imitated. Worth paying close attention to not just because it was one of the best looks Markle has worn, the well put together ensemble was the Duchess' adorable way of honoring Prince Harry.
Here's the inside scoop on why Markle's fashion choice for the sporting event was so special. When the Duchess first attended Wimbledon in 2016, allegedly, she was a guest of Ralph Lauren. Thanks to an E! source's revelation, a friend of Prince Harry supposedly introduced the former actress to the British aristocrat.
"Harry was having a really hard time finding anyone," the source told E!. "It was something he had confided in his closest friends about; he was ready to meet someone but it was so hard to actually find the right person."
Enter: Violet von Westenholz, an alleged childhood friend of Prince Harry who does PR work with the Ralph Lauren fashion house. The matchmaker put the pair together and there you have it, the Duke and Duchess of Sussex are now a thing. So, it looks like Markle paid tribute to her and Prince Harry's relationship beginnings by wearing the same designer that helped the newly weds cross paths in the first place.
The Duchess look stunning alongside Middleton, in the printed shirt. She coordinated the top perfectly with white, wide-leg trousers, also courtesy of Ralph Lauren. She kept her jewelry minimal and rocked her signature messy Meghan Markle bun that always looks effortlessly beautiful. She also let her trendy blouse and pants combo do all the talking by keeping her accessories very low key, opting for a Givenchy "Ghianda" saddle bag, a classic black pair of sunnies, and a white, wide-brimmed hat. Yep, girlfriend truly had it going on.
Of course, when you're Meghan Markle, you make no fashion and beauty mistakes. The Duchess seems to carefully plan her attire, having paid homage to other royal family members prior to her Prince Harry tribute. She once wore a white beret likely in honor of Princess Diana and she even saluted the Queen with her wedding day nail polish in Her Majesty's favorite color. So, it's safe to say that Markle has a knack for getting dolled up in items with the cutest secret meanings.
All things considered, Markle's Wimbledon appearance was really too much handle. Let it sink in that it was a trendsetting moment for Markle, a precious glimpse of her gal-palling it up with Kate Middleton, and the sweetest nod to Prince Harry all in one. Our swooning hearts seriously cannot take it.