Meghan Markle's First Appearance With The Queen Included An Homage To Princess Diana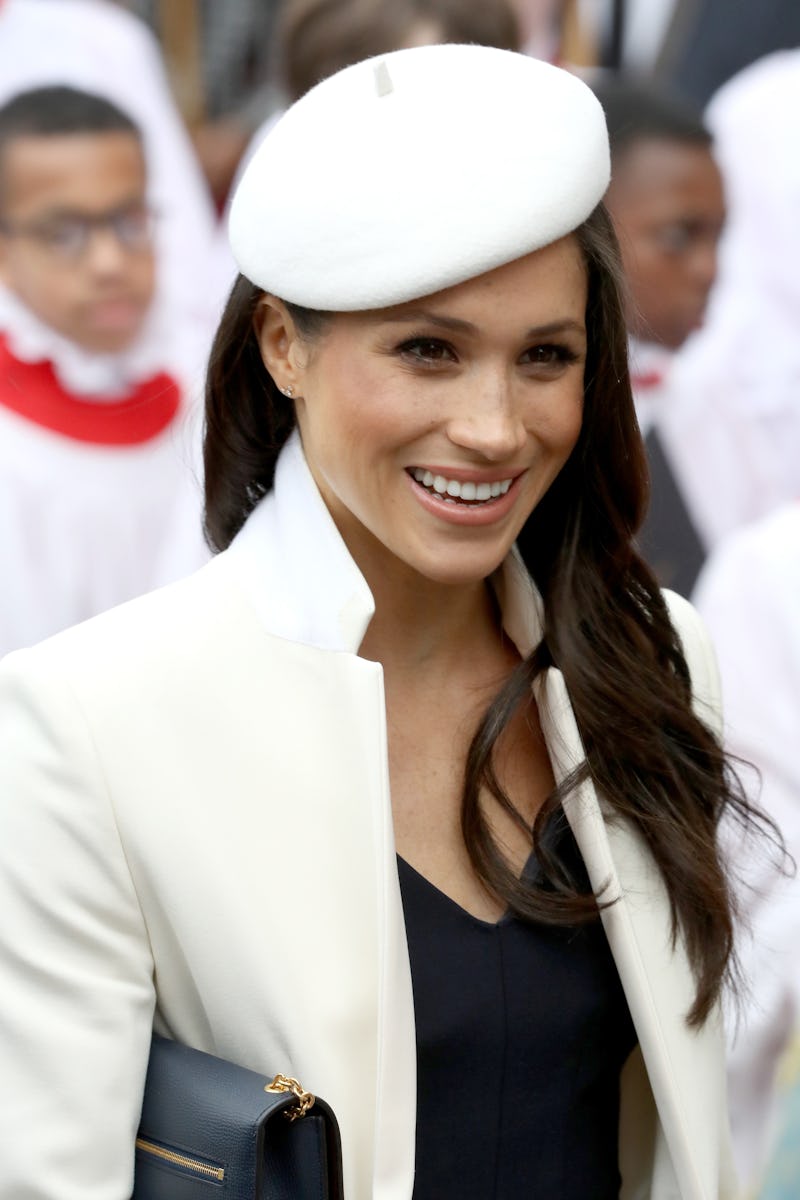 Chris Jackson/Getty Images Entertainment/Getty Images
Fashion pundits love keeping a close eye on what the women of the monarchy are wearing, especially when there's an overlap with Princess Diana's sense of style. We're nothing but nostalgic when it comes to Princess Di and her on-point aesthetic. Finding sartorial similarities between Kate Middleton and her late mother-in-law has become something of a sport in the fashion world, and now that Meghan Markle is joining the family, the attention has been broadened to include her closet, too. Which is why it was an exciting moment for fashion savants when Meghan Markle stepped out in a white beret that payed homage to Princess Diana's iconic look.
The late Princess was known for her fashion forward and classic style, and a huge part of her aesthetic revolved around hats. (She is British after all.) Markle's beautiful white beret was designed by Stephen Jones, who also famously designed Princess Di's berets, creating a family link.
According to Jones, Princess Diana knew her hat collection was part of her job description. "She knew it was part of being royal," Jones told The Daily Mail. "She understood from the Queen and the Queen Mother that it was part of the responsibility — to be identifiable. It was a symbol of royalty, to set you apart."
Jones wasn't exactly new to the hat game when he got drafted into Lady Di's inner style circle. His looks appeared on the heads of Boy George and Madonna in the '80s, and has created hats for Dior for decades — including the black leather one that Rihanna wore and started a fashion revolution with.
Jones was the one who created Princess Diana's iconic beret looks, and now Markle is following suit. Arriving with Prince Harry and his family at Westminster Abbey on Monday afternoon for a service for Commonwealth Day, she looked sleek in an all black-and-white ensemble. Commonwealth Day is a big deal, where the Queen's speech is televised worldwide, but it's a big moment for Markle in a different way this year. The event is a public acknowledgement by the Queen of Markle, making her a more official part of the family. Which is why it's so fitting that she wore so many Princess Diana throwback looks.
Her white beret wasn't the only nod towards the Princess. She also wore a white $1200 coat by Amanda Wakeley, who was one of Lady Di's favorite designers — as well as Kate Middleton's presently. Wakeley and Princess Diana started their working relationship before Lady Di was even married, when she came in for a fitting at 19-years-old.
"I remember this shy young woman coming into the studio for some clothes and we thought nothing of it, then turned on the TV later and it was her – Lady Diana, Prince Charles' girlfriend," Wakeley shared with Express. She would champion the designer throughout the decades, wearing her sharp suits and fashion-forward silhouettes.
Most notably, Princess Di wore a Wakeley design when she delivered her resignation speech from public life in 1993, wearing a mini skirt suit with a long, boxy blazer with velvet lapels. She looked incredibly chic and sophisticated as she announced she would be bowing out from the public eye, and the designer clearly still creates similarly timeless pieces.
As expected, Twitter loved these fashion parallels, and got all nostalgic over how the mother-in-law and daughter-in-law were connecting. The "I'm not crying, you're crying," phrase was thrown around a lot.
Some people weren't in love with the beret until they learned of the connection, making them a huge fan of her white-accented look.
Others embraced the beret-look wholeheartedly, hoping it becomes a new trend so we could all follow in her footsteps.
She clearly knocked this sentimental look out of the park — the one would not expect anything less from the fabulous Markle.