The Gift Prince Harry Reportedly Gave To Meghan Markle On Their Wedding Night Is SUPER Luxe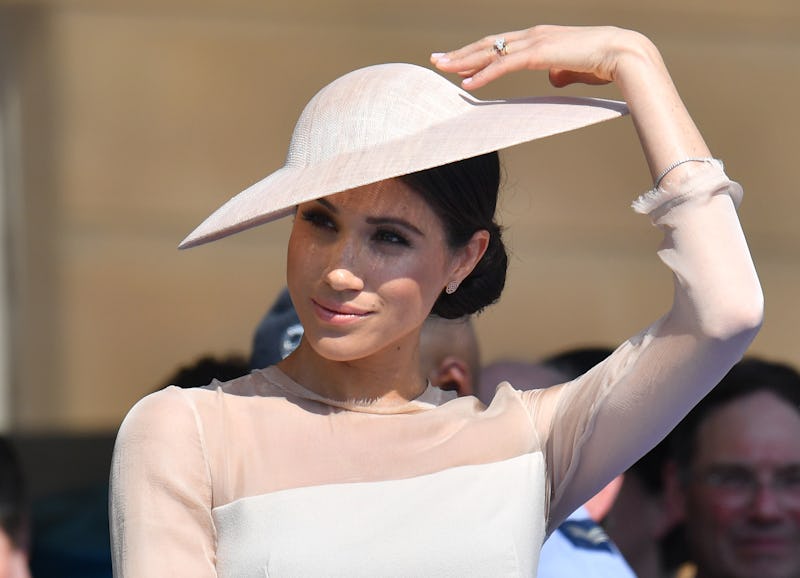 WPA Pool/Getty Images Entertainment/Getty Images
It looks like the tiara was only the beginning of sparkly things that Duchess of Sussex is adding to must-wear list. According to Elle UK, Prince Harry reportedly gave Meghan Markle a $20,000 bracelet on their wedding night. You know, because a 30-minute carriage ride and a new home in the the Royal Palace isn't already enough. This bracelet might be dainty, but it's meant to be noticed.
Markle made her first public appearance since becoming Duchess of Sussex wearing epic accessories. On top of the asymmetrical Philip Treacy hat and her engagement ring, Markle also wore a subtle and sophisticated diamond bracelet on her wrist. According to Elle UK, the accessory is the Essential Line Bracelet from Cartier that rings in at a whopping $20,600.
The bracelet was reportedly a gift to Markle on their wedding night. That would make sense, considering that this is the first time she's been seen wearing it in public. This would carry on a meaningful tradition, too. According to PopSugar, Princess Diana received an aquamarine ring on her wedding night.
Yes, that would be the exact same ring that Markle wore to her wedding reception. Although previous Bustle coverage reports that it was actually the accessory that she bought for herself after her divorce, which is estimated £75,000 in today's market. Either way, it's a great nod to the Prince Harry's late mother.
You don't need to marry a prince to get your hands on the bracelet, either. All you have to do is visit the Cartier website and have enough money to purchase it. It's available right now on the brand's website and doesn't seem to have been made especially for the Duchess of Sussex. The bracelet is made with 18K white gold and set with 61 brilliant-cut diamonds totaling 3.34 carats, according to the website.
If you can't afford the $20,000 accessory, there are plenty of lookalikes out there. Just one Google search for a diamond tennis bracelet brings up an almost identical option from Overstock and an affordable, sans-diamond option for $210 at Tiffany & Co. Or you can just wait for your prince charming to buy one for you.
This isn't the only bracelet involved in the royal wedding. Markle wore a chunkier diamond bracelet from Cartier as well as earrings from the brand on her wedding day. (That might be where Prince Harry got the clue on where to shop.) She also chose to custom make a bracelet for six of her closest friends, including Kate Middleton, as wedding gifts. The bracelets were from the brand Zofia Day Co. and were a cool $4,500 each.
The rest of Markle's outfit for her first public appearance was worth noting as well. The Duchess of Sussex wore a stunning peach-colored dress from Goat — a brand that Middleton reportedly loves — and a hat from Philip Treacy to match. She finished the look off with tights and heels as well.
While that might not seem like a big deal, wearing tights is a royal fashion rule that she has been very lax in the past. According to previous Bustle coverage, Queen Elizabeth passed down a royal fashion rule that women should wear tights whenever their legs are exposed. Up until this moment, she has avoided that rule. Now that she's officially part of the royal family, it looks like that has changed.
Markle also traded in her signature messy bun for a tight, perfectly in place low bun instead. There is also a royal rule stating that members of the royal family must have their hair in place at all times. Although Markle wore the messy bun for her wedding day, that could be the last time that she wears the 'do in public.
Although her style looks to be evolving yet again, it looks like Markle is fitting into the royal family just fine — at least fashion wise.