Meghan Markle Brought Banana Bread To A Royal Tour Stop & TBH, It Sounds Amazing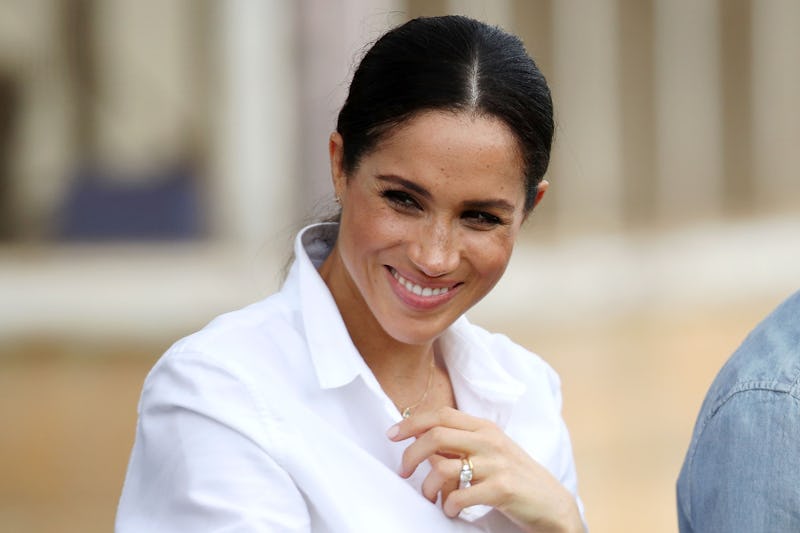 Chris Jackson/Getty Images Entertainment/Getty Images
The Duke and Duchess of Sussex have only just begun their first official overseas tour, but the couple is already an indisputable hit. No, not because of their grace, charm, or generosity — although, they have shown those, too — but because Meghan Markle brought homemade banana bread to a royal tour stop in Australia, as per Elle, and it's been getting rave reviews.
Now, at first you might be thinking, "Banana bread, huh? Interesting choice." It's not native to either Australia, England, or Markle's former U.S. home, and it's like, this weird mix between a cake and a loaf of bread. (Technically it's a "bread" that has cake-like moistness, but I digress.)
Well, leave it to the Duchess to take something like banana bread and transform it into plate-clearing levels of deliciousness. The occasion for the baked good was a visit to the Woodley family's Mountain View farm in Dubbo, New South Wales, where she and Prince Harry were invited out for tea.
According to Hannah Furness, The Telegraph's royal correspondent, Markle brought her soon-to-be famous banana bread and a tin of Fortnum and Mason's Royal Blend tea to the farm. So thoughtful and generous. We're here to talk about the banana bread, though, so let's talk about it.
Here's how the Daily Mail's royal correspondent Rebecca English described the sweet treat: "Meghan's banana bread went down well!" she wrote on Twitter. "It has chocolate chips in and a bit of ginger (and I can personally attest to the fact that it is rather nice!)"
Chocolate chips? Ginger? What appears to be a perfectly browned top-crust? It really and truly sounds like a treat. Also, who made those tiny, crustless sandwiches on a platter? Those look tasty too. OK, all of it looks tasty, but apparently, Markle's banana bread was the star of the show.
Furness tweeted about the Duchess' contribution, too, writing, "Visiting a farm run by the Woodley family in Dubbo today, Meghan took a home made banana bread with her as a gift. It went quite quickly." She wasn't lying just to flatter, either, as you can see by the almost-empty plate of banana bread remains below.
It's no small feat that Markle was able to whip up a talked-about loaf of banana bread for her and Harry's trip to Dubbo. After all, she's a newly-announced mom-to-be, probably dealing with jet-lag, and she's about to embark upon a 16-day trip with 76 total royal engagements.
By the way, that's an average of 4.75 royal engagements every day, which is basically 5, which is definitely a lot. It's a lot of traveling, a lot of wardrobe changes, a lot of smiling, and shaking hands. It could also turn into a whole lot of banana bread baking, based on the response Markle's gift got in Australia.
It's worth noting that Markle wasn't totally sure how her recipe would fly, and "said she was worried about the bananas, that she'd put too many bananas in it," Furness reported. Harry, though, ever the encouraging husband, "said there's never too many bananas," the Telegraph correspondent revealed. So sweet, so true.