Meghan Markle Wore A Totally Gothic Bird Dress & It's Unlike ANYTHING She's Ever Worn Before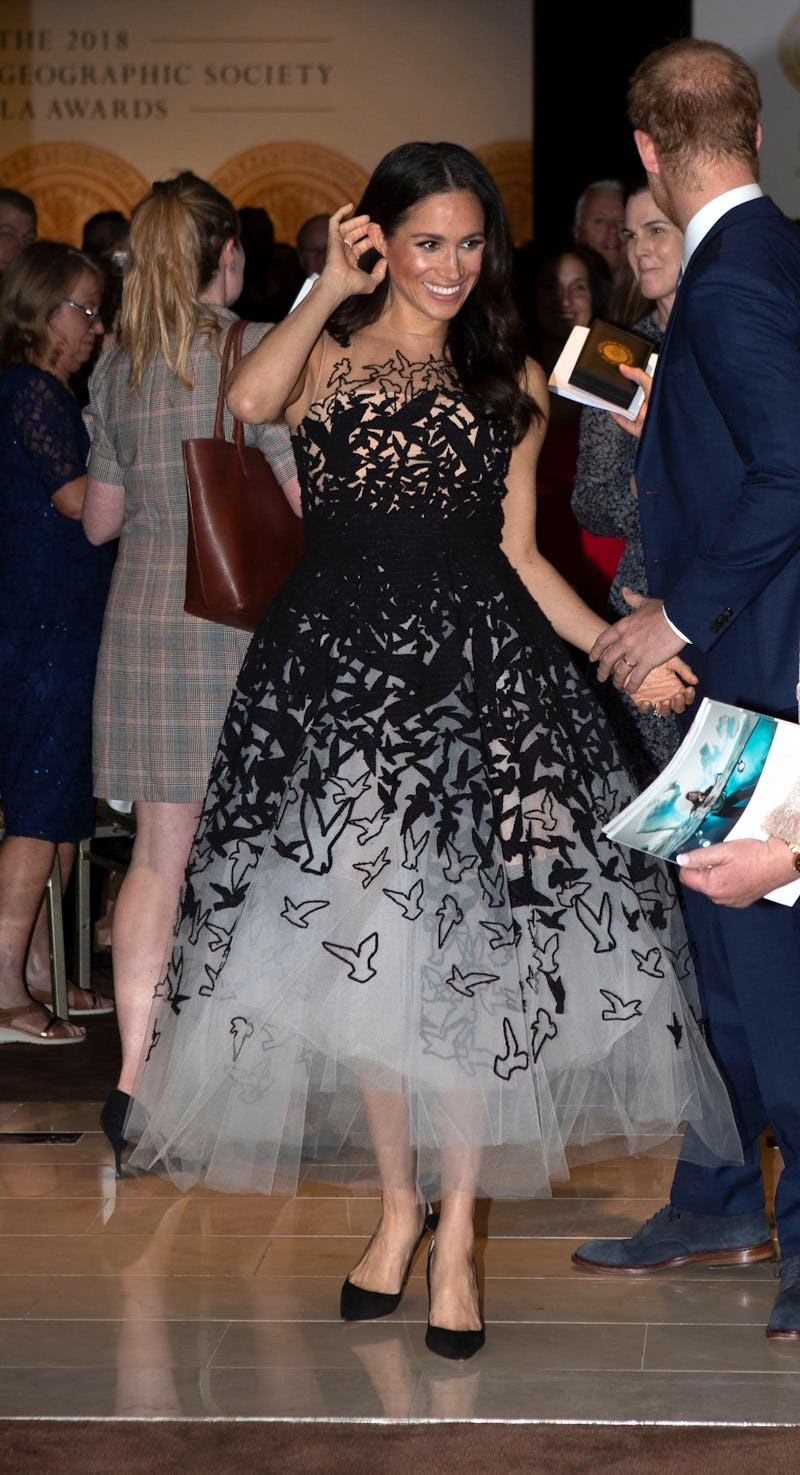 Shutterstock
Shook by Markle Sparkle. That'll be the only way to describe the reactions of royal fashion watchers and Meghan Markle style stans after seeing the latest dress the Duchess of Sussex wore while performing royal duties and attending functions in Australia. Meghan Markle wore a bird dress by Oscar de la Renta while attending the Australian Geographic Society Gala Awards in Tonga.
The playful, spirited, slightly goth, and animal-themed dress was unlike anything she has worn before. In fact, the gown was a pretty clear and obvious departure from the chic, structured, and tailored dresses that the pregnant Markle has been wearing while Down Under and beyond.
The gorgeous gown featured a white tulle base, with a lace-look, black overlay shaped liked flying birds. It legit looked like a flock of birds landed on the front of her dress.
It was a flock frock that made effective use of laser cuts and negative space design.
An astute Twitter user confirmed that the dress was designed by Sarah Esmoingt, who describes herself as a "French embellishment designer in New York City." She has designed pieces for Zac Posen and has worked with Cartier Parfum, as well. The dress is featured in the designer's portfolio on her website.
So, so breathtaking, right? Markle wore her avian-inspired, flared bottom dress, which hits at the ankle but looks semi see-through due to the fabric, with a familiar pair of black heels and hardly any accessories. Just her megawatt smile, neutral makeup, glowing skin, and her dark hair down and falling in waves. Those black heels are the Aquazzura Deneuve Black Suede Bow Pump, according to the Meghan's Fashion site.
The sleeveless dress is a bit of an optical illusion. The top and the neckline are clear, so it appears strapless. It also looks like birds have been set free to fly and explore the world as they wish.
The dress manages to be sophisticated and whimsical at once. The bottom is fluffy while the top is more structured. It truly is fit for a princess. The Meghan Markle Effect should once again show itself to be a real and actual thing when fast fashion retailers start taking inspo from this dress. Will this design also inform the prom season in 2019? Time will tell but it wouldn't be surprising if it did.
Markle was just lovely — but when isn't she? — in this Oscar de la Renta confection. It really is unlike anything she has worn before.
While Markle was already impressing the world with her well put together style when she married into the royal family, she has truly stepped up her sartorial game on this grueling and incredibly public trip. She has worn multiple OOTDs and has looked gorgeous in every one — whether she was rocking a navy blue caped gown or skinny jeans with J. Crew Booties or low-key twinning with Prince Harry.
It's also worth noting that Markle has looked spectacular while adjusting to being newly pregnant. She is on her feet and often in heels while exploring the region and meeting people. But she always looks polished, put together, and happy.
Markle has truly fast tracked her icon status in the fashion world on this trip — one dress (and one bird) at a time.