Meghan Markle Just Wore Something Royals Usually Don't & She Looked Stunning AF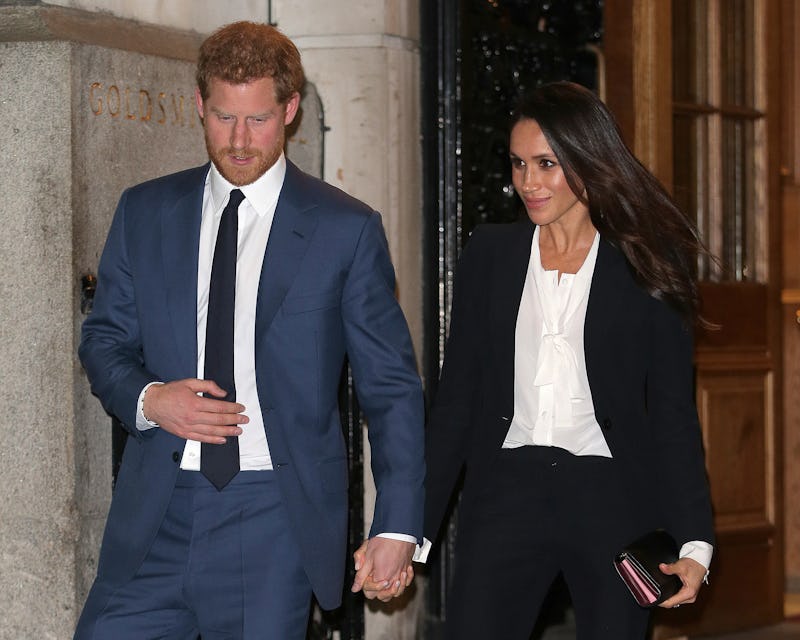 WPA Pool/Getty Images Entertainment/Getty Images
You've probably heard the phrase "princesses wear pants" a few times, but this royal is bringing the phrase to life. As PopSugar found, Meghan Markle wore a suit to an awards ceremony with Prince Harry. Not only was she matching her soon-to-be husband, but she just gave you even more fashion inspiration.
Let's be completely honest here, it should come as no surprise that Markle is surprising people with her royal fashion choices. She's been rocking not-so-typical royal fashion since the very beginning. I'm talking rule breaking hairstyles, accessories, and even a mesh dress. Now, she's stepping out in matching suit with Prince Harry, proving that no outfit is off limits.
According to PopSugar, Markle wore a tailored black suit by Alexander McQueen to the Endeavor Fund Awards ceremony in London. She paired the suit with a white, pussy-bow top and black pointed-toe pumps.
It's also worth noting that she traded in her handled bags for a clutch, which is more on royal protocol. It's like she's balancing all the royal fashion rules at once. Want to go against the norm with your outfit? Throw in a classic royal staple. She's very good at toeing the line between classic and rule-breaking style, if you couldn't already tell.
While it's not against the rules for Markle to wear pants, the women in the family typically stick to dresses and skirts for their outings. And they almost never make it a point to match their husbands. Celebrities like Gigi Hadid and Zayn and Selena Gomez and Justin Bieber love to match each other, but it's not often that royals do the same. Just another reason to love the pair.
Apparently the awards ceremony didn't go as smooth as her outfit though. After calling Markle, who was presenting an award, to the stage, the announcer got a little messed up as to which part of the show they were on. Thankfully, Markle was there to lighten the mood.
Markle is constantly surprising people with her outfits, no matter where she goes. The soon-to-be-royal is always changing up her hair and accessories. She's always had a knack for style, and she's bringing it with her to the Royal Palace. Of course, she has had to change a few of her go-to items, like shorts, and swap them out for more royally approved duds though.
Besides her royal pantsuit, Markle has also switched up her hair. The actress has been rocking a middle part and messy bun for her past few outings, but traded in the laid-back style for a side part this time. She wore her locks somewhat straighter than usual as well.
Markle also wore her hair completely pushed to one side as well. She's constantly finding tiny little ways to switch up her outfits and keep people on their toes. Last time she stepped into publish, she was wearing two different earrings. Now, she's proving that even just the side flip of hair can make your typical hair style feel new again.
It's nice to see that becoming royal hasn't stopped Markle from showing off her love of fashion. People on Twitter have deemed her the most fashionable royal ever, and she's definitely not doing anything to go against the unofficial title. She's constantly rocking top designers and styling things in her own way. There's no word on who her stylist is, but there are rumors that she chooses her outfits herself.
With the royal wedding right around the corner, the fashion inspiration is just getting started. You never know how Markle will toe the line next, so it's only a matter of time before even more sartorial inspiration is on the way.