Meghan Markle's Celeb Squad Is Tight AF, And They're All Just As Talented As She Is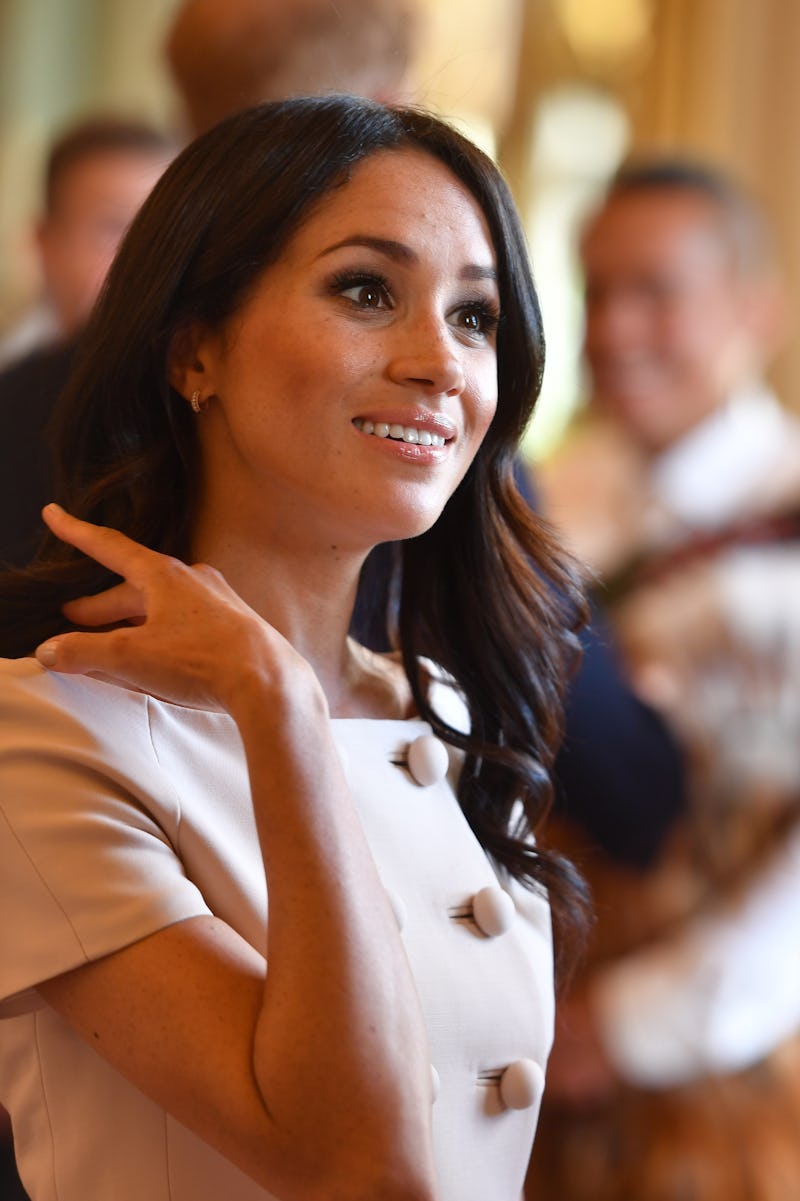 WPA Pool/Getty Images News/Getty Images
Meghan Markle may be the recently appointed Duchess of Sussex but before that, she was an actress carving a name for herself on US legal drama, Suits. Meghan quit her seven-year role in Suits after announcing her engagement to Prince Harry in November 2017, and the exit of her character Rachel Zane aired just before her royal wedding in May this year, but that doesn't mean she doesn't count her Suits co-stars and a number of other famous faces as close pals. So, who are Meghan Markle's celebrity friends?
Well, a lot of them attended the Royal Wedding earlier this year. Amongst those lucky few was multiple Grand Slam winning tennis champion Serena Williams, who attended with her husband, Reddit co-founder Alexis Ohanian. Williams has been tight with Meghan since the pair met at the American Football championship Superbowl several years ago and bonded after Markle asked Williams how to "handle some of the more extreme results of fame", according to Vanity Fair. Speaking about her now Royal friend, Williams said: "Her personality just shines. I told her, 'You've got to be who you are, Meghan. You can't hide.'"
Right, what other besties does Meghan have that I am extremely envious of?
As aforementioned, Meghan is pretty tight with the Suits cast, with the majority of the recurring members invading England for the royal wedding in May. Among them was Sarah Rafferty. The actress plays Donna on the legal drama and is pretty firm friends with Meghan; as is her other former Suits co-star, Abigail Spencer, who only has amazing things to say about the new Duchess.
Abigail previously told Vanity Fair: "[Meghan has] got warm elegance, though her style is hard to pin down. It's classy and timeless. When you're talking to her, you feel like you're the only person on the planet. And it's just wonderful to see her so in love." Meghan also appears to have remained fairly close to her other cast mates including Patrick J. Adams, Rick Hoffman, and Gabriel Macht, as all three attended the royal wedding.
So, who else?
Perhaps the most famous of all Meghan's celeb pals is Priyanka Chopra. The Quantico actress confirmed to People back in 2017 that the friends first met during the annual ELLE Women in Television dinner, and it seems Meghan and Chopra been super close pretty since. Meghan has also spoken about the pair's close friendship. Gushing about the "unbelievable" actress to PTI (Press Trust of India), Meghan confirmed that "Priyanka is unbelievable. She has become a really good friend.
"And you know when you meet someone and you just 'click'. We've managed to keep in touch via email and text, and try to see each other whenever we're both in the same town." Since May of this year, it has been reported that Chopra is in a relationship with Nick Jonas, so there's even the possibility that Meghan may be adding a Jonas brother to her list of pals soon enough.
Then there's Amal Clooney, a leading human rights barrister who happens to be married to Mr. George Clooney. The pair attended the Royal Wedding in May, with Clooney wearing a stunning yellow Stella McCartney design. People reports that the pair became close after Meghan relocated to London. Their source claimed that "Amal has been helping Meghan settle into London life," and that "It was a very natural friendship from day one." One indication of their closeness is that they reportedly share a hairdresser. Miguel Perez, who according to his Instagram styled Clooney's hair on the wedding day, has also reportedly looked after Meghan's hair since moving to London. The Mail On Sunday quoted the hairdresser as saying, "Amal put Meghan and me together when she moved here. I do her colour, her cut and her styling."
While all of the above made it to Meghan's wedding earlier this year, unfortunately, not all of her celebrity pals made the list. So, which of Meghan's famous friends — and former Made in Chelsea star — didn't get the nod?
According to the Mirror, Meghan has been friends with Millie Mackintosh since July 2016. In a post on her now defunct Instagram account, Meghan even shared a snap of her and Mackintosh cycling around the grounds of the Soho Farmhouse in September 2016, Heat reports, proving they remained tight for at least some time. The caption read: "The best afternoon with @milliemackintoshofficial - so proud of you darling" accompanied by two small pink heart emojis and tags for @sohohouse and @sfhmembers.
Despite this, Mackintosh wasn't present at Meghan's May wedding and Meghan didn't appear to be present when Mackintosh tied the knot with Hugo Taylor at Chelsea Old Town Hall in London before holding a religious blessing at Whithurst Park in West Sussex, last week. As reported by Hello!, celebrities including Spencer Matthews, Vogue Williams, Jodie Kidd, Poppy Delevingne, and Ashley Roberts attended the wedding, but not the Duchess herself.
So, can Meghan still count Mackintosh as one of her celebrity friends? I sure hope so.
After that there's countless other famous faces that Meghan has been photographed with over the years, from Olivia Palermo — who the Daily Mail reports that Meghan referred to as "everyone's style crush" — to Chrissy Teigen, though it's not clear in either case that they've become more friends than acquaintances. Plus, it's clear that since marrying Prince Harry, Meghan's celebrity orbit isn't about to get any smaller. Attendees at the royal wedding included Victoria and David Beckham, Tom Hardy and Charlotte Riley, and Elton John and David Furnish. Sounds like a lot of fun.